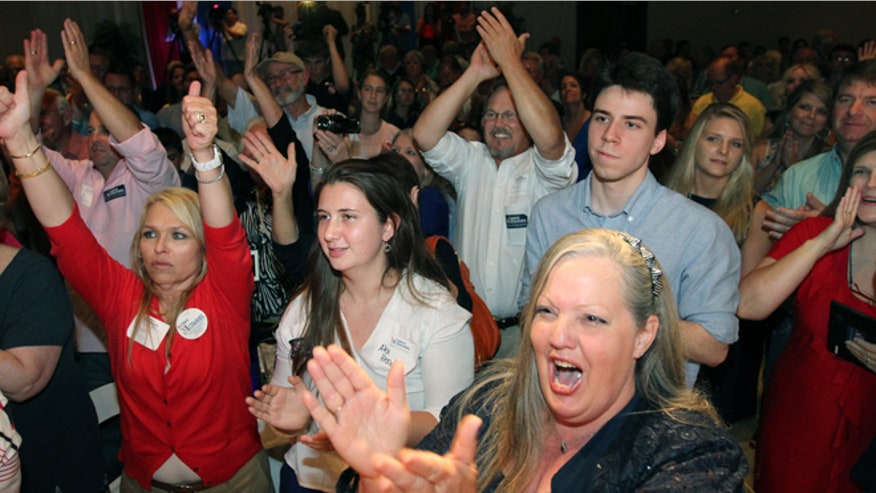 June 3, 2014: Supporters and volunteers of the Chris McDaniel campaign at his address at the Lake Terrace Convention Center in Hattiesburg, Miss.AP
JACKSON, Miss. –  Six-term Mississippi GOP Sen. Thad Cochran has been forced into a runoff with Tea Party-backed challenger Chris McDaniel, after neither candidate was able to win 50 percent of the vote and clinch an outright victory in Tuesday's primary.
With most precincts reporting and an unknown number of mail-in and provisional ballots yet to be counted, unofficial results showed McDaniel, a state senator, with a slight lead over Cochran in the three-way race.
Results from 99 percent of the state's precincts showed McDaniel with 155,040 votes, or 49.5 percent. Cochran had 153,654, or 49 percent. Real estate agent Tom Carey had 4,789 votes, or 1.5 percent, a sliver of support but enough to prevent either of the two better-funded rivals from reaching the needed 50 percent majority to avoid a runoff.
The runoff is set for June 24, and the two Republicans will now enter a feverish three-week campaign. No incumbent has yet lost a Senate primary race this cycle.
The winner of the runoff will face Democrat Travis Childers and the Reform Party's Shawn O'Hara in the Nov. 4 general election.
The Cochran and McDaniel campaigns entered Tuesday's voting in a statistical dead-heat, traded leads throughout the night, then appeared to resign themselves early Wednesday morning to a runoff.
The 76-year-old Cochran is facing the toughest challenge of his political career. McDaniel spent Wednesday resting with his family and "gearing up for what will hopefully be three more weeks of vigorous debate on the important issues facing Mississippians," said spokesman Noel Fritsch.
Cochran skipped votes in the Senate during the day. He and his allies sought to put the best face on a relatively weak showing at the ballot box after three decades in office spent directing federal funds to his economically distressed state.
"We had a great day yesterday, and it is one more step toward making November Mississippi's moment when we take back the U.S. Senate," Cochran said in a written statement.
Yet there were signs of concern among Cochran supporters.
Asked about the veteran senator's prospects, fellow Mississippi Republican Sen. Roger Wicker paused at length but predicted Cochran's victory in the runoff, saying he would give the party its best chance to "hold the seat for a Republican majority."
Republicans need to win a net six seats to take control of the Senate.
Carey said he had a preference between Cochran and McDaniel but declined to disclose it.
"The two candidates need to talk about issues instead of the backbiting and backstabbing that they've done," he said, referring in part to four McDaniel supporters being charged in connection with photographing Cochran's wife, who has dementia and lives in a nursing home.
Police say the four wanted to use the photo to advance allegations that Cochran was having an inappropriate relationship with a female staffer.
Those who cast provisional votes because they didn't have ID have five days to provide it and validate their votes. Beyond that, officials have until June 13 to complete their canvass of the vote. If they take that long, that would leave only 10 days before the runoff election.
Further complicating the race, the state has no provision for an automatic recount even in a race as close as this one, and either side presumably could go to court.
The Club for Growth, a conservative group that aired television ads for McDaniel, urged Cochran to drop out. A second backer of the challenger, FreedomWorks, taunted the party's campaign committee, saying it should spend its time opposing Democrats rather than the leader in the primary balloting.
The U.S. Chamber of Commerce, which spent $500,000 on television ads for Cochran, said it would help his cause during a runoff, but did not immediately specify how much it would spend.
But another group that had been helping the senator headed for the sidelines.
"With the chamber, the [National Republican Senatorial Committee] and a local super PAC already backing Cochran, this is not our fight," said Paul Lindsay, a spokesman for Crossroads.
The organization donated about $120,000 last month to Mississippi Conservatives, a group that waged a major televised ad campaign to boost Cochran.
The Associated Press contributed to this report.