This week we have witnessed multiple Muslim terror attacks in our sister nation to the north, Canada. Pamela Geller live-blogged it this way:
The scale of the operation in Ottowa is getting larger and larger. There are now reports of a number of shootings in multiple locations. One at the War Memorial, one inside the Parliament building, another at a hotel and another at a downtown mall the Rideau Centre. Pictures show roads closed off and bridges in and out of the city centre are now closed.It was under renovation until recently RT @leeberthiaume: The scene around the national war memorial.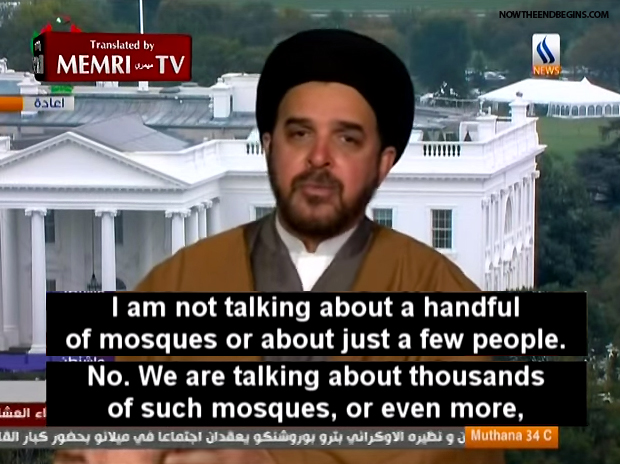 In 2009, the FBI said that 10% of America's 2,000+ mosques had imams that were actively and regularly preaching jihad against America. About a quarter of the Muslims in America ages 18 through 29 believe that suicide bombings can be justified, according to a Pew Research Center poll.
If you want to understand the real and imminent threat that ISIS and mosques in America pose , take six minutes to watch this extraordinary interview of Ayad Jamal al-Din, a Shiite cleric, Iraqi intellectual, and former member of the Iraqi parliament who campaigns for a democratic Iraq that separates mosque and state. Mr. al-Din was in Washington for the October 17 interview by al-Iraqiya TV in Iraq, and the interview with English subtitles (which I've reproduced as a transcript below) was publicized on Monday by the invaluable MEMRI (the Middle East Media Research Institute).
While President Obama, Secretary of State Kerry, and Prime Minister Cameron absurdly contend that the Islamic State, or ISIS, is not Islamic, al-Din – an authentic moderate Muslim who regards the Islamic State as the enemy – patiently explains that the jihadist organization adheres to a firmly established interpretation of Islam that is based on sharia and fiqh (jurisprudence).
ISIS has already begun terror attacks in Canada, America is next. And the thousands of mosques that dot our landscape are the very training grounds where this evil is emanating from. America has no choice but to begin closing each and every mosque that preaches jihad