Al Sharpton, seeing here on December 12, 2014, inciting people to riot and protest against the police nationwide, should be held as accomplice to murder for the execution-style killing of two police officers in Brooklyn.

"There are people out there who will want to be copycats. The tension out there is the worst I've ever seen it."
Just 10 days after Al Sharpton called for national protests against police officers, one of his followers decided to kill two Brooklyn cops – execution style – in cold blood.
The gunman, Ismaaiyl Brinsley, was a Pro-Muslim, Koran-reading race hater who posted "I'm Putting Wings on Pigs Today," on his Instagram page, as well as "They Take 1 Of Ours…Let's Take 2 of Theirs,"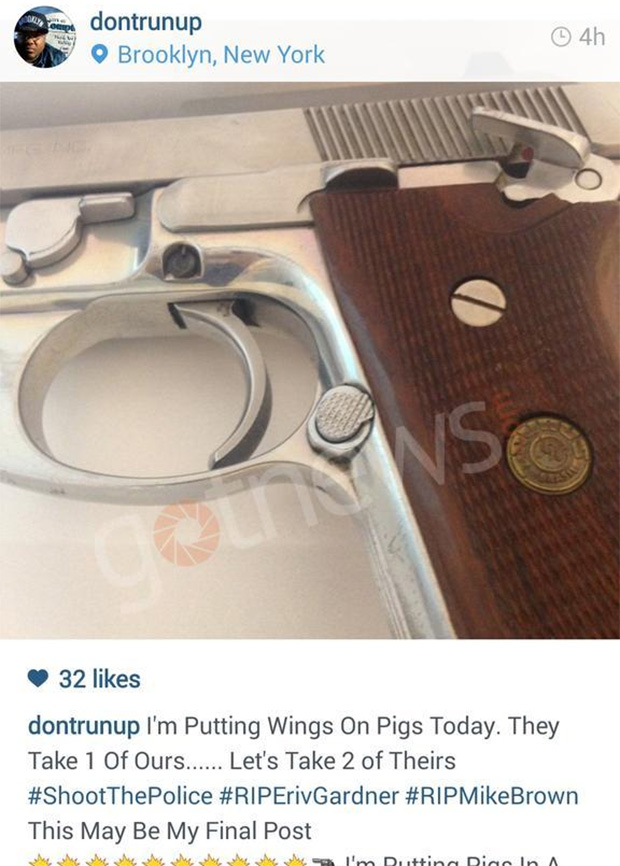 Brinsley walked up to the cops' patrol car at the corner of Myrtle and Tompkins avenues, approaching from the sidewalk. Witnesses told police that Brins­ley wordlessly blasted into the patrol car's front passenger-side window.
Then he stood stock still for a few moments, fleeing into the subway only when he heard the sirens of a second police car. Once in the subway, "they engaged the guy and he did himself," one investigator said.
Brinsley was a fugitive who had just murdered his girlfriend in Baltimore Saturday morning, sources told The Post. The two officers were pronounced dead at Woodhull Hospital, where their colleagues and family members huddled tearfully.
City Council President Melissa Mark-Viverito and Mayor Bill de Blasio were less than welcome guests at the poignant gathering.
"We're all in this together," the mayor told grieving cops, according to a cop who was there. "No we're not," one officer said tersely in response.
Just last week cops began signing a "Don't Insult My Sacrifice" waiver, distributed by the Patrolmen's Benevolent Association, that warned the mayor and speaker to stay away from funerals of cops killed in the line of duty.