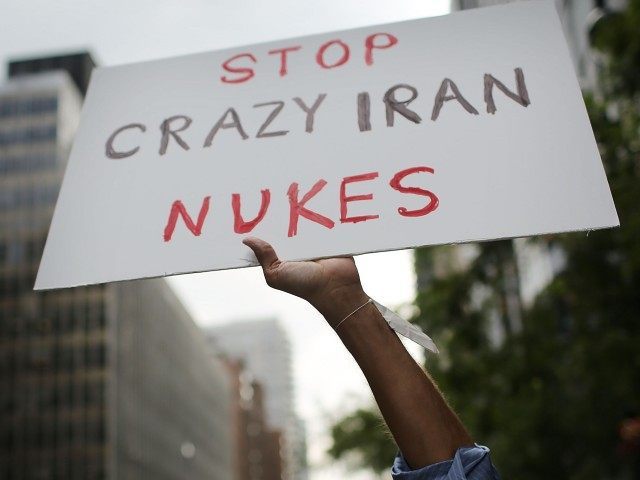 Thousands of people are expected in New York's Times Square on Wednesday evening to protest a "bad deal" with Iran, and to urge Congress to vote down the new nuclear accord.
The "Stop Iran Rally" will take place between 5:30 p.m. and 7:30 p.m. at 42nd Street and Seventh Avenue. Over 100 organizations are sponsoring the rally which will be live-streamed here.
Prominent international experts from military, government, academic and media backgrounds will be addressing the crowd. Featured speakers include Caroline Glick (Jerusalem Post Columnist), Alan Dershowitz (Harvard Law professor emeritus), George Pataki (former Governor of New York and current Republican Candidate For President), Monica Crowley (Fox News Political Commentator), James Woolsey (former Director of the Central Intelligence Agency), Rep. Trent Franks (R-AZ), Former Congressman Allen West (R-FL), and Col. Richard Kemp, Ret. (former Commander of British Forces in Afghanistan).
The Iran deal will exclude U.S. nuclear inspectors from international teams inspecting Iran's nuclear sites. The deal will allow Iran to delay some inspections by at least 24 days, and may not allow access to "undeclared" nuclear sites on military bases. After several years, the deal will it allow Russia and China, among others, to supply Iran with conventional weapons and, later, ballistic missile technology. The deal also leaves four American detainees in limbo, as Obama has not negotiated for their release.
According to the latest Associated Press-GfK poll, 77% of Americans believe U.S. sanctions against Iran should be kept in place.
The deal has already been approved, 15-0, by the UN Security Council–bypassing Congress, despite the understanding that Congress would have the final say in the matter. UN Security Council Resolution 2231 will effectively remove international sanctions–which are separate to those imposed by the US and EU–within 90 days.
Obama has said time and again that he would veto any rejection of the deal by Congress; the question is whether both houses of Congress can muster the two-thirds majority needed to override the president.
In an interview with Breitbart News, Pataki lambasted President Obama's decision to bypass Congress, saying it might "be a violation of his oath in office…He signed the law allowing Congress to reject this deal in 60 days and had not even provided Congress with five days to review the terms of the deal before going to the UN."
Following years of calls for "death to America" and "death to Israel," Iran's Ayatollah Ali Khamenei again took to the airwaves this week to reiterate his government's unwavering hostility towards "the arrogant government of the United States," assuring his countrymen that even after the nuclear deal is solidified, Iran's policies toward America "will not be changed one bit."
Khamenei declared that Iran's support for terrorists in the region would remain,unwavering. "We will never stop supporting our friends in the region and the people of Palestine, Yemen, Syria, Iraq, Bahrain and Lebanon." Iran is the largest state sponsor of terrorism in the world, and part of the $150 billion in frozen assets that the Obama Administration has promised to release into their hands will go towards supporting Iran's military and terrorist proxies.
Pataki told Breitbart News that the nuclear accord is no "deal" at all, and likened it to "a one-sided surrender [rather] than an actual agreement. There's no question in my mind that his benefits Iran which calls for death to Israel and America."
Col. Richard Kemp told Breitbart News that "Iran is well-known to be sponsoring terrorism through its proxies in the Middle East," adding that the additional $150 billion it receives "will undoubtedly go towards sponsoring terrorism" along with a newfound "confidence" with which to carry out militaristic endeavors against the West.
Kemp said he has no doubt that the nuclear technology could be transferred to terrorist groups by Iran, noting that "the deal cannot fail. It will enable it to do whatever it likes in the region….All [Iran] needs to do is to threaten to rescind from the deal which will be catastrophic for Obama" and his legacy.
"Iran will now have the ability to up its funding of groups like Hamas and Hezbollah which are set on the destruction of Israel."
Similar rallies are planned this week in cities nationwide, listed here.