Authorities work an active shooting scene near the naval reserve center in Chattanooga, Tennessee, on Thursday. Photograph: AP
Four military personnel have been killed in attacks on two facilities in Tennessee.
Chattanooga mayor Andy Berke said the gunman had also been killed. A police officer had also been injured, he said.
Two naval reserve facilities in Tennessee were attacked in the shootings, officials said.
The attack was being treated as an act of terrorism, FBI special agent Ed Reinhold said, and had not ruled out links to international terror.

Berke said it was a "very terrible situation" and a "horrific incident in our community", and offered prayers "to all those affected".
Chattanooga police said the active shooting was now over.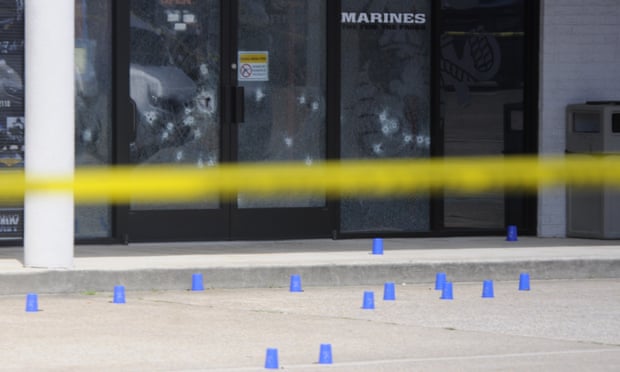 The suspected gunman was believed to have lived in the Chattanooga area, the FBI said.
The shooting is believed to have begun around 10.45am at the Armed Forces Career Center on Lee Highway, Chattanooga. Gina Mule, a witness at the Lee Highway location, told CNN that she saw a white male in a silver convertible Ford Mustang with a gun.
"He had a big, big high-powered rifle. He was opening fire, the Air Force, Marines and Navy offices," Mule told CNN.
Mule said she saw the man reload his rifle and then drive away.
Law enforcement officials told recruiters that they were attacked by a shooter in a car. The shooter stopped in front of the recruiting facility, shot at the building and drove off, said Brian Lepley, a spokesman with the US army recruiting command in Fort Knox, Kentucky.
Television images of a door to the center in a strip mall showed more than a dozen bullet holes in the glass.
The army recruiters at the facility told Lepley they were not hurt and had been evacuated; Lepley said he had no information about recruiters for the other branches at the facility.
An active duty army recruiter in said he was at his office when someone opened fire and he heard 30 to 50 shots.
"We heard one single shot, which kind of sparked our attention. Shortly after that, just a few seconds, the shooter began shooting more rounds. We realized it was an actual shooting, so we then initiated our active shooter drill: getting down low to the ground, moving to a safe location. And we waited until everything seemed to be clear." He said he did not see the gunman or a vehicle.
Shortly after, there were reports of a shooting at a naval reserve center, believed to be the Navy Operational Support Center and Marine Corps Reserve Center, about six miles away on Amnicola Highway. All of those who were killed were killed at this location, FBI special agent Reinhold said.
Victims were taken to Erlanger Hospital, which had been placed on lockdown.
A shopping mall, two nearby colleges and the Tennessee governor's mansion were all also placed on lockdown in the immediate aftermath of the incident.
A temporary flight restriction was placed over Chattanooga while police searched for the suspect. The Department of Homeland Security reportedly activated its Chattanooga Strike Team. The Chattanooga Police were joined in responding to the incident by the Tennessee State Police, the FBI and the ATF.
Police set up a command post near one of the sites.
Chattanooga State Community College said in a tweet and on its website that a shooting was confirmed near the campus and that everyone should stay inside and close doors. The campus was on lockdown.
Barack Obama was briefed by his national security team on the shooting while in Oklahoma to speak about criminal justice reform at a federal prison.
White House spokesman Eric Schultz says that the president would continue getting updates from his staff as needed.
The Associated Press contributed to this report