In a another shameful appeasement by the Obama administration, the United States flag was raised over the newly inaugurated U.S. Embassy in Havana on August 14, 2015. The bloody Cuban communist regime demanded that no opponents or dissidents be invited to the ceremony and President Barack Obama complied with the outrageous request. It is a tragedy that Cuban dictator Raúl Castro can dictate who can be invited to the United States embassy in Cuba. How many more unilateral concessions is Obama, the new Neville Chamberlain appeaser, prepared to give to the Cuban regime? Will the Marxist in the White House comply with the demand made by the dictator Raúl Castro to return the U.S. naval base at Guantánamo? Probably yes!
Secretary of State John Kerry flew to Cuba for one day to participate in the flag-raising ceremony. He stated the following: "We are certain that the time is now to reach out to one another, as two peoples who are no longer enemies or rivals, but neighbors. It's time to unfurl our flags, raise them up, and let the world know that we wish each other well." This statement is contradicted by the fact that Cuba continues to be an enemy of the United States and a threat to its national security. Cuba has signed military and naval agreements with Russia and China and maintains close relations with North Korea, Russia, Palestinian terrorists, China, Iran, Venezuela, and the rest of the Marxist nations that belong to the anti-American ALBA alliance. Cuba was a founder (1990) and actively participates in the pro-communist and anti-American Forum of São Paulo. Cuba engages in human trafficking and supports terrorism in spite of the fact that President Obama eliminated Cuba from these two black lists where the tyrannical regime had been for many years and where the Cuban regime should still be listed.
The Castro brothers have sent more than 22,000 soldiers led by top generals of the Cuban Occupation Army and hundreds of intelligence officers to Venezuela to keep in power the anti-American and pro-Iranian communist Chavista regime. In fact, Venezuela is a Cuban colony. Cuban thugs participated in the shooting and torturing of peaceful students protesting in the streets of Venezuelan cities in 2014. Cuban army and intelligence officers currently assist the Venezuelan oppressive regime to export drugs to the United States and other parts of the world. Part of the profits of the immense drug trafficking conducted by the Cartel de los Soles run by the military and others in the Venezuelan communist regime go to Hezbollah, the Iranian terrorist militia in Lebanon.
Iran has built military bases which have intercontinental ballistic missiles in Venezuela and extracts uranium from that nation threatening the security of the United States. A year ago, Cuba sent MiGs aircrafts and other military supplies to North Korea in violation of the United Nations Security Council resolution that supports an arms embargo against North Korea. Shamefully, Obama did not complain as he was secretly negotiating the restoration of relations with the Cuban tyranny. Cuba continues to give sanctuary to American criminals who have assassinated police officers and others in the United States. How could Secretary of State John Kerry state that Cuba is no longer an enemy or rival but a good neighbor of our nation? How could Obama eliminate Cuba from the list of terrorist nations and from the list of countries that engage in human trafficking?
Secretary Kerry also called for a "genuine democracy" in Cuba that includes free elections, freedom of religion and speech, and human rights improvements. How is this going to be achieved when the Obama administration has made a series of unilateral concessions without demanding anything in return, such as the release all political prisoners, the cessation of daily arrests with violence of peaceful opponents and the return of U.S. fugitives who have committed crimes in our nation? Unfortunately, it is all talk and no action.
Poet Richard Blanco read a new poem, Matters of the Sea (Cosas del Mar), during the ceremony at the embassy. The poet wished for peace between the Cuban regime and those that it oppresses. The poem was addressed to Cubans on both sides of the Florida Straits. Blanco recited his poem before the ceremony and said "The sea doesn't matter, what matters is this: we all belong to the sea between us, all of us." Unfortunately, poems, idiotic statements made by the Secretary of State John Kerry, and Obama's appeasement Cuban policy have not and will not change the core of the bloody military regime of Cuba.
Several Cuban-Americans who had advocated for the end of the embargo and the recognition of Cuba were invited to the flag-raising at the embassy. Secretary Kerry acknowledged their presence and said they could "contribute much to the new spirit of cooperation." Former U.S. ambassador to Belgium and former Miami-Dade Public Schools board member Paul Cejas, Florida Crystal's Andrés Fanjul, and Miami lawyer Pedro Freyre were in attendance at the embassy. The three Cuban-Americans were among a group of Cuban-Americans and other Hispanics who had written an open letter to President Barack Obama in 2014 requesting to end the embargo as a way of improving relations with Cuba and opening the Island to U.S. multinationals to build factories on the oppressed Island.
On May 19, 2014, 46 powerful business people, former politicians, and government officials, among them 17 Hispanics (mostly Cuban-Americans) wrote an open letter to the president requesting to end the embargo and normalizing relations with the cruel Cuban regime. In addition to Cejas, Fanjul, and Freyre, the other Hispanics were the following: Gustavo A. Cisneros, President of the Cisneros Group; Mike Fernández, Chairman MBF Healthcare Partners; David Hernández, CEO of Liberty Power; Eduardo Mestre, member of the Board of Directors of Avis Budget and Comcast; Marcelino Miyares, President of MM Communication Inc; Jorge Pérez, CEO of Related Group; Carlos Saladrigas, Chairman de Regis HR Group and Concordia Behavioral Health as well as President of the Cuba Study Group; Ken Salazar, former Secretary of the Interior Department and former Democratic senator from Colorado; Hilda L. Solís, former Secretary of the Labor Department and former Congresswoman from California; Enrique Sosa, former President de Dow Chemical North America; and Arturo Valenzuela, former Assistant Secretary of the State Department for Hemispheric Affairs. Most of the Hispanics who signed the letter are multimillionaires and represent the business interests and the anti-embargo lobbyists.
This infamous letter was rejected by anti-communist Cuban-Americans, among them this writer, in the United States and by almost all of the opponents of the tyranny who live in Cuba. Among the signers of the treasonous letter were 15 individuals who belong to the three powerful organizations that are so influential in the United States and the world, the Council of Foreign Relations, the Bilderberg Group, and the Trilateral Commission. The most powerful of these globalists is David Rockefeller who has presided over the three extremely powerful organizations. David Rockefeller has always maintained friendly relations with Fidel Castro as indicated by the photo below shaking the bloody hand of Cuban dictator Fidel Castro. David Rockefeller has invited Fidel Castro to his family home in Westchester County. Rockefeller does not care that Fidel Castro and his brother Raúl Castro are responsible for the shooting and death of 14,000 freedom-loving Cubans, for the incarceration of more than 300,000 Cuban patriots, and for the death of thousands of Cubans who have died in the ocean trying to come to the United States.
One of those who signed on May 19, 2014 an open letter to Obama was the powerful David Rockefeller, who was among the founders of the Bilderberg Group in 1954 and the Trilateral Commission in 1972.
Rockefeller has also invited the bloody dictator Fidel Castro to the Pratt House in New York City, which is the headquarters of the Council on Foreign Relations, several times. One of Rockefeller's daughters, Council of Foreign Relations member Peggy Rockefeller Dulany, invited several professors and organizational experts to travel to Cuba and meet with officials in charge of heavy and light industry to assist Cuba during the special period of economic hardships when Russia ended the over $5 billion of annual financial assistance. David Rockefeller´s eldest daughter, Abby Rockefeller, is a Marxist. She is a great admirer of Fidel Castro and has been involved in many radical organizations in the nation.
Another admirer of Fidel Castro who was invited to the flag-raising ceremony in Havana was former South Florida Democratic Congressman Joe García. Ric Herrero of CubaNow (an organization that wants to end the embargo) and Alberto Ibarguen head of the Knight Foundation were in attendance. All the Cuban Americans and the others at the embassy ceremony have earnestly worked so that the United States recognize Cuba and have advocated to end the embargo.
Mimi Whitefield wrote an article entitled "Human rights, other 'toughies' now focus after flag raised at U.S. Embassy in Havana" which was published in the Miami Herald on August 14, 2015. She pointed out that as the flag went up the pole, Pedro Freyre stated the following: "I almost fainted from the emotion. I never dreamed in my wildest dreams that I would see this. It's an extraordinary moment to be here."
To many other Cubans, such as this writer, on both sides of the Straits of Florida, it was a very sad day to observe the U.S. flag, a symbol of freedom and democracy throughout the world, be raised in a country that lacks freedom and liberty and is truly an Island prison to 12 million Cubans. All the many anti-communist organizations in the United States were and continue to be opposed to Obama's new Cuban policy since they believe it is a grave betrayal to the many patriotic Cubans who have fought and died to end communism in their native country in the last 56 years.
Whitefield explained that Cuban government officials would not have attended the embassy flag-raising if dissidents were present. In the eight months since the normalization of relations were announced, the Cuban government has continued to routinely arrest anti-government protesters for short periods. One individual who was not present at the embassy was Fidel Castro. A day earlier, on his 89th birthday, the Cuban dictator released an open letter saying that the United States owes the island "millions" in reparations. Of course, this writer believes that Obama has given Fidel Castro an unjustified gift but the old dictator demands more gifts!
Whitefield wrote that Cuban-Americans in Congress believed that any flag-raising in Havana "should be all about alternative voices in Cuba and freedom for the Cuban people." South Florida Republican Representative Mario Díaz-Balart stated that instead of raising the American flag as a symbol of "liberty and democracy," what the United States was "really doing is raising the white flag of surrender to all the principles of the United States."
Whitefield pointed out that many leading dissidents were in Puerto Rico for a long-planned "Encuentro Nacional Cubano," a three-day meeting that brought together about two dozen Cuban opponents from the Island with Cuban-Americans from the United States. Pepe Hernández, president of the Foundation for Human Rights in Cuba, said that this meeting was held "to see if we can get to an understanding on a path forward." Hernández also stated that "Some people say that Kerry chose August 14 to go to Cuba because most of the dissidents will be off the island for the three-day encounter." The date for the Encuentro Nacional Cubano had been known since last spring, he said.
Whitefield explained that Florida Republican Senator Marco Rubio said the Obama administration has conceded too much in its rapprochement with Cuba and only received "the regime's empty promises of future discussions." The United States broke off diplomatic relations with Cuba on January 3, 1961 after the communist Cuban regime confiscated all U.S.-owned industrial and agricultural holdings the previous year and after Fidel Castro denounced the U.S. Embassy as a "nest of spies" and demanded that the staff be reduced to just 11 people. The Eisenhower administration asked the Swiss government to represent the United States in its dealings with Cuba after it broke off relations.
Senator Marco Rubio's letter to Republicans
Senator Rubio stated the following in a letter sent to Republicans: "Yesterday history was made in Havana, but we should not be celebrating. Make no mistake; Cuba is still led by an anti-American regime. But, in the eyes of Barack Obama and Hillary Clinton, the Cuban people are suffering because not enough American tourists visit the country, when the truth is the Cuban people are suffering because they live in a tyrannical dictatorship.
President Obama has rewarded the Castro regime for its repressive tactics and persistent, patient opposition to American interests. He has unilaterally decided to enrich the Castro regime at the expense of the Cuban people. The concessions to the Castro regime threaten America's moral standing in our hemisphere and around the world, bring legitimacy to a state sponsor of terror, and further empowers an ally of China and Russia that sits just 90 miles from our shore…I will stand with the Cuban people not their oppressors. I will work to make our nation a safer place for Americans and our globe safer for our allies. I know that my dissenting voice today will not go over well with President Obama, John Kerry and Hillary Clinton… While President Obama would love for everyone to praise his deal with the Castros, we most certainly should not be. As President, I will stand with the Cuban people and not their oppressors."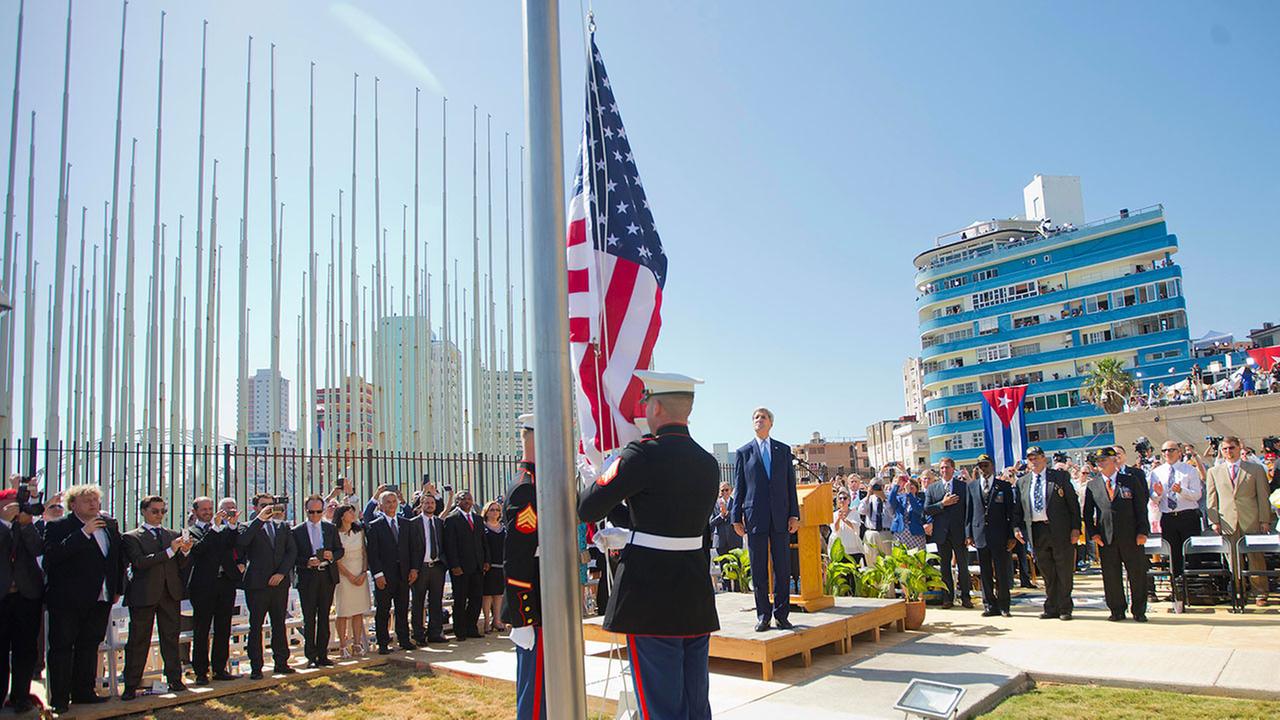 On August 14, 2015, Secretary of State John Kerry and others watch as U.S. Marines raise the U.S. flag over the newly reopened embassy in Havana, Cuba. No dissidents were allowed to attend the ceremony.
U.S. delegation to the U.S. Embassy ceremony in Havana
The U.S. delegation for the flag-raising ceremony included the following individuals: John Kerry, Secretary of State; Bruce Andrews, Deputy Secretary, Department of Commerce; Karen Bass, Congressional Representative; Sarah Bloom-Raskin, Deputy Secretary Department of the Treasury; Barbara Boxer, Democratic Senator; Steve Cohen, Congressional Representative; Mark Feierstein, Senior Director, National Security Council; Jonathan Finer, Chief of Staff to the Secretary of State; Jeff Flake, Republican Senator from Arizona (the only Republican in Congress invited since he has been a long-term advocate to lift the embargo and recognize the bloody regime diplomatically); Roberta Jacobson, Assistant Secretary, Western Hemisphere Affairs; John Kirby, Spokesperson, Department of State Amy Klobuchar, Democratic Senator Patrick Leahy (who was instrumental in the Obama administration's shameful sperm diplomacy when the frozen sperm of jailed Cuban spy Geraldo Hernández, who was convicted of two life imprisonment sentences for conspiring to assassinate four pilots from Brothers to the Rescue, was sent to his wife in Panama at the request of the tyrant Raúl Castro); Barbara Lee, Democratic Representative; Tom Malinowski, Assistant Secretary, Bureau of Democracy, Human Rights and Labor; Jim McGovern, Democratic Congressional Representative; David McKean, Director, Office of Policy Planning; and Peter Selfridge, Ambassador, Office of Protocol. None of the Cuban Americans in Congress of both political parties were invited since none would have accepted as they considered the opening of embassies as appeasement and a way to surrender to Cuba.
Secretary of State John Kerrey did not allow opponents of the tyranny to attend the ceremony in a further act of accommodation and appeasement to the Cuban oppressive regime.
Natalie Johnson wrote an article titled "As John Kerry Celebrates Embassy Opening, Cuban Dissidents are Barred from Attending" which was published in Bear Witness Central website on August 15, 2015.
Johnson pointed out that as the American flag was raised in U.S. embassy in Havana for the first time in 54 years, Cuban dissidents who have influenced U.S.-Cuban relations for decades were barred from the event. Secretary of State John Kerry justified the exclusion by telling Telemundo that the symbolic opening was a "government-to-government moment, with very limited space." However, the State Department admitted that the ceremony was not limited to government officials by extending invitations to select private individuals.
Johnson stated that Ana Quintana, an analyst specializing in Latin America policy at the Heritage Foundation, said the following: "It truly shows the administration's priorities when there's space at the flag-raising ceremony for business interests and anti-embargo lobbyists, yet there's no space for Cuban dissidents. Who in fact are we really supporting with this new policy?"
Johnson pointed out that John Suarez, the international secretary at the Cuban Democratic Directorate, said that under President Barack Obama's diplomatic policies with Cuba human rights have "deteriorated." He added, "The current U.S. policy on Cuba will strengthen and legitimize the dictatorship and is undercutting Cuban democracies." Since Obama announced the U.S.'s plan to normalize relations with Havana in December 2014, Suarez said that violence against peaceful opponents has escalated, nearly 4,000 politically motivated arrests have occurred as a result of dissident demonstrations, and "Cubans continue to be killed for trying to leave the island."
Johnson explained that Senator Marco Rubio, Republican from Florida and presidential candidate, called the State Department's decision to exclude dissidents from the ceremony a "slap in the face" and said that it marked the event as "little more than a propaganda rally for the Castro regime." Senator Rubio stated the following: "President Obama has rewarded the Castro regime for its repressive tactics and persistent, patient opposition to American interests. He has unilaterally given up on a half-century worth of policy toward the Castro regime that was agreed upon by presidents of both parties. The deal with Cuba threatens America's moral standing in our hemisphere and around the world, brings legitimacy to a state sponsor of terror, and further empowers an ally of China and Russia that sits just 90 miles from our shore."
About JW Player 6.12.4956 (Ads edition)
Andres Oppenheimer wrote an opinion column titled "Kerry failed to act on human rights in Cuba" which was published in the Miami Herald on August 16, 2015. He explained that "Secretary of State John Kerry deserves applause for saying that human rights will be a top priority in the newly normalized U.S. ties with Cuba, but his decision not to invite Cuban dissidents to the flag-raising ceremony at the U.S. Embassy in Havana flew in the face of his promise."
Oppenheimer said that when he interviewed Secretary Kerry last week, shortly before Kerry's trip to Cuba, he said that "human rights obviously are at the top of our agenda, in terms of the first things that we will be focused on in our direct engagement with the Cuban government." Kerry told Oppenheimer that he planned to discuss with Cuba a "sort of roadmap" to a full normalization that ultimately will involve the lifting of the U.S. embargo, and Cuban steps, such as allowing Cubans "to engage in a democratic process, to elect people" and "the people of Cuba would be best served by a genuine democracy, where people are free to choose their leaders."
Oppenheimer pointed out that all of that sounded great. However, Kerry did not invite Cuban dissidents to attend, alongside Cuban officials, the flag-raising ceremony at the U.S. Embassy. When Oppenheimer asked Kerry in his interview why he would not include dissidents among his guests at the U.S. Embassy, he downplayed the significance of that decision. Kerry told Oppenheimer that "Rather than have people sitting in a chair, at a ceremony that is fundamentally government to government, with very limited space, I will meet with them…and exchange views" separately.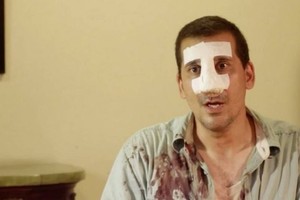 Antonio González Rodiles, coordinator of the dissent organization called Estado de SATS was badly beaten by secret police thugs recently for engaging in a peacefully demonstration. He declined the invitation to attend a meeting in the house of the charge d'affairs with Kerry because he was barred from the embassy ceremony.
Oppenheimer wrote that Republican critics and many human rights groups say that the Obama administration "caved in to the Cuban regime, which refuses to participate in diplomatic events attended by Cuban dissidents." Oppenheimer explained that some opponents who were invited to the charge d'affairs residence declined to attend. Antonio González Rodiles, one of the dissident leaders who declined the invitation, said "We do not understand how the U.S. administration could accept the conditions of these dictators." Bertha Soler, a leader of the Ladies in White who has been arrested more than a dozen times in recent months for staging peaceful protests, told Oppenheimer in a telephone interview that the Obama administration pays lip service to human rights, but keeps a "shameful silence" about ongoing rights abuses in Cuba. Since Obama announced the start of normalization talks on December 17, 2014 there have been more than 3,000 political detentions in Cuba, according to the Cuban Commission for Human Rights and National Reconciliation.
Bertha Soler, a leader of the Ladies in White who has been arrested more than a dozen times in recent months for staging peaceful protests, as seen in this picture, said that the Obama administration pays lip service to human rights, but keeps a "shameful silence" about ongoing rights abuses in Cuba.  (See video of arrests of peaceful protests)

Oppenheimer explained that Kerry said that full diplomatic relations, more U.S. tourists, and greater commercial relations will help bring about change in Cuba, even though that would take time. Kerry said, "Let's just let this work. It's an opportunity."
This writer has denounced that saying that increased American tourism and increased trade will help bring about positive changes in Cuba, as indicated by Obama and Kerry, are lies. Obama and Kerry are fully aware that those things were done in China and Vietnam and have only strengthened the totalitarian regimes in those countries. Quite the contrary, as the economy improved in China and Vietnam, the regimes had more resources to continue to oppress their people and jailed their opponents. In the case of China, U.S. investment and increased trade have made this nation a stronger and more aggressive enemy of the U.S. and its Asian allies. China is now claiming sovereignty over most of the South and East China seas and islands that belong to U.S. allies. Together with its ally Russia want to destroy the dollar as an international currency. An economically stronger Cuba will have more resources to continue to oppress its people and to continue being a more dangerous enemy of the United States.
Oppenheimer wrote the following: "Of all the things that Kerry told me, there is one in which I fully agree with, which is that the previous U.S. policy of confrontation with Cuba didn't work, and that it was time to try something new. No question about that. That's why, when Obama first announced that he would start normalization talks on December 17 while simultaneously continuing to strongly press for democratic reforms on the island, many of us agreed with him. A two-pronged, carrot-and-stick policy of restoring ties while pressing for human rights is worth trying. But now, I wonder if it hasn't become a one-track policy. Kerry's trip to Havana didn't break new ground on human rights even symbolically, and in effect hurt Cuba's fledgling internal opposition by making it look irrelevant in the eyes of many Cubans."
Oppenheimer concluded his article by stating the following: "Could it be that Obama is so eager to visit Cuba before he finishes his term — to go down in history as the U.S. president who "opened" Cuba, much as Nixon "opened" China — that he is willing to sacrifice the human rights cause? Could it be that he is so eager for a foreign policy victory that he is willing to abandon a long-standing U.S. policy of moral support to pro-democracy activists? I hope I'm wrong on this, but Kerry's trip to Cuba was a first big test of Obama's new Cuba policy, and the administration didn't pass it."
Conclusion
This writer and many others Cuban Americans anti-communists and many opponents in the Island knew that Obama's new policy on Cuba was a failure because the mafia who rules Cuba is not going to change. The bloody regime only wanted money from American tourists and U.S. investments to perpetuate itself in power. Sadly, Obama has given oxygen to the Cuban regime so that it may continue to oppress the Cuban people and perhaps assist U.S. multinationals that want to use the labor of Cuban workers, who make $20 a month, to increase their profits for their future factories in that island. U.S. and other countries multinationals want to make Cuba the China of the Caribbean. They do not care about freeing the Cubans who suffer; they only care about increasing their profits.
This writer agrees with Senator Marco Rubio when he said the Obama administration has conceded too much in its rapprochement with Cuba and only received "the regime's empty promises of future discussions." We need to stand with the suffering Cuban people and the opponents of the tyrannical regime who want democracy and not help their oppressors!
The many people who pushed for diplomatic recognition and to end of what is left of the embargo to help the rogue communist regime, which has established the worst and longest dictatorship in the Western Hemisphere, as well as President Obama and Pope Francis, are responsible for what is occurring on the Island today. Shame on all of them for providing assistance to Obama, a person who has always admired the Castro brothers. Obama wants to travel to Cuba before he leaves office in order to, once again, shake the bloody hands of Raúl Castro and perhaps meet his hero, Fidel Castro.