Republican presidential candidate Ted Cruz has surged ahead to become the latest front-runner in the campaign for the Iowa caucuses, dislodging Ben Carson and opening an impressive lead over a stalled Donald Trump, a Bloomberg Politics/Des Moines Register Iowa Poll shows.
The firebrand junior senator from Texas is backed by 31 percent of those likely to attend the Republican caucuses that start the presidential nomination season on Feb. 1. Trump is a distant second at 21 percent, up slightly from 19 percent in October, but below his peak of 23 percent in August.
Cruz's 21-percentage-point jump since October is the largest surge between Iowa Polls recorded in at least the last five presidential caucus campaigns. When first and second choices are combined, he has the support of 51 percent of likely caucus-goers. The senator's great leap forward comes largely at the expense of Carson, as Iowa's evangelicals appear to have picked the candidate they want to get behind. The retired neurosurgeon, now barely in third-place, is supported by 13 percent, down from the first-place showing he posted in October, when he was at 28 percent.
For Iowa's conservative voters, "the coalescing has begun," said J. Ann Selzer, founder of Selzer & Co., the West Des Moines-based firm that conducted the poll.
The same can't be said for the voters who describe themselves as part of the Republican establishment, which the poll recorded as 29 percent of the likely electorate. For now, Trump has 23 percent from those who consider themselves Republican establishment voters, followed by Cruz at 22 percent. Senator Marco Rubio and his one time mentor, former Florida Governor Jeb Bush, are both at 12 percent.
There's no good news in the poll for Bush, who despite his political pedigree as the son and brother of past presidents and a massive campaign war chest, has moved up only slightly since October, to 6 percent from 5 percent, and is in fifth place. The super political action committee supporting Bush has been by far the largest political ad buyer in Iowa, Kantar/CMAG data shows.
Bush's negatives are the highest of any candidate in the field and at an all-time high in the state, with 54 percent of likely Republican caucus-goers viewing him unfavorably. That's up from 43 percent in October. He also recorded his highest level of likely caucus-goers who say they could never support him, 41 percent. "Based on this data, it's hard to keep Bush in the picture," Selzer said.
Cruz's new front-runner status in Iowa has been accompanied by a jump in his favorability rating, now an all-time high of 73 percent, the highest in the Republican field. That could come as a surprise to members of Washington's establishment, who have shown disdain for him and complained that his three years there have been marked by showmanship, inflexibility and a lack of collegiality. In his campaign autobiography, A Time for Truth, Cruz's opening anecdote recounts him becoming the target of "red-faced name calling" by his Republican Senate colleagues when he wouldn't go along with a party vote on extending the debt limit.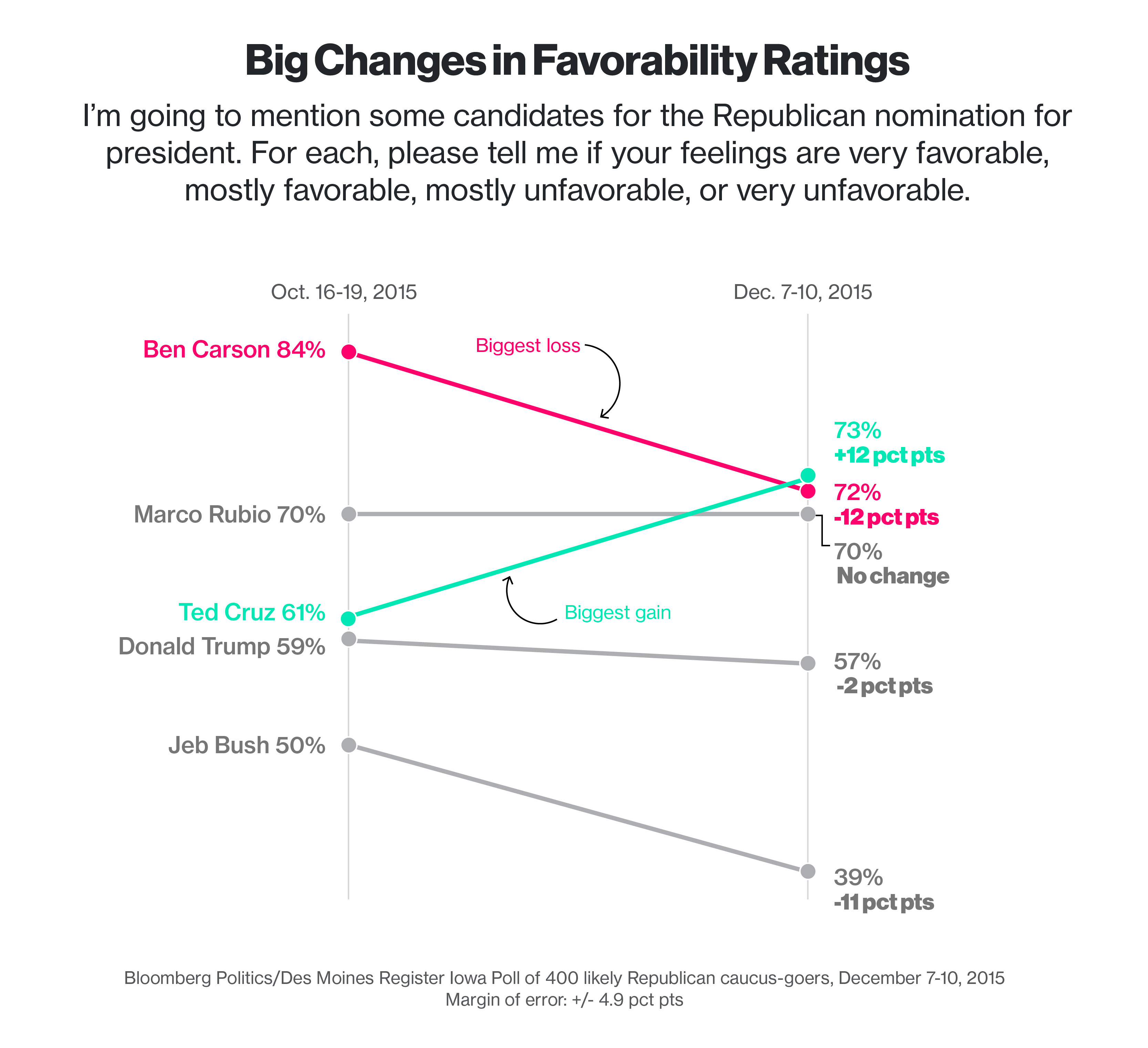 Cruz dominates yet another gauge the poll takes of candidates' strength, the "Selzer Score," which uses multiple measures to try to assess potential upside in a crowded field. The index looks at first and second choices, as well as whether respondents could ever — or would never — support candidates not in their first two choices. (The first choices are given double weight, while "ever support" is given a half weighting.) Using that system, Cruz scores an unprecedented 97.5. He's followed by Trump at 72.5, Carson at 67.5 and Rubio at 62.
The Texan's rise suggests that Rubio's recent attacks on Cruz for alleged weakness on national security have failed so far to do damage, at least in Iowa. Rubio, the subject of criticism by some Iowa Republians for not spending more time in the state, is treading water: The junior senator from Florida is in fourth place with the support of 10 percent of voters, up just one point from October.
The poll also sets up an intriguing dilemma for Trump, including in the Republican debate Tuesday: The billionaire has sometimes mocked challengers on the basis of their personalities, but doing so against Cruz could prove risky, given the high senator's high favorable rating in Iowa. This weekend, Trump started to attack Cruz for his opposition to the Renewable Fuel Standard that supports the corn-based ethanol industry in Iowa.
In a week when he received the endorsement of one of Iowa's most visible evangelical leaders, the poll shows Cruz with support from 45 percent of those who mainly define themselves as evangelical conservatives, more than double what Carson gets. Half of likely Republican caucus-goers in the poll described themselves as "born again" or evangelical Christian, up from 42 percent in the October poll, possibly signaling greater participation from this group.
"He's very conservative and I agree with most of his views on the financial situation of our country and abortion and gay marriage," said Sarah Chappell, 34, a stay-at-home mother from Des Moines who is leaning toward caucusing for Cruz. "He wants to let us make choices, instead of the government being all powerful and making choices for us."
Cruz is also winning nearly half — 46 percent — of those who identify as very conservative, as well as 39 percent of those who consider themselves aligned with the Tea Party movement.
A victory in the Iowa caucuses would give Cruz some early-state momentum that could help carry him well beyond the second voting state of New Hampshire, where he isn't nearly as strong.
Unlike some recent Iowa Republican caucus winners, who have foundered because they didn't have the campaign cash to capitalize on their strong showing in the state where the first ballots are cast, Cruz has plenty of money: His campaign committee had collected $26 million as of Sept. 30 and a family of super-political action committees backing him reported receipts of more than $37 million as of June 30.
With just seven weeks until the caucuses, a third of those likely to participate on the Republican side say their mind is made up. Trump and Cruz supporters are more certain, at 45 percent and 43 percent, respectively.
New Jersey Governor Chris Christie, former Arkansas Governor Mike Huckabee and Senator Rand Paul of Kentucky are tied for sixth place, with each getting 3 percent. All other candidates recorded 2 percent or less. Paul's score in the Iowa Poll could be enough to knock him from the main debate stage Tuesday in Las Vegas.
In keeping with Iowa tradition, the poll suggests there will be lots of late deciders, so Cruz can't coast. Almost a third say they're likely to still be deciding the week leading up to the caucuses, while 30 percent say they expect to have their minds made up at least a week ahead of time. Just 3 percent of likely Republican caucus-goers say they've signed a pledge card for a particular candidate, while 1 percent admit to signing one for more than one candidate.
Among the top four candidates in the poll, Cruz scores the highest on half of the 14 candidate attributes tested, with Trump winning the other half. Cruz is strongest on items related to presidential leadership, while Trump is strongest on questions related to getting specific things done, such as managing the economy, solving illegal immigration and reducing the deficit.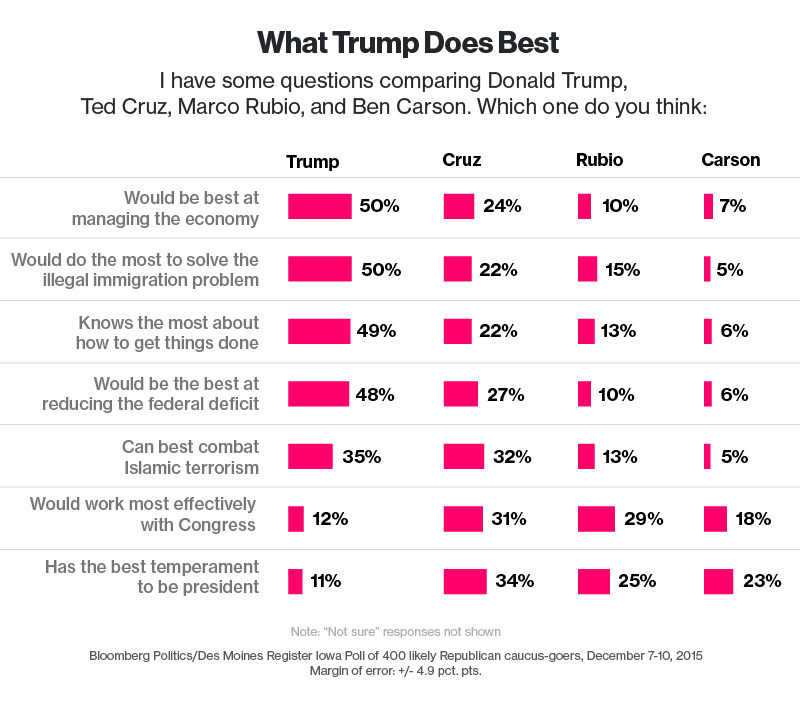 The billionaire real estate mogul also beats Cruz, 30 percent to 26 percent, on the question of who has the best chance to beat Democratic frontrunner Hillary Clinton in the general election.
Underscoring the anti-establishment mood, just 19 percent of likely Republican caucus-goers say they'd prefer a governor to win the nomination. Senators are picked by 30 percent, while a "government outsider who has handled complex issues and managed teams" is the preference of 39 percent.
A minority of 40 percent of likely Republican caucus-goers support making abortion illegal, including in cases of rape, incest, or to save the life of the mother. Among supporters of Cruz—who supports a no-exceptions abortion ban—that number is 58 percent, compared to 30 percent among Trump's backers.
More than two-thirds of likely Republican caucus-goers want to stop all U.S. resettlement of Syrian war refugees, 61 percent support sending at least 20,000 troops to fight the Islamic State in Iraq and Syria and 54 percent support deporting the estimated 11 million undocumented residents in the U.S.
On fiscal issues, almost three-quarters of Republican caucus-goers support a tax reform plan that cuts taxes on all Americans, including the very wealthiest. Sixty one percent want to abolish the Internal Revenue Service. Roughly the same proportion want to repeal the financial reform laws enacted after the banking crisis in 2008, and say they think climate change is a hoax.
The Iowa Poll, taken Dec. 7-10, included 400 likely Republican caucus participants. On the full sample, it has a margin of error of plus or minus 4.9 percentage points, although higher for subgroups.