How did a powerful U.S. air-to-ground Hellfire missile wound up in communist Cuba? Above, is a picture of a Hellfire missile.
A powerful U.S. air-to-ground Hellfire missile, with design and electronics that are a top military secret, has ended up in the hands of the bloody Cuban regime through a series of bizarre mishaps or deliberate theft by Castro intelligence agents or by of other enemy nations. The Wall Street Journal reported that U.S. officials fear that whether it received the missile by accident or design, the Cuban regime has likely shared its secrets with countries like China, North Korea, or Russia and that copies could soon turn up on the international arms market.
This Hellfire missile was sent by its manufacturer, Lockheed Martin Corporation, after the company received permission from the State Department, to the U.S. Naval Base in Rota, near Cadiz, Spain for training purposes for the North Atlantic Treaty Organization (NATO) military personnel and was wrongly shipped from there to Cuba in 2014. This represented a loss of sensitive military technology that ranks among the worst-known incidents of its kind.
The unintended or stolen by spies delivery of the missile to Cuba has perplexed national security experts who work in a regulatory system designed to prevent precisely such high tech equipment from falling into the wrong hands. Most likely the Castro Brothers sold this very valuable military technology to Russia, China, Iran, North Korea, and other enemy countries of our nation as they have always done for over 57 years.
In 1959, Dallas Mafia member Jack Ruby, who shot Lee Harvey Oswald in 1963, sold Fidel Castro U.S. state-of-the-art surveillance equipment, which the Cuban dictator used effectively to crush its opposition in the Island. Fidel Castro then sold the spy equipment to the Soviet Union.
Hellfires are air-to-ground missiles, frequently fired from helicopters. These missiles were first designed as antitank weapons decades ago, but have been modernized to become an important part of the Pentagon's antiterrorism arsenal. These missiles are often fired from Predator drones or aircraft to carry out deadly attacks on targets in countries including Yemen, Pakistan and other countries.
David Barret and Gordon Lubold wrote an article titled "Lost U.S. Missile Found in Cuba" which was published on January 8, 2016 in the Wall Street Journal. The reporters said that U.S. officials have tried to get the Cuban regime to return the missile. At the same time, federal investigators have been tracing the paper trail of the Hellfire missile to determine if its arrival in Cuba was the work of criminals or spies or the result of a series of blunders.
The Obama administration is worried that Cuba could share the sensors and targeting technology inside it with nations like China, North Korea and Russia. This writer finds this concern very ironic since President Obama has given Cuba a series of unilateral concessions with nothing in return. More than likely Cuba has already betrayed the United States with these nations, as it has been doing for 57 years. Therefore, Obama's New Cuban policy is a colossal failure and has endangered our national security.
The United States is still trying to retrieve Hellfire missile erroneously sent to Cuba
The reporters wrote that U.S. officials are increasingly skeptical about their chances of finding the individuals responsible for this act of treason. Sadly, the sensitive technology passed through so many hands in so many places that it may be hard to blame any person or company in particular.
As explained, the Hellfire missile was sent to Europe in 2014 to be used in a North Atlantic Treaty Organization exercise, but it never made it back to its U.S. manufacturer. Instead, it ended up going on a long, strange trip as commercial cargo to Germany and then to France, where it was loaded onto a plane to Cuba. When that plane landed in Havana, communist local officials seized the missile. The United States has been trying unsuccessfully to get it back.
A Hellfire missile, similar to the one sent to Cuba, hangs from a U.S. Air Force MQ-1B Predator unmanned aerial vehicle at a secret air base in the Persian Gulf region.
The reporters pointed out that the people close to the case cautioned that given the many stages of the missile's journey and the number of people who handed the missile, bringing charges would be difficult even if they identify a key suspect. More than a dozen people saw or should have seen the labeling on the crate telling them it was precious cargo that needed to be sent right back to the United States. U.S. officials said the case of the missing missile, while highly unusual, points to long-standing concerns about the security of international commercial shipping and the difficulty of keeping close tabs on important items.
The drawing above shows the incredible transportation of the Hellfire missile from Orlando, Florida to Rota, Spain to Frankfurt, Germany to Paris, France and finally to Havana, Cuba. When is Obama going to realize that Cuba is and has always been an enemy country allied with Venezuela, China, Russia, Iran, North Korea, and other U.S. enemy nations? Most likely Obama is very aware of this situation and does not care!
Peter Singer, a senior fellow at the nonpartisan New America Foundation, stated the following: "The fact that it's spread across a lot of people means it's easier for all of them to point the finger at someone else, and no one ends up responsible. The enduring lesson is the more people involved, the less likely anyone takes a fall. It's a strange phenomenon that plays out when you talk about corporations or government.''
Peter Singer also stated that it is likely that some foreign nations would like to reverse-engineer parts of the Hellfire missile, such as the sensors or targeting technology, to develop countermeasures or to improve their own missile systems. "Now it's a proliferation concern—someone else now understands how it works and what may have been cutting edge for us is deconstructed and packaged into what other players sell on the open market—and possibly provided to countries that we wouldn't sell to," said Mr. Singer.
The Journal reporters said that the government response to the missing missile has been two-pronged. First, it has tried to get the Hellfire missile back. Second, officials want to determine who, if anyone intentionally sent it off course. That effort has gone slowly. The people familiar with the probe said, in large part because the most important clues are in Europe, where evidence-gathering is subject to transnational diplomatic requests that can take years to complete.
The Journal reported that the missile was sent from Orlando International Airport in early 2014 to be used in a North Atlantic Treaty Organization military exercise. Similar to other sensitive military equipment, the shipping crate was clearly marked as containing material subject to rigorous export controls. The shipping information would have made clear to anyone handling it that it was not regular cargo. However, for reasons that are still unclear, after it was packed up, it began a roundabout trip through Europe, was loaded onto a truck, and eventually sent to Germany.
The missile was packaged in Rota, Spain, where it was put into the truck belonging to another freight-shipping firm, known by officials who track such cargo, as a "freight forwarder." That trucking company released the missile to yet another shipping firm that was supposed to put the missile on a flight originating in Madrid. That flight was headed to Frankfurt, Germany, before it was to be placed on another flight bound for Florida. The U.S. official planned who this irresponsible method of transportation needs to be fired and perhaps indicted for gross incompetence!
The Journal reporters explained the following: "At some point, officials loading the first flight realized the missile it expected to be loading onto the aircraft wasn't among the cargo. After tracing the cargo, officials realized that the missile had been loaded onto a truck operated by Air France, which took the missile to Charles de Gaulle Airport in Paris. There, it was loaded onto a "mixed pallet" of cargo and placed on an Air France flight."
The Journal reporters said the following: "By the time the freight-forwarding firm in Madrid tracked down the missile, it was on the Air France flight, headed to Havana. When the plane landed in Havana, a local official spotted the labeling on the shipping crate and seized it, people familiar with the case said. Around June 2014, Lockheed Martin officials realized the missile was missing, was likely in Cuba, and notified the State Department. Immigration and Customs Enforcement agents, as well as prosecutors with the Justice Department are now investigating to see whether the redirection of the missile was a crime."
The loss of the Hellfire missile is the worst example of the kind of missteps that can occur in international shipping of sensitive military technology. It is virtually unheard of for such a shipment to end up in a country like Cuba. The Defense Department's Joint Attack Munitions Systems project office asked officials at the Defense Intelligence Agency (DIA) to provide an assessment of the security impacts of the lost missile to determine the risks associated with its loss. A defense official confirmed that DIA has reviewed the implications of the lost missile.
The Journal reporters said that Cuban Embassy in Washington did not respond to multiple messages seeking comment. Representatives at the embassies of Spain and France did not immediately comment, while attempts to contact the German Embassy were unsuccessful.
The Journal reporters stated the following: "If someone intentionally sent it to Cuba that could constitute a violation of the Arms Export Control Act, as well as a possible violation of Cuban sanctions laws. There are more than 25 countries to which U.S. military exports are generally prohibited. Cuba was added to the list in 1984. The State Department's office of Political-Military Affairs, which oversees exports of military hardware, regularly finds companies to be in violation of the Arms Export Control Act for a variety of reasons. Each year, there are about 1,500 disclosures of potential violations to the Arms Export Control Act. Many of those violations are because of mis-shipments, said a State Department official, but the official said the government doesn't track the specific number each year."
The reporters concluded their article by stating the following: "While there is skepticism within the government that any charges will be filed, it could be years before a final decision is made on whether to charge anyone. Since much of the evidence is in Europe, the U.S. has to go through a time-consuming diplomatic process to request interviews with individuals, or to get corporations or governments to provide critical documents."
Cuba has placed spies in the CIA, the Pentagon, and the Department of State for many years
The bloody Castro brothers in Cuba were very successful in placing double agents in the CIA. Former Cuban intelligence Major Florentino Aspillaga, who defected to the CIA in 1987, revealed that "some four-dozen CIA recruits over a 40-year period secretly had been working for the communist government in Havana and supplying disinformation to the CIA." Later that year, Cuban state television reported in a documentary the existence of 27 phony CIA agents, along with their secret CIA communications and photographic gear.
This catastrophic intelligence failure was covered up by the congressional intelligence oversight committees, according to CIA historian Benjamin Fischer. Cuba has also infiltrated spies in the State Department and the DIA agency of the Defense Department. Perhaps the Castro brothers still have Cuban agents in our government. They also have a friend in the White House, President Barack Obama.
Conclusion
How in the world a Hellfire missile was send to Cuba? It is outrageous and unbelievable. Why did the U.S. not send one of our Air Force aircraft to carry the missile to Spain and back? Why did the U.S. allow so many foreign carriers to handle such an important missile? Why is the State Department giving permission to the manufacturer of weapons to send sensitive military equipment abroad in commercial carriers? Are we that insane?
Did someone take a bribe to send it to Cuba? Was this a Cuban, Chinese, Russian or North Korean intelligence agents operation or just a series of mistakes? U.S. intelligence agencies and Congress need to investigate how this horrendous breach of national security could have occurred and take strong measures to prevent a similar incident in the future.
When Lockheed Martin Corporation discovered the diversion in June 2014 and alerted the Obama administration, the president was engaged in deep negotiations to restore diplomatic relations with Cuba. In the succeeding months, President Obama freed the remaining three Cuban spies in exchange for Alan Gross, unjustly jailed for five years in Cuba for helping Cuban Jews with electronic equipment, and an unidentified U.S. spy held by the Castro regime.
Obama shamefully and illegally removed Cuba for the list of terrorist nations and the list of nations engaged in human trafficking, liberalized U.S. trade and travel to Cuba, and finally granted Cuba full diplomatic relations with the opening of embassies in both countries. Nevertheless, the Obama administration has not been able to get our missile back. How outrageous!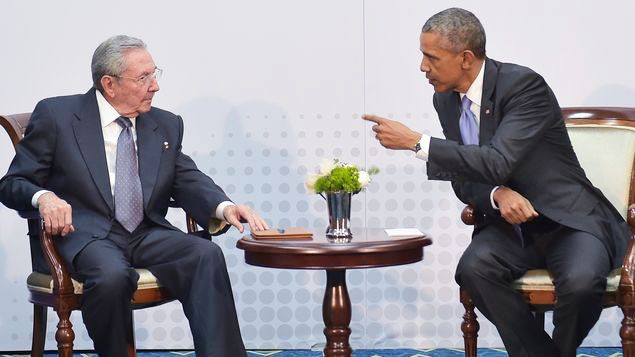 President Obama smiles to his new friend the bloody dictator Raúl Castro in Panama.
Obama should have demanded in 2014 that the Cuban regime promptly return the stolen missile or stopped his negotiations to restore diplomatic relations with Cuba. Of course, the traitor who lives in the White House did not do that. Quite the contrary, Obama continued to give Cuba more and more unilateral concessions with nothing in return. And now he will visit Cuba in March 2016 to embrace his friend, the serial assassin dictator Raúl Castro.
Is there any doubt that Obama is a traitor?