Marxist Senator Bernie Sanders, Independent from Vermont, is ahead in polls in Iowa and New Hampshire.
Senator Bernie Sanders, Independent from Vermont, who is running for president under the Democratic Party, is doing well in the recent polls of the first two Democratic contests of Iowa and New Hampshire. This shows that Hillary Clinton's presidential campaign is in serious trouble, even though she still leads in national polls. But the trend of all the polls clearly indicates that Hillary Clinton is losing support among Democrats. National polls indicate that most Americans think she cannot be trusted and she is not honest due to her multiple scandals.
As indicated Hillary Clinton's presidential campaign is being hurt by a string of scandals, including her use of an illegal unsecured private server kept, in violation of federal law, in the baseman of her house. More than 1,340 emails thus far that were received by Mrs. Clinton were classified top secret.
It is suspected that all of the top secrets e-mails from the Department of State may have been hacked by the enemies of the United States. It does not help Clinton's campaign that 150 FBI agents are conducting a criminal investigation on her mishandling classified emails and for corruption while serving as Secretary of State where Mrs. Clinton traded favors to foreign governments and large corporations for tens of millions of donations to the corrupt Clinton Foundations and for well-paid speeches given by the couple. Two Inspectors Generals from the Intelligence Services and the Department of State said the former secretary of State may have mishandled top secret and classified e-mails.
This is why support for Senator Sanders in spite of his communist background has surged around the country, and he has drawn misinformed crowds that are the envy of other candidates. Senator Sander's presidential campaign has attracted more than 140,000 volunteers who have registered online. This is a great success for a Vermont senator with Marxist political roots, no experience in national politics and little establishment backing.
On April 30, 2015, socialist-Marxist Senator Bernie Sanders announced he was running for president. Senator Sanders in an address on the Capitol lawn, stated, "I don't believe that the men and women who defended American democracy fought to create a situation where billionaires own the political process." Radical leftist Senator Elizabeth Warren, Democrat from Massachusetts, a darling of socialist democrats, praised Sanders for entering the presidential race.
Senator Sanders told the Associated Press on April 29, 2015 that he would propose "very specific proposals" to increase taxes on the wealthy and corporations and offer tuition-free higher education at public universities. He also stated his support for more effective regulation of Wall Street and opposition to free trade agreements and the Keystone XL pipeline. Sanders said he would work to reverse the growing income inequality.
The communist senator from Vermont stated the following: "What we have seen is that while the average person is working longer hours for lower wages, we have seen a huge increase in income and wealth inequality, which is now reaching obscene levels. This is a rigged economy, which works for the rich and the powerful, and is not working for ordinary Americans … You know, this country just does not belong to a handful of billionaires."
Sanders wants a political revolution and shakeup of the United States
Presidential candidate Senator Bernie Sanders said he hopes to lead a "political revolution" for working families and against money in politics in his bid for the White House. In a May 3, 2015 interview with ABC's This Week, George Stephanopoulos, Senator Sanders stated the following: "I think I'm the only candidate who's prepared to take on the billionaire class. We need a political revolution in this country involving millions of people who are prepared to stand up and say, enough is enough, and I want to help lead that effort."
Senator Sanders told ABC's Jonathan Karl earlier that the millions of dollars flowing into the Clinton Foundation pose a "very serious problem." He added that "It's not just Hillary. It's the Koch Brothers. It is Sheldon Adelson," referring to billionaire backers of conservative causes and candidates. "Can somebody who is not a billionaire who stands for working families actually win an election?"
Senator Sanders is challenging Hillary Clinton from the radical left. Sanders opposed the Iraq War, which Hillary Clinton supported in the Senate, and is against Trans-Pacific Partnership (TPP) trade agreement, which the Obama administration is trying to get through Congress. Hillary Clinton fully supported TPP as secretary of state but has raised reservations about it since announcing her presidential bid.
Sanders stated the following to George Stephanopoulos: "Hillary Clinton has been part of the political class for many, many years. I respect her and I like her, but I think what the American people are saying, George, is … maybe it's time for a real political shakeup in this country."
When asked whether the United States was ready to elect an avowed socialist, Sanders said: "Well, so long as we know what democratic socialism is. And if we know that in countries, in Scandinavia, like Denmark, Norway, Sweden, they are very democratic countries, obviously. The voter turnout is a lot higher than it is in the United States. In those countries, healthcare is a right of all the people. And in those countries, college education, graduate school is free. In those countries, retirement benefits, childcare are stronger than United States of America. And in those countries, by and large, government works for ordinary people and the middle class, rather than, as in the case right now in our country, for the billionaire class."
What Sanders did not explain was that in those countries the people are taxed over 50% of their income. Do Americans want to have that extremely federal high tax rate? Do Americans want to elect another Marxist to the White House? Senator Sanders is definitely an underdog to the much better funded Hillary Clinton political machine for the Democratic Party. He explained that has raised more than $1.5 million in a day since announced his candidacy. Sanders promised not to have a Super PAC that could accept unlimited contributions.
Who is Bernard "Bernie" Sanders?
Bernie Sanders was born on September 8, 1941 in Brooklyn, New York, the son of Dorothy and Eli Sanders. His father was a Polish Jewish immigrant, and his mother was born in New York, also to a Jewish immigrant family. He graduated from James Madison High School in Brooklyn in 1959.
Sanders studied a year at Brooklyn College and then transferred to the University of Chicago where he graduated with a bachelor of arts in political science in 1964. While a student in 1963, Sanders was active in the civil rights movement and became an organizer for the Student Nonviolent Coordinating Committee. He was one of several thousand students who traveled on buses to Washington, D.C., for the 1963 March on Washington for Jobs and Freedom. After graduating, Sanders spent time on an Israeli kibbutz. In 1964, he moved to Vermont, where he worked as a carpenter, filmmaker, writer, and researcher, among other occupations.
In 1971, Sanders became a candidate for the Senate for the radical anti-Vietnam war Liberty Union Party and receive 2% of the vote. He ran as a candidate for the Liberty Union three more times, earning 6% of the vote before finally giving up. He included in his platform the nationalization of all United States banks, public ownership of all utilities, and the establishment of a worker-controlled government. He declared himself to be a socialist.
After several unsuccessful runs for senator, Sanders was elected mayor of Burlington, Vermont's largest city, in 1981 with the majority of 10 votes. He was re-elected to three more two-year terms as mayor. Mayor Sanders hung a Soviet flag in his office in Burlington, in honor of the city's Soviet sister city, Yaroslavl. In 1985, Mayor Sanders celebrated the sixth anniversary of the Sandinista victory in Managua, Nicaragua with the communist dictator Daniel Ortega.
In 1990, Sanders was elected to Congress, as a socialist, on the third party ticket. At the time, Bernie Sanders was a member of leftist Jesse Jackson's National Rainbow Coalition. He served in Congress for 16 years before being elected to the Senate in 2006. Six years later he was reelected to the Senate.
As an independent politician since 1979, Sanders is associated with the Vermont Progressive Party and he was a member of Liberty Union party from 1971 to 1979. Although Sanders runs for office as an independent, he caucuses with the Democratic Party and is counted as a Democrat for purposes of committee assignments.
When he arriving Congress in 1991, Sanders co-founded the extreme radical Congressional Progressive Caucus, and served as chairman during its first eight years. At the beginning the website of the Congressional Progressive Caucus played the song of the Communist International song. Later it was removed to hide from the public the Marxist ideology of its members.
Sanders voted against the resolution authorizing the use of force against Iraq in 1991 and 2002. He opposed the 2003 invasion of Iraq. Sanders was a strong critic of the Bush administration. He also criticized Federal Reserve Chairman Alan Greenspan. Sanders told Greenspan that he was "way out of touch" and "that you see your major function in your position as the need to represent the wealthy and large corporations." Senator Barack Obama campaigned for Sanders in Vermont when he ran for the Senate since both of them shared the same Marxist ideology.
In March 2015, Senator Sanders declined to attend Prime Minister Benjamin Netanyahu's speech to Congress. After the Prime Minister of Israel's speech, Sanders released a statement supporting the Obama administration's diplomatic effort to address Iran's nuclear program and regretting that Netanyahu's speech did not offer "any serious alternatives" to prevent Iran from obtaining a nuclear weapon.
Sanders communist and socialist connections
Trevor Loudon in his book The Enemies Within: Communist, Socialist and Progressive in the United States Congress (2013) pointed out Bernie Sanders communist and socialist connections. Trevor Loudon wrote that Sanders received the support of journalist I.F. Stone in 1988, a former secret Communist Party USA member and a Soviet agent in a letter endorsing Sanders's congressional campaign. Stone wrote the following: "Sanders is and on apologetics socialist… He has travel to Nicaragua to speak out against Reagan administration's war and to establish a sister city relationship between Burlington and Managua, Nicaragua. More recently, he went to the Soviet Union to set up a sister city program with Yaroslavl. While socialism has a long and proud history America, extending back to the utopian experiments of the early 1800s, it has been a long time since we've had a socialist voice in Congress."
Loudon explained that Sanders participated in the 1989 U.S. Peace Council national conference together with many communists who were followers of the agenda set by the Communist Party USA and the Soviet-controlled World Peace Council. Communist Mike Bayer supported strongly Sanders's campaign for the Senate. Bernie Sanders has been a close ally of the Democratic Socialists of America (DSA) and has been a regular speaker at their conferences and the organization is a major fundraising for his campaigns.
Loudon wrote that Sanders has also been supported by the radical Council for a Livable World. The Council website explaining 2012 when it endorse Sanders for reelection to the Senate the following: "Bernie, as is universally known, as the perfect record on the Council for a Livable World's voting scorecard on key national security issues… He opposed authorization for war in Iraq went in the House and supported measures in both the Senate and the House to withdraw troop… He enthusiastically endorsed the New STAR treaty and will post all Republican attempts to cripple the agreement… He is committed to the elimination of weapons of mass destruction, opposes preemptive wars and works hard on these issues."
Basically this radical Council is praising Sanders for weakening our national defense, as President Barack Obama has been doing since became president. Both Sanders and Obama have made the United States a weaker superpower and endangered our national security.
Bernie Sanders has been a part of the socialist movement since his college days. Loudon pointed out that Sanders joined the Young People's Socialist League, the youth wing of the Socialist party USA during the time he was a student at the University of Chicago., The Congress of Racial Equality and the Student Peace Union. He also worked for the communist-led United Packing House Workers Union.
Paul Sperry, a visiting Hoover Institution media fellow and author of many books, wrote an article titled "Don't be Fooled by Bernie Sanders- he's a Diehard Communist" which was published in the New York Post on January 16, 2016.
Sperry explained that as the self-described socialist Senator Bernie Sanders looks more like a serious contender for the nomination for president of the Democratic Party, the liberal media elite have suddenly stopped calling him socialist. He is now cleaned up as a "progressive" or "pragmatist." However, Sanders is not even a socialist. He is a communist. In order to mainstreaming Sanders requires whitewashing his radical pro-communist past. It will not be easy to do. If Senator Sanders were nominated for a Cabinet post, he would never pass an FBI background check. There would be too many subversive red flags popping up in his file. Sanders was a communist collaborator during the height of the Cold War.
We need to remember that there was another Marxist who would not pass an FBI or CIA background check. His name is Barack Hussein Obama. And he ended in the White House being the boss of the FBI and the CIA!
Rewind to 1964
Sperry pointed out that while Sanders was attending the University of Chicago, he joined the Young People's Socialist League, the youth wing of the Socialist Party USA. He also organized for a communist front, the United Packinghouse Workers Union, which at the time was under investigation by the House Committee on Un-American Activities. After graduating with a with a bachelor of arts in political science in 1964, Sanders moved to Vermont, where he headed the American People's History Society, an organ for Marxist propaganda.
Sperry explained that Sanders produced a glowing documentary on the life of socialist revolutionary Eugene Debs, who was jailed for espionage during the Red Scare and hailed by the Bolsheviks as "America's greatest Marxist." This subversive Marxist hero of Sanders, was denounced even by liberal Democrats as a "traitor," attacked "the barons of Wall Street" and hailed the "triumphant" Bolshevik revolution in Russia.
Eugene Victor "Gene" Debs (November 5, 1855 – October 20, 1926) was an American union leader, one of the founding members of the Industrial Workers of the World (IWW or the Wobblies). He ran five times for president as the candidate of the Socialist Party of America. Through his presidential candidacies, as well as his work with labor movements, Debs eventually became one of the best-known socialist living in the United States. Debs was convicted under the Espionage Act of 1917 and sentenced to a term of 10 years. Republican President Warren G. Harding commuted his sentence in December 1921.
Eugene Debs stated the following: "Those Russian comrades of ours have made greater sacrifices, have suffered more, and have shed more heroic blood than any like number of men and women anywhere on Earth. They have laid the foundation of the first real democracy that ever drew the breath of life in this world." In a 1918 speech in Canton, Ohio, Debs reaffirmed his solidarity with Vladimir Lenin and Leon Trotsky, despite clear evidence of their destruction of Russia and the tens of thousands of people they killed.
Young people are excited by the presidential campaign of Bernie Sanders. Senator Sanders still hangs a portrait of Eugene Debs on the wall in his Senate office.
Sperry said that in the early 1970s, Bernie Sanders helped found the Liberty Union Party, which called for the nationalization of all U.S. banks and the public takeover of all private utility companies. After failed runs for Congress, Sanders in 1981 managed to get elected mayor of Burlington, Vermont, where he restricted property rights for landlords, set price controls and raised property taxes to pay for communal land trusts. Local small businesses distributed fliers complaining their new mayor "does not believe in free enterprise." Sanders took several "goodwill" trips not only to the Union of Soviet Socialist Republics (USSR), but also to Cuba and Nicaragua, where the Soviets were trying to expand their influence in the Western Hemisphere. In 1985, Sanders traveled to Managua, Nicaragua to celebrate the rise to power of the Marxist-Leninist Sandinista government. He called it a "heroic revolution." Undermining anti-communist U.S. policy, Sanders denounced the Reagan administration's backing of the Contra rebels in a letter to the Sandinistas.
Sperry wrote that Sanders lobbied the White House to stop the assistance to the anti-communists Contras and even tried to broker a peace deal. He adopted Managua as a sister city and invited Sandinista leader Daniel Ortega to visit the United States. He exalted Ortega as "an impressive guy," while attacking President Reagan. Sanders stated in 1985 that "The Sandinista government has more support among the Nicaraguan people — substantially more support — than Ronald Reagan has among the American people." Bernie Sanders also adopted a Soviet sister city outside Moscow and honeymooned with his second wife in the USSR. He put up a Soviet flag in his office, shocking even the Birkenstock-wearing local liberals. At the time, the Soviet Union was on the march around the world, and threatening the U.S. with nuclear annihilation.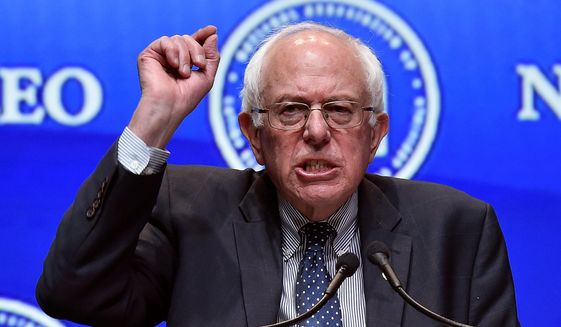 Communist Sanders will definitely implement real change and, if elected president, he will continue Obama's rapid road to radically change our beloved country into a communist society.
Sperry said that in 1989 as the West was on the verge of winning the Cold War, Sanders addressed the national conference of the U.S. Peace Council — a known front for the Communist Party USA, whose members swore an oath not only to the Soviet Union but to "the triumph of Soviet power in the U.S." Currently, Sanders wants to bring what he admired in the USSR, Cuba, Nicaragua and other communist states to America. As it has been explained earlier, Sanders proposed to completely nationalizing our health care system and putting private health insurance and drug companies "out of business." He also wants to break up "big banks" and control the energy industry, while providing "free" college tuition, a "living wage" and guaranteed homeownership and jobs through massive public works projects. Price tag: $18 trillion.
Sperry stated the following: "Who will pay for it all? You will. Sanders plans to not only soak the rich with a 90 percent-plus tax rate, while charging Wall Street a "speculation tax," but hit every American with a "global-warming tax." Of course, even that wouldn't cover the cost of his communist schemes; a President Sanders would eventually soak the middle class he claims to champion. From each according to his ability, to each according to his need, right? Former mayoral advisers from Burlington defend their old boss. They note that Sanders was never a member of the Communist Party and deny he was even a small-c communist, even while acknowledging he named their city softball squad the People's Republic of Burlington and the town's minor league baseball team the Vermont Reds."
The Comrade from Vermont, Bernie Sanders, named his city softball squad the "People's Republic of Burlington" and the town's minor league baseball team the "Vermont Reds."
Sperry concluded his article by stating the following: "What about those communist sister cities he adopted? Sanders and his Sandinistas are all still pining for what Debs called the Greater Revolution yet to come. What's revolting is how this hardcore commie's campaign has gotten this far. With his ascendancy in both Iowa and New Hampshire, Sanders is no longer just a fool; he's now a dangerous fool. While it may be hard to hate the old codger, it's easy — and virtuous — to hate his un-American ideas. They should be swept into the dustbin with the rest of communist history."
Marxist Bernie Sanders wants to provide free college tuition, single-payer socialist health care, Medicare for all, increased benefits for Social Security, increased infrastructure spending, create free leave paid for workers, bolster private pension funds, one million government jobs for youth                                           to all Americans
Senator Sanders announced two new bills — the "College for All Act" and its companion, "The Inclusive Prosperity Act of 2015″ — that would eliminate undergraduate tuition at all public colleges and universities. This sounds great until one sees the astronomical cost of this idea. It is estimated that such a plan would cost taxpayers more than $70 billion a year and more $750 billion over the next decade. College tuition rises every year in double digits.
Laura Meckler wrote an article entitled "Price Tag of Bernie Sanders's Proposals: $18 Trillion" which was published in The Wall Street Journal on September 15, 2015. She explained that Senator Bernie Sanders is proposing many new federal government programs to fight poverty and income inequality that amount to at least $18 trillion in new spending over a decade. His proposals would amount to the largest peacetime expansion of government in modern America. According to a study by The Wall Street Journal, the immense cost of his plans alarms conservatives as well as many Democrats.
Meckler explained that the socialist agenda of Senator Sanders includes an estimated $15 trillion for a government-run health-care program that covers every American, plus large sums to rebuild roads and bridges, expand Social Security and make tuition free at public colleges. To pay for it, Sanders has so far detailed tax increases that could bring in as much as $6.5 trillion over 10 years, according to his staff. His "single-payer" proposed health plan, now in Congress, would be funded in part through a new payroll tax on employers and workers. Warren Gunnels, his policy director, stated that the programs would address an array of problems. Gunnels stated "Sen. Sanders's agenda does cost money, if you look at the problems that are out there, it's very reasonable."
Meckler pointed out that Sanders calls himself a democratic socialist. He has long stood to the left of the Democratic Party. At first, Hillary Clinton expected a "coronation" by her party and she was dismissive of Sanders. This is no longer true. As indicated earlier, Sanders is ahead of the former secretary of state in the early-voting states of Iowa and New Hampshire, and Sanders has gained in national polling. The Marxist Vermont senator now stands as her most serious challenger for the Democratic nomination by attacking economic inequality through more government services, higher taxes on the wealthy and new constraints on banks and corporations.
Meckler wrote that Sanders' proposed program would increase the total federal spending by about one-third—to a projected $18 trillion or so over 10 years. For many years, government spending has equaled about 20% of gross domestic product annually; Sanders' proposals would increase that to about 30% in their first year. As a share of the economy, that would represent a bigger increase in government spending than the New Deal or Great Society and is surpassed in modern history only by the World War II military buildup.
The chart below points out the enormous cost of Sanders' proposals:
This writer is convinced that such proposals are irresponsible and are pure Marxist populism. Sanders' plans promises are very similar to those made by Chavistas in Venezuela, the communist Podemos Party in Spain, and other Marxist political parties around the world. One has to look at the massive poverty in Cuba, Venezuela, North Korea and the countries in Europe that implemented generous social benefits that were economic unsustainable and now are almost bankrupt with very high unemployment.
Hillary Clinton, according to Meckler, so far has proposed programs that together would cost an estimated $650 billion over 10 years. Clinton college-affordability plan is estimated at $350 billion over 10 years, and an expected child-care proposal is estimated to cost at least $200 billion. Those are modest sums compared Sanders's socialist agenda.
Meckler explained that Sanders most expensive proposal is his plan to extend Medicare to all Americans. He is proposing a $1 trillion to repair roads, bridges and airports. He wants programs would provide youth jobs and prevent cuts to private pension plans. Sanders would raise an additional $1.2 trillion in Social Security taxes in order to increase benefits and pay those already promised for 50 years. Sanders said that he also would propose an expansion of federal support for child care and preschool, though he hasn't said how much those programs would cost, and they aren't included in this total.
Warren Gunnels, his policy director, said the campaign hasn't worked out all details on his plan—for instance, his version might allow each state to run its own single-payer system. But he said the $15 trillion figure was a fair estimate.
Laura Meckler indicated that the tax increases Sanders has proposed are concentrated on Americans earning at least $250,000 a year and on corporations. They include increases in the capital-gains tax, the estate tax and personal income-tax rates for the wealthiest Americans. He also would impose a fee on financial transactions, with investment companies taxed on every stock they trade. More-centrist Democrats think Sanders' plans are a bad idea. "We are not a country that has limitless resources. You need to tamp on the brakes somewhere, but he doesn't," said Jim Kessler, senior vice president for policy at the Democratic think tank Third Way. "There's no such thing as free college; somebody is going to be paying for it."
Conclusion
Many economists say higher government spending would hurt long-term economic growth and the proposals by Sanders would stunt it altogether. They believe that the tax increases required to pay for the Sanders program would be "massively catastrophic" and destroy the free enterprise system.
This writer believes that one thing is certain. And that is that the federal debt would continue to increase dramatically should another Marxist such as Sanders would be elected president. Sanders would raise taxes enormously to pay for his free tuition and other parts of his plans and severely damage the economy.
It is a sign of the times we are living in that a self-declared socialist-Marxist Bernie Sanders is doing well at the polls. Many young people who have graduated or are still in college have been influenced or brainwashed by socialist or Marxist secondary teachers and college professors. A poll taken by students recently the majority found the word "socialism" positive and "capitalism" negative.
If Sanders is elected president or if his agenda were to be implemented in the nation, the United States would be bankrupt very soon. How can a nation with a nearly $20 trillion federal debt, as well as the unfunded federal mandates, the debt of the 50 states and territories and the counties and the cities, that brings the real debt of the United States to approximately $150 trillion adopt Sanders' proposed programs that would increase the total federal spending by about one-third—to a projected $18 trillion or so over 10 years? Sanders will try hard to radically restructure our beloved country into a communist society.
It is very revolting to this writer, who was imprisoned in Cuba during two terrible years for trying to overthrow the communist regime in Cuba at the Bay of Pigs in 1961, to see how this communist presidential campaign has come this far. It is sad that the party of Thomas Jefferson is running for president a communist man and a corrupt woman who has committed many crimes.
It is absolute madness!