It is sad that the party of Thomas Jefferson is running for president a communist man and a corrupt woman who has committed many crimes.
Bernie Sanders admires Fidel Castro, Daniel Ortega, and Russia
In 1985 Senator Bernie Sanders said that the bloody dictator Fidel Castro "educated Cuban kids and gave them healthcare and totally transformed the society." That is why Sanders wants a "political revolution" once he is elected president to transform the United States into the paradise that is Cuba or Russia! Sanders is correct about how the oppressive tyranny of the Castro brothers has completely transformed Cuba. However, what he did not say is that Cuba in 1958 was one of the most prosperous nations in Latin America with a high standard of living and now Cuba is one of the most miserable nations not only of the Americas but of the world.
Outsider in the White House
Bernie Sanders wrote in his book that he was invited in 1985 by the oppressive dictator Daniel Ortega to celebrate the Seventh Anniversary of the Sandinista Revolution in Nicaragua. Sanders wrote in his book that he was the "highest ranking American official present" at the celebration. He was mayor of Burlington, Vermont and he adopted Managua as a sister city of his town.
Megan Apper wrote an article titled "Sanders in 1985: Sandinista Leader Impressive, Castro Totally Transform Cuba" which was published in the website BuzzFeed on June 25, 2015. She explained that Sanders praised the Castro regime and the Sandinista regime upon returning from a trip to South America in 1985.
The reporter explained the following: "In an interview that aired on Channel 17/Town Meeting Television, Sanders called Nicaraguan President Daniel Ortega, "and impressive guy," and said that while Fidel Castro wasn't "perfect," Americans should not forget that "just because Ronald Reagan dislikes these people, doesn't mean that people in their nations feel the same way."
The dictator Fidel Castro has destroyed Cuba and Sanders would do the same if elected president.
Sanders implied that the people of Cuba liked the bloody totalitarian dictators Fidel and Raúl Castro who are responsible for shooting more than 15,000 children, women and men, jailing over 300,000, and forcing tens of thousands to leave Cuba in rafts and small boats with an estimated 80,000 who perished at sea trying to reach Florida, Mexico or Central America.
The Castro brothers have implanted the worst and longest tyranny in the Americas and one that has lasted for 57 years. Yes, the people of Cuba love their oppressors so much that over two million have left their country and millions more would like to leave if they could!
Sanders likes the despotic communist dictator Daniel Ortega who raped his stepdaughter and has murdered and sent to jail thousands of Nicaraguans who wanted to live in freedom in a democratic country.
Upon his return to the United States, Sanders said that he was "impressed" with the "intelligence and sincerity" all Sandinista leaders, saying that they were not the "political hacks" some had portrayed them to be. Sanders also admires the "impressive guy" Daniel Ortega who raped his stepdaughter and has killed and sent to jail thousands of Nicaraguans who want to live in freedom.
Apper pointed out that Sanders stated that he was "impressed" by Father d'Escoto who was at the time the Nicaraguan Minister of Foreign Affairs. Sanders described this Marxist priest asked "very gentle" and a "loving man."
Who is the "gentle and loving" Father d'Escoto?
Priest Miguel D'Escoto Brockmann was Minister of Foreign Relations in the communist Sandinista regime of Nicaragua. Later he became president of the General Assembly of the United Nations. Pope John Paul II forbade Father D'Escoto to give the sacraments of the Church for supporting the oppressive Sandinista regime.
Pope Francis ended the punishment of this communist priest, which had been imposed by Pope John Paul II for refusing to abandon communist politics. His Holiness John Paul II, who after his death was canonized, was a great anti-communist and an enemy of the Marxist liberation theology of the Catholic Church. In 1984, his Holiness Pope John Paul II punished Miguel D'Escoto for refusing to get out of politics and did not allow him to officiate masses or offer sacraments.
It was most unfortunate that in August 2014 Pope Francis lifted the Church's 29-year ban on Maryknoll priest Miguel d'Escoto's right to celebrate Mass and offer sacraments. By taking this unwise action Pope Francis sent the wrong message of tolerance and acceptance to all the communists within the Catholic Church. Unfortunately, now this writer and many Catholics believe that Pope Francis sympathizes with the Marxist liberation theology of the Church.
After the punishment was lifted by Pope Francis, the communist priest Miguel d'Escoto immediately attacked the late Saint Pope John Paul II for "an abuse of authority." He also said that Fidel Castro is a messenger of the Holy Spirit in "the necessity of struggle" to establish "the reign of God on this earth that is the alternative to the empire." The serial assassin atheist Fidel Castro is the messenger of the devil!
D'Escoto, age 83, belongs to the Maryknoll Missionary Congregation, which supports the communist liberation theology. Some Maryknoll priest nuns have supported and fought with communist guerrillas. Miguel d'Escoto was born in the United States and was ordained in New York in 1961. He became one of the strongest proponents of the Marxist liberation theology. He collaborated with the National Sandinista Liberation Front (Frente Sandinista de Liberación Nacional).
After the coming to power of the Sandinista dictator Daniel Ortega, the communist priest Miguel d'Escoto was named Minister of Foreign Relations. When Miguel d'Escoto became President of the United Nations General Assembly, he chose a communist, Howard Zinn, as his personal assistant. Zinn is the author of a communist textbook, A People's History of the United States, which is used in many universities across the United States by socialist professors.
Pope Francis supports the Marxist theology of liberation of the Church
Pope Francis, similarly to Bernie Sanders, admires the communist priest Miguel d'Escoto. He invited d'Escoto and Marxist Peruvian priest Gustavo Gutiérrez, who is usually regarded as the founder of liberation theology in Latin America, to the Vatican. Priest Gustavo Gutiérrez's wrote the book, A Theology of Liberation: History, Politics, Salvation (1971) and later Gutiérrez co-authored another book with the Marxist Cardinal Gerhard Ludwig Miller, Prefect of the Congregation for the Doctrine of the Faith.
The Vatican's semiofficial newspaper L' Obsservatore Romano said at the time that the liberation theology should not continue to be ignored. Rather than continuing to not ignore it, this writer believes that liberation theology needs to be completely eradicated since communism and the Catholic religion are incompatible. Our Lord Jesus Christ preached liberty from oppression and communism does the opposite.
When Pope Francis was known as Cardinal Jorge Mario Bergoglio he wrote a book, Dialogues Between Pope John Paul II and Fidel Castro (1998) (Diálogos entre Juan Pablo II y Fidel Castro), published in Buenos Aires, Argentina. Cardinal Bergoglio wrote in the preface of the book that private property is not an absolute right and he has repeated that statement often since he became pope. Cardinal Bergoglio also wrote that capitalism has been the cause of much suffering and injustices due to the evil system that it is. Like Bernie Sanders, Pope Francis likes Marxism and socialism as well as the Cuban bloody regime. The Argentinian pope has even said that the U.S. naval base at Guantánamo should be returned to Cuba. Is that in the Bible?
Pope Francis has denounced repeatedly the free market economy and capitalism and his support for the Marxist theology of liberation is not acceptable for it undermines the Church. Additionally Pope Francis meets frequently with prominent communist from Latin America.
One has to look the socialist and communist nations of Latin America, such as Nicaragua, Venezuela and Cuba, whose leaders have oppressed and enormously impoverished their people, to know that what Pope Francis advocates is a terrible mistake. It is obvious that Pope Francis does not understand economics and market-oriented capitalism.
Pope Francis, similarly to Bernie Sanders, praises Marxism and socialism, which are failed political and economic systems that increase poverty, class struggle, and social conflict. Communist leaders have killed and incarcerated millions of people around the world. Pope Francis attended the Second World Meeting of Popular Movements organized by Latin American communists. They met in the city of Santa Cruz de la Sierra, Bolivia. The first meeting with these Latin American communists headed by Evo Morales was held in the Vatican.
Pope Francis's speech attacked capitalism, private property, and free market economics in the Second World Meeting of Popular Movements attended by communists in the city of Santa Cruz de la Sierra, Bolivia.
João Pedro Stédile of Brazil's Landless Workers Movement (MST), one of the organizers of the communist Second World Meeting of Popular Movements, speaking during the event stated the following: "Chavez died. Fidel is sick. Francis has taken up that leadership role and is doing everything right."
Among those communist leaders, in addition to Bolivia's President Evo Morales whose jacket bore a large picture of "Che" Guevara, was Argentine Trotskyite Juan Grabois, specialized in promoting urban agitation on the outskirts of Buenos Aires, head of the Confederation of Workers of the Popular Economy, and member of the organizing committee of the Second World Meeting of Popular Movements. On July 9, 2015, Pope Francis delivered a long and impassioned speech against capitalism and private property to cheering Marxist revolutionary leaders and followers of liberation theology. The Argentinian Pope presided the meeting sitting next to Bolivia's communist president Evo Morales, who came with a coat that had the image of the bloody murderer Che Guevara.
Pope Francis told the atheist Communists in the audience that they shared the same faith. What faith was the successor of St. Peter was referring? Pope Francis said "Nuestra fe es revolucionaria" (Our faith is revolutionary) and "that is why I keep all of you in my heart." There's no question that those who were in the audience and those that were not present are going to interpret the Pope's speech as one supporting communism in Latin America and throughout the world. It is obvious that Pope Francis does not understand economics and market-oriented capitalism.
Pope Francis needs to remember that the two previous popes called the liberation theology a "heresy" and a "fundamental threat" to the Church. Additionally, inviting Muslims to pray in the Vatican and being pro-radical Muslim and anti-Israel are also terrible mistakes.
Pope Francis needs to be very careful unless he wants to split the Catholic Church in a major way. Pope Francis promised change, as did Fidel Castro and Barack Obama and now Bernie Sanders who wants a "political revolution." There are now millions of Catholics and some priests and bishops who are alarmed of what type of changes Pope Francis wants to implement from the Vatican. This is especially true of those individuals who have lived and suffered under oppressive communist regimes.
Bernie Sanders has always been a communist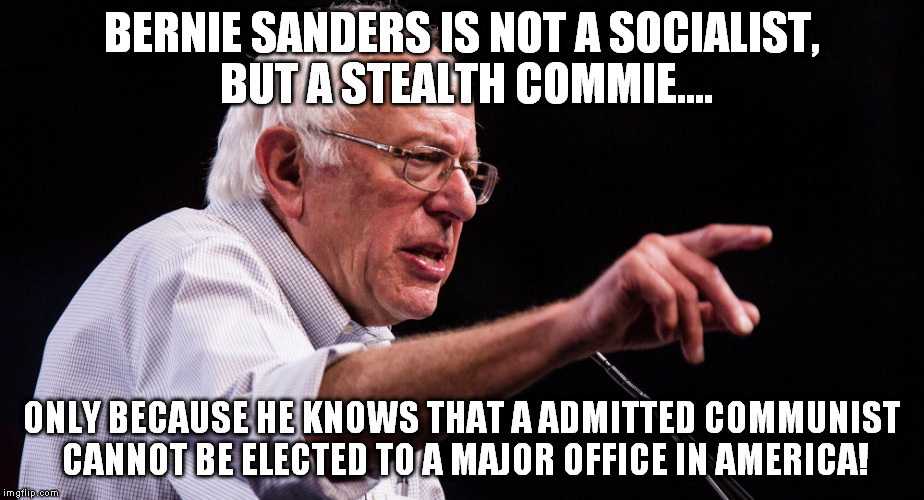 The established media is hiding the fact that Bernie Sanders is a die-hard communist.
After several unsuccessful runs for senator, Sanders was elected mayor of Burlington, Vermont's largest city, in 1981 with the majority of 10 votes. He was re-elected to three more two-year terms as mayor. Mayor Sanders hung a Soviet flag in his office in Burlington, in honor of the city's Soviet sister city, Yaroslavl. In 1985, Mayor Sanders celebrated the Seventh Anniversary of the Sandinista Revolution in Nicaragua in Managua, Nicaragua with the communist dictator Daniel Ortega.
In 1990, Sanders was elected to Congress, as a socialist, on the third party ticket. At the time, Bernie Sanders was a member of leftist Jesse Jackson's National Rainbow Coalition. He served in Congress for 16 years before being elected to the Senate in 2006. Six years later he was reelected to the Senate.
As an independent politician since 1979, Sanders is associated with the Marxist Vermont Progressive Party and he was a member of the Marxist Liberty Union party from 1971 to 1979. Although Sanders runs for office as an independent, he caucuses with the Democratic Party and is counted as a Democrat for purposes of committee assignments.
When arriving Congress in 1991, Sanders co-founded the extreme radical Congressional Progressive Caucus, and served as chairman during its first eight years. At the beginning the website of the Congressional Progressive Caucus played the song of the Communist International. Later it was removed to hide from the public the Marxist ideology of its members. Senator Barack Obama campaigned for Sanders in Vermont when he ran for the Senate since both of them shared the same Marxist ideology.
Sanders communist and socialist connections
Trevor Loudon in his book The Enemies Within: Communist, Socialist and Progressive in the United States Congress (2013) pointed out Bernie Sanders communist and socialist connections. Trevor Loudon wrote that Sanders received the support of journalist I.F. Stone in 1988, a former secret Communist Party USA member and a Soviet agent in a letter endorsing Sanders's congressional campaign. Stone wrote the following: "Sanders is an apologetic socialist… He has travel to Nicaragua to speak out against Reagan administration's war and to establish a sister city relationship between Burlington and Managua, Nicaragua. More recently, he went to the Soviet Union to set up a sister city program with Yaroslavl. While socialism has a long and proud history America, extending back to the utopian experiments of the early 1800s, it has been a long time since we've had a socialist voice in Congress."
Loudon explained that Sanders participated in the 1989 U.S. Peace Council national conference together with many communists who were followers of the agenda set by the Communist Party USA and the Soviet-controlled World Peace Council. Communist Mike Bayer supported strongly Sanders's campaign for the Senate. Bernie Sanders has been a close ally of the Democratic Socialists of America (DSA) and has been a regular speaker at their conferences and the organization is a major fundraising for his campaigns.
Loudon wrote that Sanders has also been supported by the radical Council for a Livable World. The Council website explaining 2012 when it endorse Sanders for reelection to the Senate the following: "Bernie, as is universally known, has a perfect record on the Council for a Livable World's voting scorecard on key national security issues… He opposed authorization for war in Iraq went in the House and supported measures in both the Senate and the House to withdraw troops… He is committed to the elimination of weapons of mass destruction, opposes preemptive wars and works hard on these issues."
Basically this radical Council is praising Sanders for weakening our national defense, as President Barack Obama has been doing since became president. Both Sanders and Obama have made the United States a weaker superpower and endangered our national security.
Bernie Sanders has been a part of the socialist movement since his college days. Loudon pointed out that Sanders joined the Young People's Socialist League, the youth wing of the Socialist party USA during the time he was a student at the University of Chicago., The Congress of Racial Equality and the Student Peace Union. He also worked for the communist-led United Packing House Workers Union.
Paul Sperry, a visiting Hoover Institution media fellow and author of many books, wrote an article titled "Don't be Fooled by Bernie Sanders- he's a Diehard Communist" which was published in the New York Post on January 16, 2016.
Sperry explained that as the self-described socialist Senator Bernie Sanders looks more like a serious contender for the nomination for president of the Democratic Party, the liberal media elite have suddenly stopped calling him socialist. He is now cleaned up as a "progressive" or "pragmatist." However, Sanders is not even a socialist. He is a communist. In order to mainstreaming Sanders requires whitewashing his radical pro-communist past. It will not be easy to do. If Senator Sanders were nominated for a Cabinet post, he would never pass an FBI background check. There would be too many subversive red flags popping up in his file. Sanders was a communist collaborator during the height of the Cold War.
We need to remember that there was another Marxist who would not pass an FBI or CIA background check. His name is Barack Hussein Obama. And he ended in the White House being the boss of the FBI and the CIA!
Russia is in a new Cold War with the United States and the West
Russian Prime Minister Dmitry Medvedev said at the Munich Security Conference on February 13, 2016, the following: "NATO's attitude toward Russia remains unfriendly and opaque, and one could go so far as to say we have slid back to a new Cold War."
Curt Mills wrote an article titled "Russian PM: 'We're in a new Cold War' with West" which was published by the Washington Examiner on February 13, 2016. He explained that Russian Prime Minister Dmitry Medvedev declared that his country is in a "new Cold War" with Western countries in a speech at the Munich Security Conference on February 13, 2016. He blamed the United States and its allies for a breakdown in relations with Russia.
Prime Minister Medvedev, who previously served as Russia's president, said in Munich the following: "NATO's attitude toward Russia remains unfriendly and opaque, and one could go so far as to say we have slid back to a new Cold War. On an almost daily basis, we are being described the worst threat, be it to NATO as a whole, or to Europe, America or other countries. Sometimes I wonder if this is 2016 or 1962."
Mills said that Secretary of State John Kerry, Russia Foreign Minister Sergey Lavrov, Ukrainian President Petro Poroshenko, and French Foreign Minister Manuel Valls were among important individuals at the Munich conference. Russia and the United States' relationship has become difficult in the Obama years. Medvedev said the bilateral relationship between the countries "is more grim" than in 2007.
Speaking after Medvedev in Munich, NATO Secretary-General Jens Stoltenberg stated the following: "Russia is destabilizing the European security order. Russia's rhetoric, posture and exercises of its nuclear forces are aimed at intimidating its neighbors, undermining trust and stability in Europe."
The United States and its allies have sanctioned Russia for its support of Russian separatists in Ukraine, and the annexation of the Crimean Peninsula in 2014. Secretary Kerry used his Munich speech to praise countries involved in U.S.-led, Ukraine-related sanctions of Russia. The United States and its allies have denounced Russia for supporting Syrian President Bashar al-Assad, and the West fear Russia's ongoing airstrikes in Syria will undo a ceasefire among combatants.
Conclusion
It is very sad that communist Senator Bernie Sanders admires the bloody dictators Fidel Castro and Daniel Ortega whose oppressive regimes have done so much damage and inflicted so much pain to the people of Cuba and Nicaragua. The Castro regime has done incredible damage to our nation by sending tons of drugs over the years to weaken our society. The views of Sanders regarding Russia are a danger to our national security. We should not elect another Marxist to the White House for it would mean the end of the United States as we know it!
The Cuban communist regime has sent criminals to steal billions from Medicare and commit massive fraud against private companies. Fidel Castro collaborated with the Soviet Union KGB and the Mafia to assassinate President John F. Kennedy. Sanders praised for Fidel Castro and his trip to the Soviet Union in the middle of the Cold War praising our greatest enemy country makes Sanders a traitor. He is completely unfit to be a commander-in-chief of the United States.
It is a sign of the times we are living in that a self-declared socialist-Marxist Bernie Sanders is doing well at the polls. Many young people who have graduated or are still in college have been influenced or brainwashed by socialist or Marxist secondary teachers and college professors. A poll taken by students recently the majority found the word "socialism" positive and "capitalism" negative.
If Sanders is elected president or if his agenda of many "free things" were to be implemented in the nation, the United States would be bankrupt very soon. How can a nation with a nearly $20 trillion federal debt, as well as the unfunded federal mandates, the debt of the 50 states and territories and the counties and the cities, that brings the real debt of the United States to approximately $150 trillion adopt Sanders' proposed programs that would increase the total federal spending by about one-third—to a projected $18 trillion or so over 10 years? Sanders will try hard to radically restructure our beloved country into a communist society.
It is very revolting to this writer, who was imprisoned in Cuba during two terrible years for trying to overthrow the communist regime in Cuba at the Bay of Pigs in 1961, to see how this communist presidential campaign has comed this far. It is sad that the party of Thomas Jefferson is running for president a communist man and a corrupt woman who has committed many crimes.
It is absolute madness!