The powerful globalist members of the Bilderberg Group and the Council of Foreign Relations, who are part of the New World Order, have chosen Hillary Clinton for president in 2016
The 63rd  Bilderberg Group (BG) conference took place from June 11 to 14, 2015 in Telfs-Buchen, Austria. Around 140 participants from 22 countries attended. As always, a diverse group of political leaders and experts from industry, finance, academia, and the media were invited.
The key topics for discussion this year included:
Artificial Intelligence
Cyber security
Chemical Weapons Threats
Current Economic Issues
European Strategy
Globalization
Greece
Iran
Middle East
NATO
Russia
Terrorism
United Kingdom
S.A.
S. 2016 Presidential Elections
Two very powerful Democrats were invited to attend the 2015 Bilderberg Group (BG) meeting held in Austria. One of the two was Tom Donilon, a Democrat operative who served in the Obama White House as National Security Director. The other was Jim Messina, a Democratic Party operative and chief advisor to Hillary Clinton. Many suspect that the BG may have decided to place the very corrupt former Secretary of State in the White House to continue to advance the agenda of the BG for a planetary government.
Thomas E. "Tom" Donilon was born on May 14, 1955. He is an attorney and former high government official who served as White House National Security Advisor in the Obama administration. Previously, he served as Agency Review Team Lead for the State Department in the Obama transition team. Obama appointed Donilon as Deputy to National Security Advisor James Jones. Donilon replaced Jones as National Security Advisor on October 8, 2010. Donilon tendered his resignation as National Security Adviser on June 5, 2013. He was followed by Susan Rice. Donilon is a former member of the Steering Committee of the Bilderberg Group.
Who is Jim Messina and why was he invited to the BG meeting in Austria?
Jim Messina was born in Denver, Colorado in 1969. He was the White House Deputy Chief of Staff for Operations under President Barack Obama from 2009 to 2011. He became campaign manager of Obama's 2012 re-election campaign. Messina was hired as National Chief of Staff for the Obama campaign in the 2008 general election. After Obama was elected, Messina was named Director of Personnel for the Obama-Biden Transition team, helping Obama pick his cabinet.
Messina became President Obama's White House Deputy Chief of Staff and earned the nickname "the fixer." Dan Pfeiffer called Messina "the most powerful person in Washington that you haven't heard of." He also said that Messina and Chief of Staff Rahm Emanuel (present mayor of Chicago) had a "crazy relationship" and explained that "You'd be in a meeting, and Rahm would bark out that something needed to be done; Jim would disappear from Rahm's office, pop through the door a few minutes later and say, 'Got it!' or 'Got him!'" Messina had a crucial role in was in the passage on the disastrous Affordable Care Act or ObamaCare and was widely credited with the effort to repeal Don't Ask Don't Tell regarding gays in the Armed Forces.
Jim Messina was the White House Deputy Chief of Staff for Operations under President Barack Obama from 2009 to 2011. He became campaign manager of Obama's 2012 re-election campaign.
Jim Messina celebrated Obama's reelection in November 2012
Messina was Obama's campaign manager during the 2012 Presidential Election. In January 2013, Messina became head of Organizing for Action (OFA), using the Obama for America database and other resources to support President Obama's dangerous legislative agenda in his second term. While OFA was formed in 2009 by Obama, it was reformed as a political-action non-profit group in January 2013. Obama is the only president in history to have created such an organization.
Obviously, Obama intends to continue pushing his destructive anti-American, pro-Muslim, Marxist, and New World Order agenda when he leaves the White House. Obama's former White House and campaign official also founded The Messina Group, a full-service consulting firm with offices in Washington, D.C., New York, San Francisco, and London.
The Bilderberg Group backs Hillary Clinton for President in 2016
Steve Watson wrote an article entitled "Bilderberg Backs Hillary for 2016 Presidency" which was published in InfoWars on June 8, 2015. He explained that Jim Messina of The Messina Group is the chief advisor to Hillary Clinton. Messina also heads the super PAC Priorities USA, which supported Barack Obama and is now firmly involved in the Hillary Clinton camp.
Messina conducted Barack Obama's reelection campaign in 2012 and has just returned to the United States after leading the unpopular United Kingdom Prime Minister David Cameron to a surprise majority victory in British elections. Messina said on MSNBC's "Morning Joe" program a month ago, "I'm coming home tomorrow and it's whatever it will take to get Hillary [elected]," Watson wrote that "Messina's presence at Bilderberg will be focused around ensuring none of Hillary's potential challengers get the big bucks from the innumerable transnational banks and corporations that will also be represented at Bilderberg."
As it has been reported by many, including this writer, that in June 2008 the Bilderberg Group met in secret with both Hillary Clinton and Barack Obama while the globalists were meeting in Chantilly in Northern Virginia. As always, the nation's press was shunted. Watson pointed out that it is believed that the group endorsed Barack Obama over Hillary Clinton, as a more immediate candidate, with the plan being that Hillary Clinton would essentially pick up as president for a third Obama term. A powerful Bilderberg member and top corporate elitist, James A. Johnson, also had a direct hand in selecting Obama's running mate for the 2008 election, acting as kingmaker for America's then future president.
Hillary Clinton has a deep rooted connection to the Bilderberg New World Order globalist elitist. Bill Clinton attended the 1991 meeting in Germany. Shortly before becoming president, he attended again in 1999 when the BG annual meeting was held in Sintra, Portugal (despite Clinton's lie that he had not attended in 15 years). Hillary Clinton was rumored to have attended the 2006 meeting in Ottawa, Canada. It is important to note that some individuals attend the meetings and their names are not published in the official list of attendees.
What is the Bilderberg Group?
The Bilderberg Group (BG) was founded in 1954 by Polish-born Joseph Retinger to promote a greater understanding between Europe and the United States. The organizers met at the Hotel Bilderberg for a three-day meeting in Oosterbeek, Netherlands and that is why it received that name.
A founding member was German-born ex-Nazi Prince Bernhard, husband of Queen Juliana of Holland.
During the first meeting, very powerful individuals from the United States and Europe decided that the group would decide all issues regarding the politics and economic policies that their nations would follow and the strategies that they would follow to rule the world and eventually create a planetary one government.
Since 1954, the Bilderbergers meet once a year in different cities in Europe, Canada, and the United States. The members of the BG have represented the wealthy elite of the Western World: bankers, industrialists, CEO of multinational corporations, financiers, prime ministers, presidents, monarchs, key politicians, owners of the media, powerful university professors, presidents of the European Union, European Central Bank, World Bank, the International Monetary Fund, chair of the Federal Reserve Bank and other presidents and governors of central banks in Europe and other parts of the world, secretary generals of NATO, important cabinet and military leaders. Similar to the Council of Foreign Relations (CFR), the BG meetings are secret. All U.S. presidents since Dwight D. Eisenhower have belonged to BG global ruling class or sent representatives to the meetings.
David Rockefeller, the billionaire banker and former president of the Council on Foreign Relations, was one of the founders of the Bilderberg Group. He later founded the Trilateral Commission (TC) in 1972. He has always advocated for a global government. In his book, Memoirs (2003), he stated the following: "Some even believe we are a part of the secret cabal working against the best interests of the United States, characterizing my family and me as internationalists and of conspiring with others around the world to build a more integrated global political and economic structure-one world, is you will. If that's the charge, I stand guilty, I am proud of it."
From the very beginning of the BG, various members of the Rockefeller families and its ally, the Rothschild dynasty in Europe, have been the most powerful force of the organization. Baron Edmond de Rothschild has been a most active member of the BG. These two families, European monarchs, and a small group of very wealthy individuals determine who will be invited to participate in the BG meetings.
George Soros was born August 12, 1930, as Schwartz György in Hungary. He is a billionaire business magnate who is chairman of Soros Fund Management.
George Soros is known as "The Man Who Broke the Bank of England" because of his short sale of U.S. $10 billion worth of pounds, making him a profit of $1 billion during the 1992 Black Wednesday United Kingdom currency crisis. Soros is one of the 30 richest people in the world. Soros is a well-known supporter of progressive and extreme radical political causes. He is also known as Obama's godfather.
There are between 120 and 150 participants in these meetings of which about 80 are regulars such as Henry Kissinger. Many Obama's advisors, cabinet members, and important White House officials are Bilderbergers such as Obama's Godfather George Soros, Zbigniew Brzezinski, Hillary Clinton, Robert Gates, Timothy Geithner, Janet Napolitano, Susan Rice, Paul Volcker, and James Jones. Approximately 2/3 of the participants come from Europe and the rest from the United States and Canada. During the 2015 BG meeting in Austria, six individuals from Turkey were invited probably due to Middle East concerns and one from Russia.
David Rockefeller has always been close to the bloody assassin Fidel Castro
The most powerful individuals in the planet, such as David Rockefeller, are members of these three organizations. The Americans who participate in the BG, CFR, and TC meetings with head of nations and high government officials are in violation of the U.S.'s Logan Act that prohibits elected officials to meet in private with influential business and banking executives to debate and design public policy.
David Rockefeller is shaking the bloody hands of the oppressive Cuban dictator Fidel Castro. They have met frequently in New York City and Havana.
Promising politicians are invited and interviewed by BG, such as the governors of the small states Jimmy Carter of Georgia and Bill Clinton of Arkansas. If these politicians support the one-world government objective of the BG, then the BG will give them enormous financial support. With the established media owned by them, the globalist elite provide massive positive coverage to make them presidents. Of course, after Carter and Clinton were elected, they staffed their administration with CFR, TC, and BG members and consulted with BG constantly on domestic and international affairs issues.
The meetings are held under the Chatham House Rule, which states that participants are free to use the information received, but the identity or the affiliation of the speaker(s) or of any other participant may not be revealed. Due to the private nature of the conference, the participants are not bound by the conventions of their office or by pre-agreed positions. As such, they can take time to listen, reflect, and gather insights. There is no detailed agenda, no resolutions are proposed, no votes are taken, and no policy statements are issued. Last year's Bilderberg conference took place from June 11 to June 14, 2015 in Telfs-Buchen, Austria.
InterAlpen Hotel Resort in Telfs-Buchen, Austria was the site where the Bilderberg Group met in June 2015.
Alex Newman wrote an article entitled "Bilderberg 2015: Mystery Surrounds Shadowy Globalist Summit" which was published in the New American and Bear Witness Central website on June 17, 2015. Newman wrote an illuminating article about the "shadowy collection of globalists embedded throughout centers of power worldwide — political, military, banking, media, intelligence, business, academia," who met at their annual Bilderberg Group (BG) summit on June 14, 2015 in Telfs-Buchen, Austria. He explained that the meetings of the BG are attracting increased attention, even from the established press, in recent years, following many years of complete silence.
As always, what these powerful individuals discussed behind closed doors remains a mystery. Newman pointed out that these individuals are potentially violating numerous laws such as the U.S. Logan Act. He pointed out that, sadly, your future and the future of our beloved nation were on the agenda.
Newman wrote the following: "Activists have long argued that Americans at the BG summit are feloniously violating the Logan Act. That federal law specifically bars any U.S. citizen without formal government permission from working with foreign officials on matters of policy. Passed under the John Adams administration in 1799, the Logan Act was amended as recently as the 1990s and, despite almost never being used, remains on the books today. And that, Bilderberg opponents say, means that Americans meeting with foreign officials at the secretive gathering should be investigated and eventually prosecuted to the fullest extent of the law if found to be in violation of it. As admitted by myriad attendees, practically the entire summit revolves around policy. Violators can be imprisoned for up to three years. Other nations also have laws about working on policy behind closed doors with special interests."
Extensive evidence also suggests that the summits, together with the Bank for International Settlements in Basel, Switzerland, which is the central bank of over 60 central banks of the world, played a major role in creating the European Union upon peoples of Europe against their will — a process that continues despite the lack of public support.
Alex Newman concluded his article by saying the following: "The Bilderberg globalist elite want to impose a global government on humanity. As leaders of nations around the world influenced by Bilderberg members continue to wage war on the privacy rights — and other liberties — of everyday citizens, perhaps the time has come for people to demand their governments, to strip the privacy rights of Bilderberg attendees and their summits."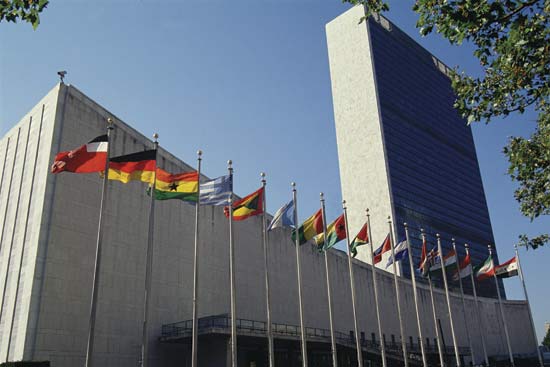 United Nations building in New York City was built on land donated by the Rockefellers.
The globalists in the Bilderberg Group and the Council of Foreign Relations will continue in 2016 their effort to centralize economic power under different schemes and to create a planetary government under the U.N. but controlled by them. One ally is the Marxist Pope Francis in the Vatican, who is also an advocate of the New World Order.
The New York Times endorsed the corrupt Hillary Clinton for president
The New York Times is the voice of the Council of Foreign Relations (CFR), which many experts say is the invisible government or the power behind the throne of the United States. This liberal newspaper endorsed Hillary Clinton for president on January 30, 2016. The CFR is part of the New World Order. Some of its members also participate in the Bilderberg Group and the Trilateral Commission meetings.
Below is part of the editorial:
"For the past painful year, the Republican presidential contenders have been bombarding Americans with empty propaganda slogans and competing, bizarrely, to present themselves as the least experienced person for the most important elected job in the world. Democratic primary voters, on the other hand, after a substantive debate over real issues, have the chance to nominate one of the most broadly and deeply qualified presidential candidates in modern history.
Hillary Clinton would be the first woman nominated by a major party. She served as a senator from a major state (New York) and as secretary of state — not to mention her experience on the national stage as first lady with her brilliant and flawed husband, President Bill Clinton. The Times editorial board has endorsed her three times for federal office — twice for Senate and once in the 2008 Democratic presidential primary — and is doing so again with confidence and enthusiasm.
Mrs. Clinton's main opponent, Senator Bernie Sanders, a self-described Democratic Socialist, has proved to be more formidable than most people, including Mrs. Clinton, anticipated. He has brought income inequality and the lingering pain of the middle class to center stage and pushed Mrs. Clinton a bit more to the left than she might have gone on economic issues. Mr. Sanders has also surfaced important foreign policy questions, including the need for greater restraint in the use of military force.
In the end, though, Mr. Sanders does not have the breadth of experience or policy ideas that Mrs. Clinton offers. His boldest proposals — to break up the banks and to start all over on health care reform with a Medicare-for-all system — have earned him support among alienated middle-class voters and young people. But his plans for achieving them aren't realistic, while Mrs. Clinton has very good, and achievable, proposals in both areas…
Mrs. Clinton is a strong advocate of sensible and effective measures to combat the plague of firearms; Mr. Sanders's record on guns is relatively weak. Her economic proposals for financial reform reflect a deep understanding of the 2010 Dodd-Frank financial reform act, including the ways in which it has fallen short. She supports changes that the country badly needs, like controls on high-frequency trading and stronger curbs on bank speculation in derivatives.
Mr. Sanders has scored some rhetorical points against Mrs. Clinton for her longstanding ties to Wall Street, but she has responded well, and it would be comical to watch any of the Republican candidates try to make that case, given that they are all virtually tied to, or actually part of, the business establishment.
One of the most attractive parts of Mrs. Clinton's economic platform is her pledge to support the well-being and rights of working Americans. Her lifelong fight for women bolsters her credibility in this area, since so many of the problems with labor law hit women the hardest, including those involving child care, paid sick leave, unstable schedules and low wages for tipped workers.
Mrs. Clinton is keenly aware of the wage gap for women, especially for women of color. It's not just that she's done her homework — Mrs. Clinton has done her homework on pretty much any subject you'd care to name. Her knowledge comes from a commitment to issues like reproductive rights that is decades old. She was well ahead of Mr. Sanders in calling for repeal of the Hyde Amendment, which severely limits federal money to pay for abortions for poor women.
As secretary of state, Mrs. Clinton worked tirelessly, and with important successes, for the nation's benefit. She was the secretary President Obama needed and wanted: someone who knew leaders around the world, who brought star power as well as expertise to the table. The combination of a new president who talked about inclusiveness and a chief diplomat who had been his rival but shared his vision allowed the United States to repair relations around the world that had been completely trashed by the previous administration.
Mrs. Clinton helped make it possible to impose tougher sanctions on Iran, which in turn led to the important nuclear deal now going into effect. She also fostered closer cooperation with Asian countries. She worked to expand and deepen the dialogue with China and to increase Washington's institutional ties to the region. Mrs. Clinton had rebuked China when she was first lady for its treatment of women, and she criticized the Beijing government's record on human rights even as she worked to improve relations.
In January 2011, before the Arab Spring, Mrs. Clinton delivered a speech that criticized Arab leaders, saying their countries risked "sinking into the sand" unless they liberalized their political systems and cleaned up their economies. Certainly, the Israeli-Palestinian crisis deepened during her tenure, but she did not cause that.
Mrs. Clinton can be more hawkish on the use of military power than Mr. Obama, as shown by her current call for a no-fly zone in Syria and her earlier support for arming and training Syrian rebels. We are not convinced that a no-fly zone is the right approach in Syria, but we have no doubt that Mrs. Clinton would use American military power effectively and with infinitely more care and wisdom than any of the leading Republican contenders.
Mrs. Clinton, who has been accused of flip-flopping on trade, has shown a refreshing willingness to learn and to explain, as she has in detail, why she changed her mind on trade agreements like the Trans-Pacific Partnership. She is likely to do more to help workers displaced by the forces of trade than previous presidents have done, and certainly more than any of the Republicans.
Mrs. Clinton has honed a steeliness that will serve her well in negotiating with a difficult Congress on critically important issues like climate change. It will also help her weather what are certain to be more attacks from Republicans and, should she win the White House, the possibility of the same ideological opposition and personal animus that President Obama has endured. Some of the campaign attacks are outrageous, like Donald Trump's efforts to bring up Bill Clinton's marital infidelity. Some, like those about Mrs. Clinton's use of a private email server, are legitimate and deserve forthright answers.
Hillary Clinton is the right choice for the Democrats to present a vision for America that is radically different from the one that leading Republican candidates offer — a vision in which middle-class Americans have a real shot at prosperity, women's rights are enhanced, undocumented immigrants are given a chance at legitimacy, international alliances are nurtured and the country is kept safe."
Wall Street is contributing millions to Hillary Clinton
Peter Nicholas, Laura Meckler, and Colleen McCain Nelson wrote an article titled "Clinton and Sanders Spar over Progressive Credentials, Wall Street" which was published in the Wall Street Journal on February 5, 2016. The reporters explained that Hillary Clinton and Bernie Sanders had a debate on February 4, 2015 five days ahead of New Hampshire primary. The Democratic presidential candidates clashed over who the true progressive with Hillary Clinton is stating that Senator Bernie Sanders has put forward an unrealistic agenda that would ultimately collapse.
The reporters pointed out that Mrs. Clinton spent much of the first hour of the debate defending her record after Senator Sanders attacked her ties to financial firms. Sanders said, "What being part of the establishment is, is in the last quarter, having a super PAC that raised $15 million from Wall Street."
The communist Bernie Sanders has been denouncing that Hillary Clinton is "compromised because of Wall Street contributions and speaking fees."
Sanders wrote in several tweets on February 4 that "a genuine progressive wouldn't take millions of dollars in Wall Street donations, as Mrs. Clinton has done." Clinton responded that Sanders's "insinuation" that Wall Street donations would keep her from adequately policing the industry is an "artful smear."
According to the Wall Street Journal, Hillary Clinton's campaign and her super PAC have received $17.3 million from Wall Street compared to Sanders' $55,226. Clearly, Wall Street prefers Clinton over a communist candidate. Wall Street has also donated millions to Republican presidential candidates. Jeb Bush, a clear favorite, was given $34.6 million, Senator Ted Cruz $12.2 million, Senator Marco Rubio $9.9 million, Governor Christ Christie $7.0 million, and Dr. Ben Carson $290,612.
The Wall Street Journal Editorial: Hillary's Wall Street Reckoning Clinton struggles to explain why Goldman paid her $675,000
Democratic presidential candidate Hillary Clinton participated in a Democratic presidential town hall hosted by CNN in Derry, New Hampshire on February 3, 2016.
The Wall Street Journal editorial stated the following:
"President Obama has spent seven years denouncing Wall Street and persuading young progressives that the U.S. economy is rigged for the benefit of wealthy financiers. So how will he now persuade them to support Wall Street's favorite Democrat? This is the political trap Mr. Obama has sprung on Hillary Clinton, who made it difficult to watch Wednesday's Democratic town hall on CNN as she squirmed in response to a question about speaking fees she collected from Goldman Sachs.
Host Anderson Cooper asked her whether she really had to be paid $675,000 for giving three speeches. 'Well, I don't know. That's what they offered,' said Mrs. Clinton—to much audience laughter. She then tried the argument that every Secretary of State does it, and then settled on the unbelievable claim that at the time she took the money she didn't know she would be running for President again. Mr. Cooper was so startled he asked her to repeat the point.
The laughter likely occurred because the average voter can guess that the traders at Goldman have a keen sense of value. And they're not trading $675,000 for the entertainment value of Hillary Clinton appearances.
The long-standing arrangement between Democrats and financial giants like Goldman is that the politicians collect money and get to pose as populists by publicly attacking the big banks, and in return the big banks enjoy high regulatory barriers that prevent smaller firms from competing with them. New York Senator Chuck Schumer has perfected this bargain, which may have reached its zenith with the Dodd-Frank law of 2010, which brought Wall Street giants and Washington into a historically intimate embrace.
Yes, Wall Streeters love to complain about Dodd-Frank, but they also know it virtually ensures that no upstart finance company in the Midwest is going to challenge Goldman's position in global finance. 'More intense regulatory and technology requirements have raised the barriers to entry higher than at any other time in modern history,' said Goldman CEO Lloyd Blankfein last year. 'This is an expensive business to be in, if you don't have the market share in scale.'
Mrs. Clinton has been trying to enjoy the customary privileges—squeezing every nickel she can out of New York's financial district while suggesting that she too is a progressive who wants to occupy the place. Her problem is that she's now running for her party's nomination against Bernie Sanders, who actually means what he says about bankers. And she's running in a party that, thanks to Mr. Obama, increasingly looks at finance not as an essential part of the economy that needs to be moved outside the taxpayer safety net, but as a den of thieves populated by people who ought to be in jail.
As Mrs. Clinton continued her meandering explanation on CNN Wednesday, she tried to say everything that Mr. Obama's refashioned Democratic Party wants to hear about the banksters. 'I'm out here every day saying I'm going to shut them down, I'm going after them. I'm going to jail them if they should be jailed. I'm going to break them up,' she said. 'I mean they're not giving me very much money now. I can tell you that much.'
She can tell people whatever she wishes. But according to the Center for Responsive Politics, which maintains a searchable database of contributions reported to the Federal Election Commission, the securities and investment industry is Mrs. Clinton's single greatest source of support. Financiers have given her campaign and other pro-Clinton political operations more than $17 million, compared with a little less than $78,000 for Mr. Sanders.
The flood of money to Clinton political committees, on top of the speaking fees, plus whatever other contributions the Clinton Foundation was able to wring out of Wall Street, are among the reasons no one believes her when she talks about breaking up banks and jailing their employees. When asked on CNN if she regretted her income windfall from Goldman, Mrs. Clinton replied, 'No, I don't, because, you know, I don't feel that I paid any price for it and I am very clear about what I will do and they're on notice.'
Mrs. Clinton is the one on notice that there is a political price to be paid for it. And the bill is coming due because she so ostentatiously collected money from people that the President has taught Democratic voters to hate. And because everyone knows why Goldman paid her $675,000."
Conclusion
This writer believes that the Bilderberg Group, the Council of Foreign Relations, and the Trilateral Commission are part of the New World Order's objective of a one-world government to enslave humanity. If Hillary Clinton is elected president the road to a world government will continue full speed ahead. Unfortunately, the United States is similar nation described in George Orwell's book 1984, a Big Brother surveillance society and police state!
The world may be on the verge of an economic collapse in 2016 as a result of the United States and European central bankers (controlled by the private banking cartels who are the owners of these financial institutions) printing over $11 trillion out of thin air. The economic crisis in Greece, Spain, Portugal, Italy, and other European countries could also contribute to this impending economic catastrophe.
Americans need to fight the global government being planned under the United Nations, but controlled by the members of Bilderberg Group, the Council of Foreign Affairs, and the Trilateral Commission. If this diabolical plan is ever successful, the United States will lose its sovereignty, wealth, Constitution, and laws.
The Bilderberg Group has selected the very corrupt Hillary Clinton as the next president of the United States. Both Hillary and former president Bill Clinton have always believed that they are above the law and that rules and regulations that apply to others do not apply to them. It is clear why Hillary Clinton's destruction of 30,000 e-mails was a risk she was willing to   take. Bill and Hillary are liars, devious, unprincipled, and dishonest and both have committed many crimes. Both should be indicted.
Similar to Barack Obama, Hillary Clinton frequently lies. Similar to Barack Obama, Hillary Clinton has been involved in numerous scandals and has committed crimes. Similar to Barack Obama, Hillary Clinton believes that she is above the law. Similar to Obama, she has ties to the Muslim Brotherhood.
Hillary Clinton, unlike her husband, is not a charming and charismatic politician. She had a poor rollout of her presidential campaign. No matter how hard she has tried to connect with ordinary people, many feel that she lacks authenticity. Together with her campaign staffers, Hillary Clinton is trying very hard to distance herself from the many scandals involving Bill Clinton and her. Hillary Clinton has a very serious problem and that is that her many scandals will simply not go away.
The fact that the Clinton Foundation has accepted millions from foreign countries and shady individuals over a number of years, which constitute a major scandal, has, indeed, hurt Hillary Clinton's presidential campaign. How could Hillary Clinton pretend to be a defender of the rights of women in the United States when she has accepted millions of dollars from Middle Eastern countries where women are severely oppressed and stoned to death for infidelity?
Hillary Clinton is a tremendous hypocrite! The former first lady is a corrupt and dishonest politician. For the sake of our beloved country, this writer hopes that this terrible scandal and the others will end her presidential campaign.
Never before in our history has a leading presidential candidate been campaigning while 150 FBI agents are investigating that candidate for misusing classified top secret information in an illegal private server at her home and for corruption while serving as secretary of state. More than likely, China, Russia, Iran, North and other are enemy nations that have cyber capabilities have all the Clinton's emails. Some of the top secrets email had the names of many of the CIA spies in foreign enemy countries. Most likely the CIA spies have been killed or imprisoned due to Hillary's criminal negligence as in Benghazi and Libya.
The FBI agents are also investigating Mrs. Clinton's trading favors for cash donations to the Clinton Foundation or for tens of thousands dollar for the couple in speeches. Unless Mrs. Clinton is indicted, she could be elected president and the corrupt couple could be back in the White House in January 2017.
If Hillary Clinton is not indicted and wins the presidential election in 2016, this will mean the final death knell for America! Her whole public life has been one scandal after another with cover-ups and lies. It would also mean that the globalist elite has won one more time.
We need to pray to God that a patriotic conservative Republican presidential candidate will win the White House in 2016 in spite of the immense power of the New World Order elite.