Florida Senator Marco Rubio and Texas Senator Ted Cruz went on the attack against Donald Trump during the CNN Republican debate on February 25, 2016 in Houston, Texas. Both accused Trump of lying and committing fraud against students of the so-called Trump University. They also criticized Trump effectively on many other issues.
During the Republican presidential debate held on Houston on February 25, 2016, the issue of the lawsuits against Donald Trump's so-called Trump University was raised by his opponents. Senator Rubio told Trump "You lied to the students" during the debate.
Senator Cruz said later the following: "You know Marco made reference earlier to the litigation against Trump University. It's a fraud case. His lawyers have scheduled the trial for July. I want you to think about, if this man is the nominee, having the Republican nominee on the stand in court, being cross-examined about whether he committed fraud. You don't think the mainstream media will go crazy on that?" Trump said that he will "win that case." "That's an easy case," he added.
Republican Presidential front runner Donald Trump is facing three lawsuits alleging that his now-defunct Trump University defrauded thousands of students.
According to the Washington Post, Goggle searches for Trump University spiked remarkably during the debate.
What was Trump University?
Trump University was never licensed as a school or university. As Jim Geraghty explained in a National Review article on February 26, 2016, Trump University was in reality a series of real estate workshops in hotel ballrooms around the nation, similar to many other for-profit self-help or motivational seminars. Though Trump University went bankrupt quickly, it remains a thorn in Donald Trump's side nearly five years after its operations ceased. There are three pending lawsuits, including one in which the New York attorney general is seeking $40 million in restitution. The former Trump University students allege that the company bilked them out of their money with misleading advertisements.
Republican Gregory Wayne "Greg" Abbott currently serves as governor of Texas. He was formally Attorney General of Texas
Geraghty explained the following: "Instead of a fast route to easy money, these Trump University students say they found generic seminars led by salesmen who pressured them to invest more cash in additional courses. The students say they didn't learn Trump's secrets and never received the one-on-one guidance they expected…But the first major shot at Trump University came from Texas in January 2010. That's when Greg Abbott's assistant attorney general in the Consumer Protection and Public Health Division, Rick Berlin, began a probe of whether the operation violated Texas' Deceptive Trade Practices Consumer Protection Act.
In a civil investigative demand mailed to university corporate offices at Trump's 40 Wall Street address, Attorney General of Texas Abbott's office sought financial records; promotional and advertising material, such as that used to promote Trump University seminars in Texas; talking points and sales scripts used by seminar leaders to encourage people to purchase the paid programs; and names of all Texans who "purchased your workshop or mentoring program" from January 2008 to the present.
Rather than respond and turn over the requested documents, Trump University agreed to cease doing business in Texas. Later that year, Trump University stopped operations altogether. If everything's on the up-and-up, why do you run out of town at the first inquiry from law enforcement? If the accusations about Trump University are true, Trump isn't he big man who stands up for the little guy; he's the fat-cat who plays the little guy for a sucker."
Emma Brown wrote an article entitled "Donald Trump Billed his 'University' as a Road to Riches, but Critics Call it a Fraud" which was published in the Washington Post on September 13, 2015. The reporter explained that the individuals who took these courses hoped to get rich of real estate and believed that no one could be a better mentor than Trump, one of the richest men in the world. So thousands enrolled in Donald Trump's so-called university "to learn the tricks of the trade, some of them maxing out their credit cards to pay tens of thousands of dollars for insider knowledge they believed could make them wealthy."
Until the Republican debate in Houston, few knew that the billionaire real estate magnate and the front-runner for the GOP presidential nomination was being sued for fraud from his business failure of his so-called Trump University.  Instead of a fast route to easy money, these so-called Trump University students have complained that they found generic seminars led by salesmen who pressured them to invest more cash in additional courses. The angry students said they did not learn Donald Trump's secrets for making fast money and never received the one-on-one guidance they expected.
Students were entering a Holiday Inn in Arlington, Virginia to take a free Trump University introductory seminar in 2009.
The so-called Trump University started in 2004, when two businessmen proposed to offer distance-learning courses in entre­pre­neur­ship under the Trump brand. Trump gave his blessing, according to court documents, becoming a 93% owner of the new company. Three years later, the corporation had evolved into real estate seminars. However, since Trump University was not a university in any legal sense, in 2005, New York State Education Department officials told the company to change its name because they found it misleading. The company became the Trump Entrepreneur Initiative in May 2010 and stopped operating shortly thereafter.
New York Attorney General Eric Schneiderman
Brown stated the following: "New York Attorney General Eric Schneiderman filed his $40 million suit against Trump and Trump University in 2013, alleging that Trump had illegally operated an unlicensed university and defrauded students. Approximately 80,000 people attended Trump University's free introductory seminars, according to court documents. About 9,200 of them went on to pay $1,495 for three-day seminars, and nearly 800 paid up to $35,000 for packages that included mentorships and workshops. "No one, no matter how rich or popular they are, has a right to scam hard working New Yorkers," Schneiderman said in a news release at the time.
Brown said that Donald Trump attacked Schneiderman, calling him a "political hack" whose lawsuit was a publicity grab and shakedown for campaign contributions. "We have a school that's a terrific school. It did a fantastic job," Trump told ABC's Good Morning America in 2013. Matt Mittenthal, a spokesman for Eric Schneiderman, said the attorney general could not comment on the pending suit. "We will continue to pursue our claims against Mr. Trump in court on behalf of the people he defrauded," Mittenthal said.
Brown explained that the judge in the New York case ruled last year that Donald Trump is personally liable for illegally operating a university without a proper license. But the judge also ruled that the statute of limitations prevents New York Attorney General Schneiderman from seeking restitution for most of Trump University's students, a decision Schneiderman is appealing. Whether the university engaged in fraud and how much Trump might owe in damages to the students are yet to be decided.
Brown wrote the following: "Trump University introduced itself to potential customers with advertisements on radio and television, and in newspapers. The ads promoted a free, two-hour real estate seminar and a chance to learn Trump's strategies from his handpicked instructors. He's earned more in a day than most people do in a lifetime, reads a 2009 ad featuring Trump's photograph. He's living a life many men and women only dream about. And now he's ready to share — with Americans like you — the Trump process for investing in today's once-in-a-lifetime real estate market. The ad goes on to quote Trump: "I can turn anyone into a successful real estate investor, including you."
"The soundtrack for the free seminars was For the Love of Money, the theme song for The Apprentice, Trump's reality television show. Instructors allegedly told inspirational stories of their own business successes and then encouraged students to pay $1,495 for a three-day workshop. Students said they were swept along by the promise that they were getting the best real estate education money could buy, according to interviews and several dozen complaints and sworn affidavits filed with the court. But they claimed that the seminars were another sales pitch: To learn how to make it in real estate, they needed additional workshops and mentoring at a cost of up to $35,000."
Students denounced that Trump University was a scam
Brown pointed out that Louie Liu of Hurst from Texas, a motel owner, said in a sworn affidavit that he paid $1,495 for a three-day seminar. He was then encouraged into paying $24,995 for more classes, an online training program, and a three-day in-person mentorship. A few days later, when Liu called to ask for a refund, his request was rejected. Trump University, he concluded, was a "scam." Bob Guillo charged $34,995 to his American Express card to pay for the Trump Gold Elite package. Guillo said he walked away with little more than meaningless certificates of completion and a photograph of himself with a life-size image of The Donald. "I really felt stupid that I was scammed by Trump," Guillo said. He added, "I thought that he was really legit." Another student, John Brown, said he could not afford a $35,000 package because his request for a credit-limit increase was rejected. Brown used two credit cards to purchase a mentorship package for $25,000 instead, he stated in an affidavit. John Brown and his mentor went to Philadelphia for two days and walked through 20 properties together. But Brown said that he never got the classroom training he expected from a university.
Emma Brown stated the following. "During the three-day workshops, Trump University instructors urged students to call their credit card companies and request increased borrowing limits, ostensibly so they'd have more capital to invest in real estate, according to students' sworn affidavits. But the New York complaint alleges that the real reason was so students could buy Trump University packages. Schneiderman alleged that the program's instructors had no particular expertise in real estate and that the seminars didn't offer any special Trump strategies; he found that the curriculum was largely written by a third-party company that creates materials for motivational speakers and salesmen."
Trump and his attorneys vigorously deny the charges and say that the real estate courses very valuable. One of his attorneys said that none of the allegations are true since Trump was intimately involved in the company. He pointed out that Trump reviewed the resumes of potential instructors, offered suggestions about what should be taught, and helped create case studies based on his own real estate acquisitions.
In addition to the New York Attorney General Eric Schneiderman $40 million lawsuit against Trump and Trump University, Trump also faces two pending class-action suits filed by former students. Trump is expected to give sworn testimony in one of those cases in July 2016. A judge has ruled that Trump must disclose his investments in and earnings from Trump University. Judges in both cases have certified the classes, clearing a key hurdle for the plaintiffs.
Brown said that attorneys for Trump have ­posted 10,000 student evaluations of Trump University seminars on a website. The attorneys pointed out that many of the people now complaining they were scammed, the website says, had only positive things to say on their evaluations. Bob Guillo, who charged $34,995 to his American Express card, said that instructors pleaded with students to give them high ratings. He complied, figuring it did not matter what he wrote. Currently Guillo is watching incredulously as Trump campaigns for the Republican presidential nomination. "He's the biggest phony in the world, yet people as gullible as me think he's the greatest guy in the world," Guillo said. "When I watch him on TV, I'm really impressed. I think, 'How can people believe in him?' And I think, 'Well, Bob, you believed in him in 2009. You gave him $35,000.' "
Rubio and Cruz should have denounced Trump in previous debates
The Patriot Post website published an article called "GOP Debate: Rubio and Cruz Finally Fight" on February 26, 2016.
The article explained that both Marco Rubio and Ted Cruz landed some punches on Donald Trump instead of on each other. Rubio in particular unleashed a barrage of attacks on the casino mogul that left us wondering why it was not done earlier. Rubio and Cruz were both "brilliant in assailing the frontrunner, hitting him on just about everything from his bankrupt business record to hiring illegal workers to his incoherent pronouncements to his tax returns and support of leftist causes, including the Clinton Foundation and a long list of Democrats."
The article pointed out the following: "Was Round 10 too late? Super Tuesday may answer that question. Until now, Trump has largely skated unchallenged. Rubio calculated he'd be better off taking out Cruz, while Cruz slipstreamed Trump hoping to snag his voters when Trump flamed out. Neither happened, and Trump romped, largely unhindered by blows from real conservative candidates."
Below is a sampling of the punches included in the article:
Senator Marco Rubio said:
"I also think that if you're going to claim that you're the only one that lifted [the issue of immigration] into the campaign, that you acknowledge that, for example, you're only person on this stage that has ever been fined for hiring people to work on your projects illegally. … He hired workers from Poland, and he had to pay a million dollars or so in a judgment."
"If he builds the wall the way he built Trump Towers, he'll be using illegal immigrant labor to do it."
"About the trade war — I don't understand, because your ties and the clothes you make are made in Mexico and in China. So you're gonna be starting a trade war against your own ties and your own suits. Why don't you make them in America?"
Responding to Trump's charge, "You don't know a thing about business," Rubio said, "I don't know anything about bankrupting four companies. I don't know anything about starting a fake university. "
"The position you've taken is an anti-Israel position. … The Palestinians are not a real estate deal, Donald."
"If he hadn't inherited $200 million, you know where Donald Trump would be right now? Selling watches in Manhattan."
"I see him repeat himself every night. He has five things: everyone's dumb; he's going to make America great again; win, win, win; he's winning in the polls; and the lines around the states. Every night. Same thing."
Senator Ted Cruz said:
"Donald Trump says he's being audited. I would think that would underscore the need to release those [tax] returns. He doesn't want to do it because presumably there is something in there that's bad."
"[Donald] is promising if he's elected he will go and cut deals in Washington. And he's right. He has supported — he has given hundreds of thousands of dollars to Democrats. Anyone who really cared about illegal immigration wouldn't be hiring illegal immigrants. Anyone who really cared about illegal immigration wouldn't be funding Harry Reid and Nancy Pelosi; wouldn't be funding the Gang of Eight. And, you know, he is right. When you stand up to Washington, when you honor the promise you made to the men and women who elected you and say enough with the corruption, enough with the cronyism, let's actually stand for the working men and women of this country, Washington doesn't like it. And Donald, if you want to be liked in Washington, that's not a good attribute for a president."
"You know, there is a reason why, when Harry Reid was asked, of all the people on this stage, who does he want the most, who does he like the most, Harry Reid said Donald Trump. Why? Because Donald has supported him in the past, and he knows he can cut a deal with him."
"Donald, true or false, you've said the government should pay for everyone's health care?"
Trump responded, "That's false."
The article sated the following: "Trump had most definitely said what Cruz alleged. After being challenged by Rubio on his health plan, Trump, as usual, just said the same things over and over. Rubio, burned by that same charge two weeks ago, happily pointed out that Trump was just repeating himself. To which Trump responded — we kid you not — I don't repeat myself. I don't repeat myself. … I don't repeat myself. We certainly hope it's not too late for voters to realize that Trump is not the answer. He's nothing but insanely idiotic bluster, repeated over and over and over again, ad nauseum. We've endured eight months of it. Can you imagine four or eight years? To re-employ one of his phrases, that is not going to make America great again, believe us.
Instead of going after Donald Trump, Ted Cruz and Marco Rubio have been relentlessly attacking each other. It's as if they think that whoever can destroy the other first will win second place. But second place is the first loser. And if the battle between the top two conservative candidates continues, then we'll be left with a non-conservative Donald Trump.
On Thursday night, however, Cruz and Rubio went on offense against Trump, attacking his background, his record, his ideology, his proposals, his speaking style and more. Last night, Trump's two strongest challengers finally realized that failing to go after the frontrunner and failing to draw clear distinctions between his record and theirs is a losing strategy. Time will tell if they waited too long.
If Trump is not exposed now, then he will win the nomination and face an onslaught of relentless attack ads from the entire Democrat machine, including the Left media. The mainstream media are keeping their powder dry, enjoying this ratings bonanza until Trump secures the nomination. Then they'll destroy him.
Cruz and Rubio could explain that Trump's business record is very questionable, specifically that under his leadership he bankrupted a casino, that he has already declared his support of Planned Parenthood and ObamaCare (including praising a single-payer system), that he's faking his religion simply to appeal to evangelicals, and that his whole life has been about him and not the average worker.
Next on the short list is Trump's "tough on immigration" stance. The issue is one of the most pressing concerns for conservatives, and Trump has capitalized on this better than any other candidate. This has led to what Charles Murray of the American Enterprise Institute calls "Trumpism" Murray, among others, recognizes that government officials from both parties have failed miserably on immigration policy, and that American workers are suffering because of it.
He notes, "There is nothing conservative about how they want to fix things. [Voters] want a now indifferent government to act on their behalf, big time. If Bernie Sanders were passionate about immigration, the rest of his ideology would have a lot more in common with Trumpism than conservatism does."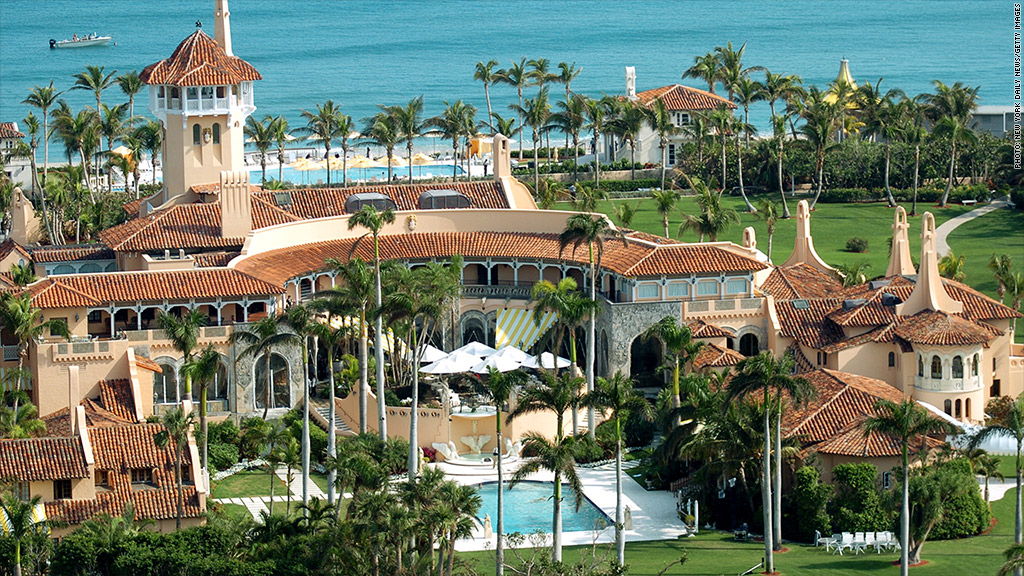 Donald Trump's Mar-a-Lago Club is located in Palm Beach, Florida. Since 2010, nearly 300 United States residents have applied or been referred for jobs as waiters, waitresses, cooks, and housekeepers there. But according to federal records, only 17 have been hired. In all but a handful of cases, Mar-a-Lago sought to fill the jobs with hundreds of foreign guest workers from Romania and other countries.
The article concluded stating the following: "Senator Cruz and Senator Rubio should turn up the heat on Trump to release his tax records. Doing so will reveal to voters where his loyalties truly reside and will very likely show lavish support for leftist causes. Simply follow the money. And it's not just Cruz and Rubio; the GOP strategists and political consultants need to change as well. Of the $215 million in Super PAC expenditures so far in political ads, only $9 million has been spent attacking Trump. Why? The same mistake cannot be made this presidential election cycle as was made in 2008 and 2012. In 2008, moderate John McCain was defeated by a neophyte liberal socialist. In 2012, mild-mannered Mitt Romney was defeated by the incumbent liberal socialist. America won't start winning again until a principled conservative is the Republican nominee, and his name is not Donald Trump. The clock is ticking. That's why it was good to see some play-calling adjustments from Rubio and Cruz."
Conclusion
Senator Marco Rubio accused Trump of lying to the students of Trump University. Senator Ted Cruz then said that in July 2016, if Trump is the nominee, he will be testifying in a trial in San Diego where is being accused of committing fraud to thousands of individuals who had taken very expensive real state courses and the mainstream media will go crazy on that. As it has been pointed out, if the accusations about Trump University are true, "Trump is not the big man who stands up for the little guy; he's the fat-cat who plays the little guy for a sucker."
Regardless the outcome of the three lawsuits, Democrats is preparing ads of many individuals who are accusing Trump of being a con artist and of committing fraud against them. The ads will feature not just the angry students from the so-called Trump University but also the many individuals who lost thousands of dollars when they invested in companies with Trump that later went bankrupt. A documentary is being prepared of Trump's unethical practices in businesses such as using eminent domain to take away a 72 year-old widow's home to use it for a parking lot for one of his casinos.
Additionally, during the CNN Republican presidential debate, Senator Marco Rubio suggested that the audience google "Donald Trump Polish workers," a reference to a crew of undocumented immigrants from Poland that Trump hired during the construction of Trump Tower in the 1980s. It was also brought up how Trump hired many foreign workers with temporary visas to work for his many businesses and his mansion in Florida, a state that has many unemployed workers. It was also pointed out that he has factories in China and Mexico for his Trump ties and clothes that he sells in the United States.
Trump has told his crowds that he will bring back jobs that have been taken by illegal immigrants or outsourced by corporations. Voters who are worried about immigration have been his strongest backers. But he has also pursued more than 500 visas for foreign workers at Mar-a-Lago since 2010, according to the United States Department of Labor, while hundreds of American applicants failed to get the same jobs.
While none of these facts will probably matter for the Trump supporters, it will be a major issue if Trump wins the nomination for the general election. And as both senators of Cuban background pointed out, Trump could lose against the Democrat in November 2016. Thus, one question to be considered whether Republicans should vote for a non-Trump candidate in the coming primaries and caucuses. A second one is whether several candidates should end their campaign so that only one candidate remain to stop Trump from winning, winning, and winning, as he likes to say all the time.