Trump's views and attitude towards Russia and Putin are not only alarming but very dangerous to our national security. This shows he is naive and misinformed and does not realize that Russia is a geopolitical enemy of the United States and dictator Putin is a gangster.
Many people were surprised when Russia's dictator Vladimir Putin endorsed Donald Trump for president. Later, in a television interview, Trump said Putin had not killed journalists, opponents, or defectors, showing his appalling ignorance or worse, his desire not to criticize Putin. Donald Trump's attitude about Russia and its dictator Vladimir Putin shows he is naive and highly misinformed so his critics will argue that he is unfit to lead the United States.
Retired Lieutenant General Michael Flynn, a register Democrat, was chief of the Defense Intelligence Agency under President Barack Obama from 2012-2014.
On February 27, 2016, Reuters published an article written by Mark Hosenball and Steve Holland entitled "Trump being advised by ex-U.S. Lieutenant General who favors closer Russia ties." The reporters explained that Donald Trump has been informally receiving foreign policy advice from retired Lieutenant General Michael Flynn, who was chief of the Defense Intelligence Agency under President Barack Obama. General Flynn would like the United States to work more closely with Russia to resolve global security issues, according to three sources. The Trump campaign did not respond to a request for comment about General Flynn.
The question of who are the individuals who have been advising Donald Trump on national security issues has become more important as the New York real estate magnate is currently the front-runner of the Republican Party. Trump won the endorsement of New Jersey Governor Chris Christie on February 26, 2016.
Hosenball and Holland said that Trump has a very different view on Russia from Senator Marco Rubio and Senator Ted Cruz. Trump has called President Vladimir Putin "highly respected" and advocated a warming of now icy bilateral ties. Other Republican candidates have frequently taken to attack Putin and have cited his military interventions in Georgia, Ukraine, and Syria as evidence that President Barack Obama has been weak in standing up to the Russian leader.  Trump has promised to destroy Islamic State and rebuild of the U.S. armed forces, but has signaled more flexibility than his rivals on some issues – for example, by not vowing to tear up the Obama administration's nuclear deal with Iran.
General Flynn surprised many when he was pictured sitting at the head table with Russian dictator Vladimir Putin at a banquet in Moscow in 2015 celebrating Russia Today, an international broadcasting propaganda network funded by the Russian government. Flynn said to Russia Today in an interview published on December 10, 2016 that the United States and Russia should work together to resolve the Syrian civil war and defeat Islamic State. However, Russia's military intervention on behalf of Syrian bloody dictator Bashir al-Assad has been attacking the Syrian moderate opposition forces rather than Daesh or the Islamic State.
Hosenball and Holland explained that Flynn told Russia Today the following: "Right now we have essentially the U.S. strategy and we have a Russian strategy in the region that does not appear to be in line with each other. And I think we have to step back and try to figure out how do we align those."    Flynn was also quoted on February 2016 as telling German magazine Der Spiegel that the Iraq war launched in 2003 by then-President George W. Bush was a mistake that gave rise to Islamic State.
The reality was that Obama complete withdrawal of all U.S. forces from Iraq was a serious mistake. Obama ignored the advice from the Pentagon that the United States needed to leave some troops to train the Iraqi army and for intelligence gathering. Moreover, Obama and Hillary Clinton sent secretly and illegally weapons from Libya to Turkey to Syria and most of those weapons fell into the hands of the Islamic State and the al Nusra Front. Blaming President George W. Bush for the rise of the Islamic State is unfair as both by the general and Trump have done.
Trump's Views on Putin and Russia are dangerous to the security of the United States
Cliff Kincaid wrote an article called "Is Trump a Sleeper Agent for Moscow?" which was published on Accuracy in Media on February 29, 2016. The reporter explained that the media are covering the fact that former Ku Klux Klan leader David Duke supports Donald Trump for president. But why does Duke like Trump in the first place? It really has nothing to do with appeals to white voters. The reason of Duke's support for Trump consists of their similar views on Russia. Donald Trump has spoken highly of Vladimir Putin, describing him as "a strong leader who defends Russian interests and who could be an ally of the United States, especially in the Middle East." David Duke believes much the same thing, and has a personal relationship with a long-time adviser to Putin who has developed an anti-American "Eurasian" alliance that includes Iran in the Middle East.
Kincaid pointed out that those politicians who have endorsed Trump have an obligation to understand how Trump's deference to Russian aggression in the Middle East will only increase the flow of immigrants into Europe and the United States. Recently, at a hearing conducted by the House Armed Services Committee, Air Force General Philip M. Breedlove, the Supreme Allied Commander, Europe, and commander of U.S. European Command, said, "Russia and the Assad regime are deliberately weaponizing migration from Syria in an attempt to overwhelm European structures and break European resolve." The term "weaponizing" means that the Russians are deliberately using the refugee crisis as a weapon against the West. General Breedlove stated the following: "Russia's military intervention in Syria has bolstered the regime of Bashar al-Assad, targeted U.S.-supported opposition elements, and complicated U.S. and Coalition operations against ISIL. The Syrian crisis is destabilizing the entire region, and Russia's military intervention changed the dynamics of the conflict, which may lead to new or greater threats to the U.S. and its Allies for years to come." General Breedlove said that Russia's so-called war against ISIS is a fraud, and that the military operations of the Islamic State have actually benefited from Russian intervention in Syria.
Kincaid explained that David Duke's editorial about his support for Trump is very revealing in this regard. Duke said that Trump will "Ensure that the USA will not go to war with Russia and create Word War III." This absurd claim seems to be entirely based on the Russian propaganda carried by Russia Today, the global propaganda channel financed by Moscow, and other official Russian sources. To the contrary, "it is Russia that is waging war in Ukraine and the Middle East and threatening America and its allies—especially NATO member Turkey, and Israel."
Kincaid wrote that Duke, a former KKK leader, in recent years has operated as a propagandist for Russia and Iran. An article on the Duke website from a Russian writer says the following about Duke: "He is has been a major force here in eliminating the last traces of that Jewish invasion of Russia. David Duke has seen that a proud and free Russian people are a key to the survival of European mankind. He is as important to this new revolution for freedom and heritage here today as John Reed was for Bolshevik enslavement 87 years earlier." The latter is part of the Russian propaganda that Soviet communism was somehow "imposed" on Russia by international bankers, code language for Jews. Duke talks about a book, The Secret Behind Communism, claiming Jews are the source of Russia's problems. Interestingly, Putin has done much the same thing, blaming the Jews for the Soviet communism that he once served as a KGB officer.
Aleksandr (Alexander) Gelyevich Dugin is a Russian political scientist well known for his fascist views and who calls to hasten the "end of times" with all-out war. He has close ties with the Kremlin and the Russian military, having served as an advisor to State Duma speaker and key member of the ruling United Russia party Sergei Naryshkin. Dugin was the leading organizer of the National Bolshevik Party, National Bolshevik Front, and Eurasia Party. He is the author of more than 30 books, among them Foundations of Geopolitics and The Fourth Political Theory. Dugin advocates on the restoration of the Russian Empire through the unification of Russian-speaking territories, which roughly corresponds to the former Soviet republics, such as Georgia and Ukraine, and unification with Russian-speaking territories, especially eastern Ukraine and Crimea. In the Kremlin, Dugin represents the "war party", a division in the heart of the leadership concerning Ukraine, and is seen as the driving conceptual force behind Vladimir Putin's initiative for the annexation of Crimea by Russia. According to his geopolitical views, he considers the war between Russia and Ukraine to be inevitable and has encouraged Putin's military intervention in Crimea and eastern Ukraine.
Kincaid pointed out that Duke has placed Iranian propaganda on his website, including a report about a 2006 Iranian government conference on the Holocaust that he attended. The conference was called by the then-President of Iran, Mahmoud Ahmadinejad, who notoriously called for the elimination of the state of Israel. Speakers at the event cast doubt on the Nazi regime's persecution and murder of six million Jews. The website had a photo of Duke and Alexander Dugin, a one-time adviser to President Putin's United Russia Party. Duke traveled to Russia and met with Dugin, calling him "one of the leading intellectuals of Russia's patriotic movement." Analyst Pawel Styrna, a researcher at the Institute of World Politics, says Dugin is associated with the idea of restoring Russia's greatness through a "Eurasian empire" that includes Iran and drives an "international anti-American coalition."
Kincaid stated the following: "Former KGB officer Konstantin Preobrazhensky says Eurasianism was actually developed by Soviet intelligence in the 1920s, and later popularized by Dugin after the Soviet collapse. In the 1990s, he said, Dugin held seminars which were attended by the high-positioned Russian intelligence officer, Sergei Ivanov, who was later the Russian Minister of Defense and is the current chief of staff to President Putin. The Russian-Iranian axis in the Middle East is now threatening Turkey, and Saudi Arabia's oil reserves may be their next target. Referring to Russian aggression in the Middle East and Europe, former Senator Joseph Lieberman (Independent from Connecticut) has said in an article about increasing global conflict that he asked a European ally of the U.S. what is needed at this time, and that the reply was American leadership."
Donald Trump says constantly that he wants to make America great again. But Republican Senator Ben Sasse from Nebraska said that Trump has described Putin, who has killed journalists and is attacking Ukraine, as a great leader. Senator Sasse says he just could not vote for Trump. Sadly many other Republican political leaders and conservatives like Glenn Beck and Erik Erickson are saying the same thing.
Trump's close advisor, Roger Stone, wrote a book using Russian disinformation that
blamed President Lyndon Johnson for the assassination of President John F. Kennedy. Stone's book accuses the Bushes of drug trafficking and genocide, among other crimes. Russia, Cuba, and the Mafia were the ones involved in the assassination of Kennedy.
Kincaid explained that Trump has his own Alexander Dugin—a political operative by the name of Roger Stone. A Trump adviser who now runs a pro-Trump Super PAC called the Committee to Restore America's Greatness, Stone wrote a book using Russian sources that blamed President Lyndon Johnson for the assassination of President John F. Kennedy.
Kincaid concluded his article by stating the following: "Stone latest book is about what he calls the "Bush Crime Family"—including the two former Republican presidents—and credits such sources as Webster Tarpley, formerly associated with convicted con man and Marxist Lyndon LaRouche. Tarpley is a prominent figure in the so-called 9/11 Truth Movement, which blames unnamed U.S. officials for carrying out the terrorist attacks on September 11, 2001. With figures like Roger Stone and David Duke in his corner, the conclusion of conservative journalist Fred Barnes that Donald Trump's candidacy will destroy the Republican Party and elect Hillary Clinton as president starts making more and more sense. As the campaign goes on and Trump appears increasingly likely to get the GOP presidential nomination, the Republican candidates who have been reluctant to take him on will be replaced by news organs in the media anxious to look behind the curtain. We already know that, beyond such fringe characters as David Duke and Roger Stone, we find close associates of Putin like Russian billionaire Aras Agalarov. Indeed, it appears that Trump's recipe for a new Republican Party has all the earmarks of the nationalist and populist parties in Europe that either take Russian money or sing Putin's praises. Such a development would mean the end of American foreign policy leadership and the destruction of American allies, especially in the Middle East."
Trump's views of Russia are about the same as Hillary Clinton's
Many people were surprised that Trump's views of Russia are about the same as Hillary Clinton's—that Vladimir Putin can be trusted to do the right thing in global affairs if he is just treated nicely by the United States. Obama's and Hillary Clinton's Russia "re-set" policy was a disaster. Trump's strange views about Putin and Russia apparently come from his desire to do business deals in Russia.
Trump held the "Miss Universe" contest in Moscow in 2013. During that time, it was announced that he was working closely with a Russian billionaire, close to dictator Putin, on real estate deals in Russia. A "Russian Trump Tower" was reported to be in the planning stages. Trump could make millions of dollars doing business with the Kremlin. But what about our national security?
Unlike Donald Trump, Mitt Romney is well aware of the danger that Vladimir Putin presents to the national security of the United States. He stated the following: "Russia aims to reassert itself as a global superpower… When Putin shut gas off to Ukraine and Europe during the winter of 2009… He showed a willingness to wield energy as a political weapon…Putin's moves have purpose beyond energy: anything that diminishes America pleases him, both because it weakens a competitive power and because it gratifies his personal animus for the United States. Russian presence in Venezuela (and now in Cuba) and Russia's resistant to several years sanctioning of North Korea and Iran as they have pursued their nuclear programs are a stick in the eye for the United States. So, too, is Russia's insistence that the world replace the dollar as the reserve currency. Putin also bitterly opposes any development that will strengthen the United States such as missile defense, particularly in Eastern Europe, and the admission of former Soviet satellites into the North Atlantic Treaty Organization (NATO)."
Mitt Romney, 2012 Republican presidential candidate, wrote the book No apology: The Case for American Greatness in 2010. Romney asserts in his book that American strength is essential. Nations such as China and a resurgent Russia threaten to overtake the United States on many fronts.
Garry Kasparov's book, Winter is Coming: Why Vladimir Putin and the Enemies of the Free World Must Be Stopped, explained the nature of the dictatorship in Russia and why Putin must be stopped.
Kasparov fled Russia and his book is an indictment of both major political parties in the United States regarding their treatment of Putin's Russia. Kasparov, the former chess champion, fled Russia when he learned that his life would be in danger if he remained in his country. His longtime friend and colleague, Boris Nemtsov, stayed in Russia to organize politically against Putin. Nemtsov was murdered in cold blood in the middle of Moscow on February 27, 2015.
Garry Kasparov's book tells the story of Russia's fall back into a dictatorship—and how the West is now paying the price for allowing it to happen. Kasparov explained the following: "The coming of power of Vladimir Putin—a former lieutenant colonel of the KGB—to the presidency of Russia in 1999 was a strong signal that the country was headed away from democracy. Yet in the intervening years—as America and the world's other leading powers have continued to appease him—Putin has grown not only into a dictator but as a major international threat. With his vast resources and nuclear arsenal, Putin is at the center of a worldwide assault on political liberty and the modern world order."
Garry Kasparov has been a vocal critic of Putin for over a decade, even leading the pro-democracy opposition against him in the farcical 2008 presidential election. Yet, after years of seeing his Cassandra-like prophecies about Putin's intentions fulfilled, Kasparov was left with a darker truth: Putin's Russia, like ISIS or al-Qaeda, defines itself in opposition to the free countries of the world. Kasparov pointed out in his book that he accepts the evidence that Putin's comrades in the Federal Security Service (FSB) —the successor to the KGB—carried out the 1999 Moscow apartment bombings that were blamed on Islamists and used to justify Putin's war in Chechnya.
Kasparov stated the following: "As Putin has grown ever more powerful, the threat he poses has grown from local to regional and finally to global. In this urgent book, Kasparov shows that the collapse of the Soviet Union was not an endpoint—only a change of seasons, as the Cold War melted into a new spring. But now, after years of complacency and poor judgment, winter is once again upon us."
Arguing with the force of Kasparov's world-class intelligence, conviction, and hopes for his home country, Winter Is Coming reveals Putin for what he is: an existential danger hiding in plain sight.
Jeff Nyquist, a geopolitical analyst who has written several books on Soviet/Russian strategy, including The New Tactics of Global War (2015), which he co-authored with Benjamin Baruch, is very concerned about Trump's attitude towards Russia.
In their book, The New Tactics of Global War, Nyquist and Baruch explained the following: "The 1991 collapse of the Soviet Union ended the Cold War, an event described in the West as the end of history. Post-Soviet Russia appeared to embrace free markets and democratic elections so the West would begin to view the new Russia as a friend. In 2014 Russian forces invaded and annexed Crimea.
A New Cold war had begun. Russia was ready for this conflict, having armed itself to the teeth with new weapons. The demise of the Soviet Union now appears to have been greatly exaggerated or, at worst, an intentional deception. Although the intelligence service of the Soviet era, the KGB, was renamed the Federal Security Service( FSB), it facilitated the rise of Vladimir Putin to power, himself a former KGB official, proving the Security service from the former Soviet era was still very much in power within the new Russia."
In The New Tactics of Global War, the authors explained what happened at the end of the Cold War and why Russia remains the number one threat to the national security of the United States. The moves and counter-moves of the present crisis stem from a long-running deception game. The book allows the reader to understand the "mind of the enemy."
Jeff Nyquist recently stated that any American businessman who travels to Russia runs the risk of being hurt or compromised. He said that "either Mr. Trump's moral compass is broken, or he doesn't understand Russia at all."
Yet, Donald Trump said regarding Vladimir Putin, "I would talk to him, I would get along with him." Trump thinks he can trust the Russians even though the Department of State recently stated that Russia is violating the 1987 treaty on intermediate missiles.
Therefore, the attitude and views of the front runner for the Republican presidential nomination must be examined without fear of angering misguided Trump supporters. The national interest of the United States must be considered first and foremost.
Is Trump the new Armand Hammer?
On December 29, 2015, Cliff Kincaid wrote an article entitled "Is Trump the New Armand Hammer?" which was published in Accuracy in Media. Kincaid is a strong anti-communist, has an excellent TV program, and is an author of many outstanding books.
Kincaid explained that ever since he started writing critically about Republican presidential candidate, Donald Trump's apparent lack of knowledge on the Russian military threat, and the nature of the Vladimir Putin regime, various conservative websites that usually run his column have been refusing to do so. These conservative websites seem to believe that Trump is a legitimate conservative and that his followers cannot be offended with negative information about their favorite candidate. Some of them had previously run articles about Vladimir Putin being a Christian statesman or anti-terrorist leader.
Kincaid pointed out the following: "Major factors in this disturbing trend among the conservative media include Russian propaganda organs like RT (Russia Today) in the United States and the work of Russian trolls in spreading disinformation. Some of these trolls are self-described American conservatives who openly cite RT as a credible source of information."
Kincaid wrote that doing business deals in Russia can be lucrative, but also very dangerous. Bill Browder's book on Putin's Russia, Red Notice, exposed how dictator Putin, his old KGB comrades, organized crime, and a select group of billionaires are looting the country. Browder is the grandson of Earl Browder, former head of the Communist Party USA. Browder believed in the promise of a modern and democratic Russia and invested heavily in that country. But his assets were stolen and his lawyer murdered.
Kincaid believes that Trump may be similar to Armand Hammer. This writer remembers, along with many conservatives, about sleazy billionaire businessmen Armand Hammer, a Soviet agent of influence, who wanted Americans to do business with Russia. Hammer was very close to all the Kremlin leaders.
Kincaid wrote that Trump's campaign statements suggest he thinks he can work with and trust the Russians and that he is flattered by Putin's attention. He pointed out that Jeffrey Lord, a contributing editor to The American Spectator, appeared as a CNN contributor and Trump supporter to defend these and other statements made by Trump. Trump is not the "Winston Churchill of our time," as conservative radio host Michael Savage described him.
Kincaid explained the following: "Trump may go down in history as the biggest Russian dupe of all time. Yet he is the GOP frontrunner for president. As the endorsements of Trump from Lord and Savage suggest, Trump enjoys support from various organs of the conservative media. The support stems from favorable coverage on sites such as Breitbart, Newsmax and the Drudge Report, and from such personalities as Dick Morris, the former FoxNews commentator, and Alex Jones. Some writers, advertisers and articles on these sites have bought into the notion that Trump is a conservative and that Putin is a conservative as well. Those who have abandoned the liberal media have frequently turned to these and other outlets for their news and information…It's a fact that Trump's assault on political correctness has won many admirers. That's why he's at the top of the polls and has such political appeal…But when he expressed ignorance about the nuclear triad during a presidential debate, and then defended Putin against charges that he killed dissidents, it should have been apparent that Trump was no conservative, and that he was only playing one on TV.  Unlike Reagan, he has no coherent ideology. His soft spot for Russia, however, stands out as strange."
Kincaid also added the following: "From Putin's point of view, he must think that playing to Trump's ego is a geopolitical winner. Putin may think that if Trump doesn't get the Republican nomination and instead runs as a third party candidate, he would split the conservative vote and Hillary Clinton would coast into the White House. She would "continue the soft-on-Putin policies characterized by the Obama/Clinton Russian "re-set" that set the stage for Putin's aggression in Ukraine and Syria."
Putin's interest is to prevent a foreign policy expert to be the Republican presidential candidate since this individual would understand the nature of his regime. Putin wants to prevent a well-informed person who is aware of the threat of Russia to the national security from gaining power in the United States. Kincaid said in his television broadcast in December 2015 that of all of the Republican presidential candidates, Senator Marco Rubio is the only one who has denounced Putin as a gangster and a threat to the United States.
Kincaid said that "any legitimate American conservative who opposes Putin and exposes his network of paid and unpaid assets is attacked by his propaganda channel Russia Today and the Russian trolls on the Internet." Trump's defenders have said that Trump is right about radical Islam and that Putin is right about that threat as well. Trump has welcomed Russian military strikes in Syria, strikes that Russia stated are targeting the Islamic State or ISIS. According to Trump, the United States and Russia should see the conflict in the Middle East in the same way. This, of course, is incorrect.
Russian Disinformation
The Russian intelligence agents are experts in disinformation. Kincaid raised these questions: "But what if that view stems from propaganda and disinformation? What if there is a Russian role in global Islamic terrorism, just as there was a Soviet role in the creation of the Palestine Liberation Organization (PLO) and its rise to power in the Middle East?"
Kincaid explained that when Daesh also called the Islamic State, ISIS, and ISIL, was blamed for the destruction of a Russian airplane flying out of Egypt, many believed that it was clear that Russia was at war with Daesh and that Russia and the United States could work together against the common radical Islamic threat. However, there seemed to be conflicting accounts of how the plane was brought down. Andrew Malone of the London Daily Mail has now offered the view of a former KGB officer that the Russian FSB brought the plane down by smuggling a bomb onboard in order "not only to obtain worldwide sympathy at a time when Russia was being treated as a pariah because of its aggression towards Ukraine, but also to gain support for its ostensible belligerence against ISIS…"
Malone wrote about the "ostensible belligerence against ISIS" because the rebel groups in Syria being attacked by Putin are "sworn enemies of his ally President al-Assad," and not necessarily ISIS. Assad is a long-time Soviet/Russian client. Malone's source is Boris Karpichkov, a former spy with the KGB "who now lives under a new identity with his wife and family at a secret location in England after fleeing here in fear for his life." Karpichkov said that he still has sources inside Russia's intelligence services.
Kincaid said that the purpose of the plot to bring down the Russian plane was to get "at least silent international approval" for "massive military operations against Assad's enemies under the guise of a campaign against the Islamic State terrorists blamed for bombing the Russian passenger jet; and to bolster Russia's multi-billion-pound weapons business with the Middle East." However, U.S. military officials have been among those pointing out that Russian military strikes in Syria have not been targeting the Islamic State but the Syrian moderates. U.S. military officials know where the bombs are falling.
Analyst Jeff Nyquist said he tends to believe the Karpichkov theory about the downing of the Russian airplane. He told Accuracy in Media the following: "Putin and his comrades have done this before, and we know how they play the game. ISIS is actually led by Russian agents according to an FSB defector in Ukraine. How could the FSB not know the bomb attack on the plane was being arranged? They either allowed or were behind it." The FSB defector in Ukraine has explained how former members of Saddam Hussein's security and military services were recruited to form the core of ISIS.
As stated earlier Kincaid believes that Trump's strange views about Russia may reflect information he has received from Roger Stone, a Trump adviser who wrote a book absolving the Russians and Cubans of playing a role in Lee Harvey Oswald's assassination of President John F. Kennedy. Stone's book, heavily promoted by Russia Today and the Voice of Russia, blamed then-Vice President Lyndon Johnson for John F. Kennedy's murder, using a KGB operative named Joachim Joesten as a source. Joesten was assigned by the Soviet KGB to divert attention from the communist connections of Kennedy assassin Lee Harvey Oswald, a member of the Fair Play for Cuba Committee who was an avid consumer of communist publications such as The Worker and The Militant.
This writer has done a great deal of research on the Kennedy assassination. He believes that Fidel Castro, rogue KGB agents, and the Mafia most likely were the ones involved in the assassination of President John F. Kennedy.
Kincaid explained that Roger Stone started a pro-Trump Super PAC called the Committee to Restore America's Greatness. Stone stated the following: "I have been friends and worked with Donald Trump for 37 years, since we met in Ronald Reagan's presidential campaign. I chaired Trump's Presidential Exploratory Committee in 2000 and wanted him to challenge Mitt Romney in 2012." Mitt Romney was very aware of the threat that Russia presented and during the 2012 campaign he said that Putin was the number one geopolitical threat to the United States and the West. Marxist Obama had dismissed Romney as a throwback to the Cold War.
Kincaid wrote that Stone's main targets appear to be Senator Marco Rubio and "The Establishment." He said that "Any other Republican presidential candidate with a realistic view of Russia is a possible threat to Trump—and to Putin."
Kincaid said the following: "Trump's appearance on the Alex Jones show further demonstrates the candidate's disregard for reality and truth. Jones is a notorious mouthpiece for Russian propaganda, including the 9/11 inside job theory about the terrorist attacks in the United States. Jones runs propaganda from RT, and even the Voice of Russia, on a regular basis. He defended Russia's invasion of Georgia in 2008. We said at the time of his appearance on Jones' program that Trump was apparently not aware that Jones promotes claims that actual terrorist attacks, such as the Boston Marathon bombings carried out by two Muslims from Russia, were "false flags" perpetrated by U.S. police and law enforcement agencies. His website ran a "Voice of Russia" story claiming the dead and wounded were actors plastered with fake blood. Jones has been described as an agent provocateur in conservative ranks. His purpose is to confuse and demoralize."
Kincaid concluded his article by stating that Trump's desire to engage in business dealings in Moscow and the Roger Stone and Alex Jones associations suggest that Trump is indeed the Kremlin's candidate and that his purpose is to disrupt and create confusion in the Republican Party and conservative ranks. On NBC's "Meet the Press," former U.S. Ambassador to Russia Michael McFaul noted, "Vladimir Putin does only things that are in Russia's national interest. So for him to be endorsing Mr. Trump, that's because he thinks it's in Russia's national interest for Mr. Trump to be the leader in the United States."
Kincaid stated the following: "It's impossible to argue with this assessment. The conservative websites promoting Trump do not want to admit they were wrong about the candidate, but the truth dictates that they engage in some immediate soul-searching before voting takes place and real damage is done. If these sources of information fail to do their jobs, it may ultimately be up to Trump's political opponents in the race to bring up these issues."
Cliff Kincaid wrote an article entitled "Follow Trump's Money to Moscow" which was published in Accuracy in Media on December 22, 2015. Kincaid explained that the phrase "follow the money" is supposed to help explain human behavior, especially in politics. He explained the following: "So why has Donald Trump embraced Russian President Vladimir Putin? Why has he denied the evidence of Putin's killing of Russian journalists and dissidents? A savvy businessman, Trump is certainly not dumb. There must be something else to it. Reports dating back to 1987, during the time of the old Soviet Union, reveal that Trump has been seeking business in Russia and attempting to build a Russian Trump Tower in Moscow and perhaps other Russian cities."
Currently dictator Vladimir Putin's cronies are under financial sanctions because of the Russian invasion of Crimea and Russia's continued war in eastern Ukraine. Putin's praise for Trump may signal another attempt to get the capitalists and their money back into Russia.
Kincaid pointed out that such a ploy depends on Trump's and others attempts to rehabilitate Vladimir Putin by claiming that he is fighting terrorism in Syria and not bolstering a long-time Soviet/Russian client state. He said, "Thanks to the effectiveness of the Russia Today (RT) channel, which saturates the U.S. media market, especially cable television, Putin is indeed looking like a statesman on the world stage."
Kincaid wrote that Trump's relationship with Russia goes back to 1987, before the collapse of the Soviet Union. Trump was meeting with Soviet officials and negotiating the building of "luxury hotels" in Moscow and Leningrad. A report at the time said Trump had met Soviet Ambassador Yuri Dubinin, who mentioned how much his daughter had admired the "opulent" Trump Tower in New York City. This led to an invitation extended to Donald Trump to visit the Union of Soviet Socialist Republic (USSR). The report said Ambassador Dubinin wrote a letter to Trump, who hosted a meeting with Soviet officials in New York.
Kincaid said that the invitation to Moscow was issued by Intourist, the giant Soviet in-country travel organization which operated all the hotels for foreigners in the Soviet Union. The bloody dictator Joseph Stalin created Intourist in 1929 which was run by KGB officials and now by its successor FSB officials. Intourist hotels were designed for wealthy foreigners and virtually all the Intourist guides were KGB informers. In fact, one aspect of their jobs was the recruitment of foreigners.
Just like in Russia, all the tourist guides in communist Cuba work for the secret police and all foreigners and tourists in Cuba are subject to espionage in the government hotels where they stay. Frequently tourists and visitors are blackmailed if filmed with prostitutes in their hotel rooms.
Kincaid said that the book, The Global Emerging Market: Strategic Management and Economics, by Vladimir Kvint explained that as far back as 2008, the Trump Organization had registered its trademarks in Russia in the areas of real estate development and construction. Kvint wrote in his book the following: "Trump's son, Donald Jr., said in an interview at the time that his father was looking at investing in Russia and China. These were considered top A-list countries. Donald Jr. is the executive vice president of Development & Acquisitions at the Trump Organization."
As explained earlier by Kincaid, American businessman Bill Browder ran an investment fund in Russia called Hermitage Capital. Browder thought private property rights were going to be protected in Russia. However, he was deported in 2005, his assets stolen, and his lawyer, Sergei Magnitsky, was tortured and killed. Browder stated the following: "The Russian regime is a criminal regime. We're dealing with a nuclear country run by a bunch of Mafia crooks. And we have to know that."
Kincaid pointed out those cases like that did not stop Congress in 2012 from voting for Permanent Normal Trade Relations (PNTR) for Russia. It passed the Senate by a vote of 92-4 and the House by 365-43. Kincaid said, "Despite the ominous trends, including Putin's invasion of the former Soviet Republic of Georgia in 2008, big business thought a lot of money could still be made in Russia."
Kincaid explained that Trump said in his 2011 book, Time To Get Tough, that China is "not our friend" and that it is stealing our jobs, technology, and military capabilities. Trump's attacks on China have been a big hit on the campaign trail. However, as far as Russia is concerned, there is no discussion in the 2011 book of doing business with Putin. But Trump said that he "often speaks highly" of Putin because of his "intelligence and no-nonsense way."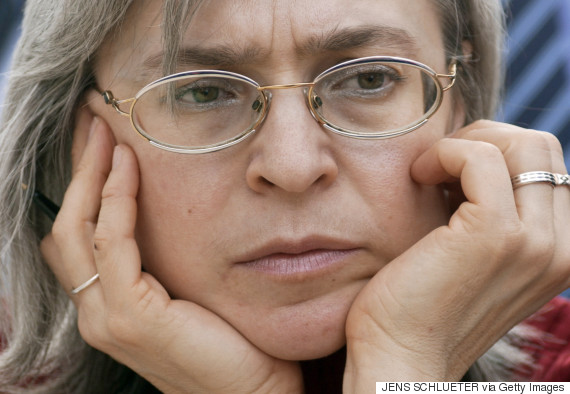 Journalist Anna Politkovskaya was poisoned, but after she survived, was later shot dead.
Kincaid pointed out that Putin certainly has a "no-nonsense" approach to his perceived political enemies. Russian journalist Anna Politkovskaya was poisoned. After she miraculously survived, she was then later shot dead on October 7, 2006, which happened to be Putin's birthday.
Kincaid explained the following: "Politkovskaya had been warning about the KGB's return to power and was investigating the circumstances surrounding the kidnapping and murder of hundreds in the Beslan school massacre in southern Russia in 2004. This event, like the 1999 Moscow apartment bombings, was blamed on Islamists and gave Putin the opportunity, or pretext, to further consolidate his power over the military, the intelligence agencies, and the economy. He assumed virtual dictatorial powers."
Former FSB agent, Alexander Litvinenko, who deserted to London, was murdered by poisoning in that city.
Kincaid wrote that the poisoning of Politkovskaya was a hallmark of the KGB's "no-nonsense" way of doing business. Later that same year, dissident and former FSB officer, Alexander Litvinenko, was murdered by poisoning in London, to where he had fled. Litvinenko wrote the book, Blowing Up Moscow: The Secret Plot to Bring Back KGB Terror, that deals the FSB's role in those 1999 Moscow apartment bombings. He had also named al-Qaeda's number two man, Ayman al-Zawahiri, as having been trained by the KGB.
Kincaid stated the following: "While Trump's 2011 book denounced Obama's pandering to the Russians in areas like sabotaging missile defense for our allies, he said Putin had a grand vision, the creation of a Eurasian Union to replace the USSR. He said Putin wanted to control oil supplies to all of Europe. This was an important insight into how Putin's regime is not defensive, nor reacting to the U.S. and NATO, but is instead aggressive in foreign affairs and trying to dominate its neighbors. However, rather than explain what the Russians were up to with this grand vision, Trump went on to say Hats off to the Russians in getting their way with Obama. One can fully understand taking Obama to task for giving in to the Russians. But praising the Russians for taking advantage of Obama reflects a trait that is all too common with many conservatives. Their disgust with Obama has blinded them to the nature of our enemies, who exploit his foreign policy to their advantage. They somehow think Putin is acting in America's interests when Obama is not. That's ludicrous."
Kincaid pointed out that in his latest book, Crippled America: How to Make America Great Again, Trump explained that Putin is "outmaneuvering" Obama in the Middle East. Trump called Putin a leader, in contrast to Obama. But what is Putin leading? Trump referred to Iran as "Russia's best friend," without explaining the significance of its alliance with Russia. Trump also said in his book that he does not understand "why Germany and other countries watched impassively as Putin marched into Ukraine."
After the invasion of Ukraine and the shoot-down of the Malaysian plane by Russian-backed terrorists, Trump claimed, "I think I became much richer because I can understand people and read people and Putin is not finished. Putin has got a long way to go." Again, we are left thinking that Trump understands the aggressive intentions of Vladimir Putin. Yet, when Donald Trump was asked about the nuclear balance with Russia during the most recent Republican presidential debate, "he displayed complete ignorance of the decaying nature of the U.S. nuclear triad, which constitutes our ability to deter and survive a Russian nuclear first strike."
Kincaid concluded his article by pointing out the following: "It looks like Putin has outmaneuvered Obama and Trump. It is an opening for Trump's opponents, especially Senators Ted Cruz (R-TX) and Marco Rubio (R-FL). But do they have the courage to follow the money and hold Trump accountable for doing business with a criminal regime that threatens the survival of the United States? At the end of this money trail they may find an explanation of why Trump is so reluctant to hold Putin responsible for his crimes."
The strange friendship of Donald Trump with Bill and Hillary Clinton
Well-known author Ed Klein wrote an article in his blog on August 9, 2015 that was widely shared entitled "Why Bill Clinton Is behind Donald Trump's Problems?" Klein explained that Bill Clinton is very happy and "takes full credit for Donald Trump's mounting problems—his belligerent handling of Fox News anchor Megyn Kelly and his refusal to rule out a third-party bid."
Trump is close to both Hillary and Bill Clinton and has contributed money to them in the past. The Clintons came to his wedding as he said during the first Republican presidential candidates' debate.
Political insiders have told Klein that "Bill Clinton—who Charlie Rose once called the best political animal that's ever been in American politics— called Donald Trump several weeks ago and encouraged him to run for president." Why would Bill Clinton do that?
Klein pointed out that in Bill Clinton encouraged his friend Trump to run knowing the billionaire businessman would create confusion in the GOP ranks. Klein wrote the following: "Bill Clinton is a master at reading other people's weaknesses, and he predicted that Trump—who never lets a slight or insult go unpunished—would go ballistic under tough questioning by Fox News anchors during the first Republican president debate.
Bill was thrilled—but not surprised—when Trump threatened to launch a third party bid if he was defeated in the Republican primary. That was music to Bill ears, because it would split the Republican vote and hand the election to Hillary." Klein concluded his article by saying that "It's not surprising, therefore, that Bill Clinton thinks he was the real winner of last week's Republican presidential debate."
Donald Trump agrees with Obama's New Cuba policy
Donald Trump gave a speech denouncing Fidel Castro and in favor of the commercial embargo to Cuba when he visited the Library Museum of the Brigade 2506 in Miami and spoke to veterans of the Bay of Pigs invasion in 1999.
Now he has changed his mind and agrees with the terrible policy of Obama with respect to Cuba. Perhaps, the billionaire businessman is planning to build a Trump Tower Hotel in Havana in the near future.
Donald Trump said on September 7, 2015 that he believed that restoring diplomatic relations with Cuba was a good idea. Patricia Mazzei wrote an article in the El Nuevo Herald on September 9, 2015 explaining that Trump visited the Library Museum of the Brigade 2506 in Miami in 1999 when Trump was considering running for president on the Reform Party. He told the veterans of the Bay of Pigs invasion that Fidel Castro was an "assassin" and a "criminal" and that he should not be rewarded with the lifting of the commercial embargo and restoring diplomatic relations. Now Trump agrees with Obama's New Cuba policy.
Trump is the second Republican presidential candidate to support Obama's shameful policy towards Cuba. Senator Rand Paul from Kentucky was the first to agree with Obama's normalization of diplomatic relations with Cuba. However, former Governor Jeb Bush, Senator Marco Rubio, and Senator Ted Cruz are all opposed to the Obama's appeasement policy towards Cuba and all the series of unilateral concessions that this president has given to the Castro brothers with nothing in return.
Analyst Nevin Gussack said regarding Donald Trump, "While his trade and immigration policies would strengthen our strategic and economic posture, his naiveté and ignorance of Russia and even Cuba is very disconcerting." It appears that Trump has flip-flopped on the question of whether he would invest in communist Cuba.
Obama, Putin, Ukraine and the New Cold War
On March 1, 2014, Russian dictator Vladimir Putin ordered Russian troops to invade Ukraine's Crimean Peninsula. The day before, the Russian Parliament had granted the Russian dictator complete authority to use military force in response to the impeachment of the pro-Russian President Viktor F. Yanukovych of Ukraine and the turmoil that ensued. The ousted President Yanukovych had refused to sign an expected free trade and political agreements with the European Union. Russia opposed the agreements with the European Union and instead wanted Ukraine to become part of Russia's customs union. The refusal of President Viktor F. Yanukovych to sign the agreements with the European Union and his desire to establish a closer relation with Russia were strongly opposed by the pro-Western Ukrainian people. After three months of rioting in Ukraine's capital of Kiev and other cities and the death of approximately 100 people, on February 22, 2014, the Ukrainian Parliament voted to impeach and dismissed President Yanukovych, who then fled to Russia.
Six days later after the impeachment of the pro-Russian President Yanukovych, the Russian troops with masks covering their faces and without using any identifying insignia, but using military vehicles with Russian license plates, closed the airport, surrounded the Ukrainian Navy and Army bases, and took over government buildings and roads throughout Crimea. The naked aggression by Russia reminds this writer of the events prior to World War II when Adolph Hitler began annexing parts of nations and then entire nations while England and France conducted a failed appeasement policy. Weakness always invites aggression by ruthless dictators like Hitler and Putin.
Russia's President Vladimir Putin ignored President Barack Obama's warning of not intervening militarily in Ukraine. The Russian dictator disregarded Obama's threats and invaded Crimea. Barack Obama condemned Russia's military intervention in Ukraine on March 1, 2014, calling it a "clear violation and a breach of international law."
President Obama held a 90-minute telephone conversation with the Russian dictator, who refused to withdraw Russian forces from Crimea. Ukraine has 130,000 soldiers in its Armed Forces and reserves of approximately 1,000,000. However, it is no match for the Russian Armed Forces. Russia has an army of 285,000 soldiers. Ukraine has eight ships in its Navy while Russia has 50 ships. Ukraine has 230 fighter aircraft and Russia has over 1,500 aircraft.
The approximately 2,000,000 people who live in Crimea are primarily of Russian descent and many, but not all of them, welcomed the Russian invasion. Crimea has approximately 15% Tartar as well as many Ukrainian-speaking and Russian-speaking individuals who do not want to live under the boot of Russia. Crimea had a great deal of autonomy under Ukraine. Crimea serves as the headquarters of the Russian Navy Black Sea fleet. Russia had a long-term lease to this naval base that was signed with Ukraine.
The Russian dictator, like all tyrants who invade other countries, gave the excuse that the Russian intervention was conducted only to protect the Russian-speaking citizens. This was a blatant lie since at no time the Russian speakers were threatened. As Great Britain Prime Minister David Cameron stated "there can be no excuse for outside military intervention" in Ukraine.
In August 2008, the Russian dictator Vladimir Putin invaded the sovereign nation of Georgia and annexed half of its territory. As in Crimea, two areas of Georgia, South Ossetia and Abkhazia, had a majority of ethnic Russians.
Vladimir Putin perceives Obama to be indecisive and weak
Russia understood that its aggression to Georgia went unpunished by our nation. Putin stated that the disintegration of the Soviet Union was the worst things that happen during the 20th century. His dream and goal are to bring back under Russian control the former parts of the Soviet Union that became independent nations. Barack Obama never understood Russia's intention. This is why an editorial by the Washington Post stated that Barack Obama's foreign policy is a "fantasy."
The United States under President Obama entered into an agreement with Russia to reduce the nuclear arsenal of both nations. Obama stated that he wanted to abolish eventually all nuclear weapons in the United States. This statement was perceived by both China and Russia as extreme weakness. Moreover, the enormous reduction of the budget of the Pentagon under President Obama has emboldened both China and Russia. While the U.S. is reducing the size of its Armed Forces, both China and Russia are increasing their defense spending, increasing the size of their Armed Forces, and modernizing their weapons. Obama's disarmament has seriously endangered our national security.
President Obama, soon after being sworn into office, gave in to Russia's pressure to remove the antimissile missiles that President Bush had negotiated with the Czech Republic and Poland. Both Eastern European countries felt betrayed. Even worse, Obama did not ask for a "quid pro quo" or something in return. This was a major mistake since a superpower never gives up an advantage over a potential enemy without asking for something in return. In essence, Obama abandoned all of Eastern Europe to Russia. The Russian dictator realized he could get away with pushing around the former republics of the Soviet Union and that the United States would do nothing to protect them.
Recently, the Russian Duma, or legislature, approved a budget to increase spending on nuclear weapons by 50% over the next three years. Russia is also increasing the size of its armed forces and improving and modernizing its weapons.
On August 1, 2013, Russia defied the United States and granted asylum to Edward Snowden, the NSA's leaker and spy. Putin ignored Obama's repeated requests to return Snowden to our nation to stand trial for stealing many important secrets, which has damaged our national security, as explained by present and retired government officials.
Obama's request to Dmitry Medvedev, while meeting with him in South Korea, to ask Putin to give him "flexibility" and "space" until reelected was most troubling. After his reelection, the president announced that he would enter into an unconstitutional informal agreement with Russia to further cut our nuclear arsenal. Obama desires to completely eliminate our nuclear arsenal while reducing drastically the Pentagon's budget. His own former Secretary of Defense, Leon Panetta, stated several times that those severe cuts would endanger our national security. Before he retired, Panetta stated "that the United States would be left with a force that suffers low morale, poor readiness and is unable to keep with potential adversaries. It would invite aggression." Panetta was right. Russia and China believe that we are unable or unwilling to stand up to potential adversaries. Our allies are terrified of the lack of resolve that they see in Barack Obama and so are many patriots in our nation.
Since sequestration became effective at the beginning of March 2013, $55 billion was cut from the Pentagon annually for the next 10 years. This massive cut represents 10% of the entire Pentagon´s budget. The U.S. Navy would be reduced from 286 to 230 ships, leaving our Navy the size it was in 1915! The U.S. Army would be reduced from 569,000 to 420,000 soldiers, the size it was in 1939. The 1,990 fighter aircraft of the U.S. Air Force would be reduced to 1,512. The size of U.S. Marine Corps would also be cut. Millions would lose their employment in defense-related industries and this will increase unemployment in the nation. Our enemies are delighted with how Obama is chopping to pieces our Armed Forces! Additionally, President Obama has lowered the morale of our military by declaring war against religion and Christianity in violation of the First Amendment of the Constitution that guarantees the freedom of religion.
The Shanghai Cooperation Organization (SCO)
Shanghai Cooperation Organization (SCO) is a military and economic alliance which was founded in 2001 in Shanghai by the leaders of China, Russia, Kazakhstan, Kyrgyzstan, Tajikistan, and Uzbekistan. Except for Uzbekistan, the other countries had been members of the Shanghai Five alliance, founded in 1996. After the inclusion of Uzbekistan in 2001, the member nations renamed their alliance.
The headquarters of the SCO is in Beijing, China and the official languages are Chinese and Russian. In addition to the six member nations, SCO has five nations designated as Observers: Iran, Afghanistan, India, Mongolia, and Pakistan. Iran has applied for full membership since March 2008. Should the SCO were to accept Iran as a full-fledged member in the future, an attack upon Iran by the United States or Israel would bring war with China, Russia, and the rest of the SCO member nations.
The SCO also has three nations called Dialogue Partners: Belarus, Sri Lanka, and Turkey. How is it possible that Turkey, a member of NATO, could belong to such an anti-NATO alliance? The Islamist Turkish Prime Minister Recep Erdogan has stated that he has discussed the possibility of abandoning Turkey´s European Union membership candidacy in return for full membership in the SCO. This anti-Western alliance holds annual summits in the capital of a member nation. In July 2005, at a summit meeting in Astana, the president of Kazakhstan, the host nation, greeted the leaders of the countries in attendance by saying "the leaders of states sitting at this negotiation table are representative of half of humanity."
Over the past few years, the SCO has expanded military cooperation, intelligence sharing, and counterterrorism among its member nations. There have been numerous SCO joint military exercises. China and Russia held large-scale war games in 2005. Since then, Russia and China have continued to conduct joint military exercises, including the use of air forces and precision-guided weapons. The United States applied for Observer Nation status in the SCO in 2006, but it was rejected.
During the 2007 war games in Russia, with the leaders of SCO member nations in attendance, including Chinese President Hu Jintao, Russia's President Vladimir Putin stated that Russian strategic bombers were going to resume regular long-range patrols for the first time since the Cold War. Putin said the following: "Our pilots have been grounded for too long. They are happy to start a new life." At that same meeting, an Iranian official said the following: "The SCO is a good venue for designating a new banking system which is independent from the international banking systems."
An Iranian writer, Hamid Golpira, wrote the following: "According to Zbigniew Brzezinski´s theory, control of Eurasian landmass is the key to global domination and control of central Asia… Russia and China have been paying attention to this theory since they formed the SCO… Most probably with the real objective is of counterbalancing the activities of the United States and NATO in central Asia." There is no question that the SCO is an anti-Western military and economic alliance.
Both Russia and China have announced that they want to abandon the dollar as an international currency. This is a major national security threat against our nation, which has hardly been discussed by President Obama or the national media. In fact, the media or President Obama has seldom discussed the threat of the SCO to our nation and our NATO allies.
Conclusion
The attitude and views of Donald Trump, the front-runner for the Republican presidential nomination, must be examined by conservatives in the media without fear of angering misguided Trump supporters. The national interest of the United States must be considered first and foremost. As Cliff Kincaid has pointed out that those politicians who have endorsed Trump have an obligation to understand how Trump's deference to Russian aggression in the Middle East will only increase the flow of immigrants into Europe and the United States.
Trump's views and attitude about Russia and its dictator Vladimir Putin are not only alarming but very dangerous to the security of the nation. By having these views and attitude, Trump shows he is naive and so misinformed that he is unfit to lead the United States. His association with Roger Stone and Alex Jones suggest that Trump is indeed the Kremlin's candidate and that his purpose is to disrupt and create confusion in the Republican Party. He has insulted all Republican presidential candidates and often threatens to run as a third party candidate knowing full well that such a move will elect Hillary Clinton in 2016 as president.
Donald Trump supported the election of Barack Obama in 2008 and donated money to many Democratic leaders in Congress and to Bill and Hillary Clinton. He met with his golf partner Bill Clinton prior to running for the Republican Party nomination. This should raise a great deal of suspicion as to his motives. He could be a Clinton plant as Republican Representative Carlos Curbelo from South Florida recently said.
In addition, Trump flip-flopped on the diplomatic relations with Cuba and the embargo. He is in agreement with the shameful and misguided Obama's Cuba policy. So Trump is both wrong on Russia and on Cuba. Conservative Republicans need to wake up and reject Trump quickly before it is too late. Many Republican analysts and this writer believe that if Trump wins the nomination of the Republican Party, it will be a disaster since the Democratic candidate will win. There is simply too much baggage of Trump that the Democrats will bring up to destroy him in the eyes of voters.
Senator Marco Rubio and Senator Ted Cruz need to question Trump's misguided views on Russia and Putin in future debates. It is very unfortunate that Trump and his advisors do not understand that Russia is our number one geopolitical enemy!