Brazilian president Dilma Rousseff fought a last-ditch battle against impeachment on Saturday as her running mate and deputy Michel Temer stepped up his campaign to replace her.
On the eve of Sunday's vote, newspaper tallies suggested the opposition already has the two thirds majority in the lower house needed to push the president from power on the grounds that she manipulated government accounts ahead of the last election.
But with the numbers still close, and many in the public uneasy about the process, both sides have stepped up a frantic and increasingly tetchy campaign to secure votes in the lower house and support on the streets.
Rousseff went on the offensive on Saturday by claiming Temer and his allies are trying to sabotage the Lava Jato investigation into kickbacks at the state-run Petrobras oil company.
"Would those leading the coup allow the fight against corruption to continue?" Rousseff, the Workers' Party president, wrote in the daily Folha de Sao Paulo, noting that the leader of the impeachment drive – lower house speaker Eduardo Cunha – is among those accused by prosecutors, while she faces no criminal charges.
"They want to convict an innocent woman and save the corrupt," Rousseff noted in the column. She also claimed the opposition would cut the popular bolsa familia welfare programme if it took power.
Temer took to Twitter to reject allegations that he was guilty of treachery and responsible for political turmoil.
"I am defending the unity and peace of Brazilians. Not chaos. I hate war," he wrote in a series of tweets on Saturday.
He also insisted that he would maintain social programmes. Contrary to Workers' Party claims of a "coup", the opposition say impeachment is being carried out according to the constitution and wishes of the public.
Rousseff is extremely unpopular as a result of the deep recession and huge corruption scandal that have jointly dominated headlines since she began her second term at the start of 2014.
But many people are unhappy about the flimsy grounds for impeachment, particularly compared to the corruption allegations against congressmen.
The president's approval rating is 10%. Polls suggest 61% of voters believe she should be removed.
That is likely, but not yet certain. The vote will go down to the wire and even if Rousseff loses on Sunday, the impeachment process will progress to the senate.
The upper house most vote within 10 sessions (most likely by mid-May) on whether to investigate the president. If a simple majority approves, the president must step aside for 180 days and Temer will take power until the senate makes a final judgment, which needs a two-thirds majority.
That leaves plenty of time to change public opinion, according to Lindbergh Farias, a Workers' Party senator from Rio de Janeiro.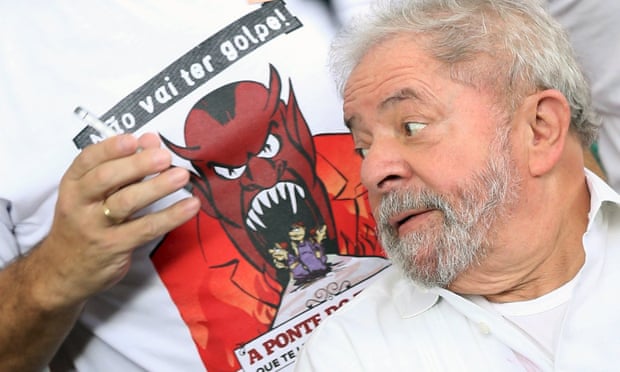 "People say that if Dilma steps aside, it will bring stability to the nation, but it will bring instability. Temer and Cunha are so unpopular that there will be people on the streets within two months of them taking power."
Other Workers' Party officials say they will push for an early general election if they lose Sunday's vote.
Both sides plan to rally huge crowds on Sunday, but relatively few people have joined the protests scheduled until now.
On Saturday, former president Luiz Inácio Lula da Silva – better known simply as Lula, and who has led the campaign to save the Workers' Party government – visited a camp of several thousand anti-impeachment demonstrators near the Mané Garrincha football stadium in Brasilia.
"This is a battle for democracy, for respect of the constitution and for a nation of rights," he told supporters. "We can't accept in this country to live from coup to coup."
The temporary base of tents and hammocks is adorned with banners declaring "Impeachment without a crime is a coup" and "The hope continues: no coup!"
Many of the activists had their transport paid for by unions or social organisations. Some receive a small daily stipend and subsidised food.
Compared with the predominantly white, middle-class protesters in the pro-impeachment camp, the government's supporters ranged across a far more colourful and diverse set of social and ethnic groups, including LGBT rights campaigners, student unions, landless workers and indigenous communities.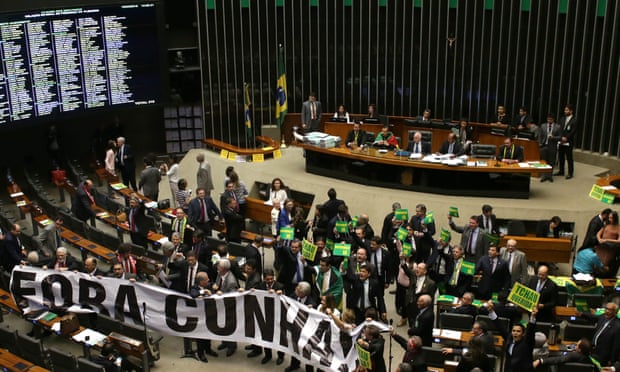 Devalci Costa, a leader of the Xakriabá people from Minas Gerais state, was in traditional attire with a feather headdress and war paint.
"Nothing good could come from this coup," he said. "The Workers' Party has supported indigenous people on land demarcation and recognition of our rights. The rightwing coup-mongers would take this away and return to the genocidal policies of the past."
Marcio Angelo of the national students' union said the pro-government camp expected to rally more than half a million people on Sunday. "People realise this is a criminal attack on Dilma. Our rights are under threat."
A short distance away, pro-impeachment activists have their base in the Parque de Cidade. They expect millions to come out on to the streets in cities across the country on Sunday in favour of impeachment.
But for the past few days, the camp has been inhabited by only a few dozen people, many of them from the extreme right, some wearing military khaki, almost all bearing the yellow and green Brazilian flag.
Alan dos Santos, a high school philosophy teacher, said his group – Popular Resistance – has been trying to bring down the government for many years.
"They have stolen money to spread socialism across Latin America," he said. "We aren't saying: 'End corruption and clean up politics.' We know corruption is a tool to maintain power."
For him, the removal of Rousseff would be only the start of a transition to the right, through figures such as Jair Bolsanro – a congressman who served in the military during the 1964-85 dictatorship – and conservative evangelist pastor Marcio Feliciano.
"We plan to celebrate on Sunday, but that will only be the start of our fight," Dos Santos said.
Others were more mainstream. Adilton Brito, a security officer in the government, went with his wife and two sons to a small pro-impeachment rally outside congress on Friday night that was attended by a couple of hundred people.
"This is an important moment. We have to be here. We have to change the country," he said.
"This government has not kept its promises. They have lost the faith of the people. Schools don't work. Hospitals don't work and public security has broken down.
"Our country is divided by ideology. The Workers' Party flies the flag of socialism, not the flag of Brazil."
He admitted any alternative government was also likely to become tainted by corruption. "Cunha and Temer will also have to go eventually, but we have to think strategically. We need a transition."
Another pro-impeachment demonstrator said he had started a hunger strike the previous day and would continue until Rousseff was removed. The protester, who gave his name as Andreas Lhouglrs, owns a publicity agency in the state of Minas Gerais that he said had been hurt by the policies of the Workers' Party government.
"I voted for Lula twice. I believed in the Workers' Party. But they have strangled business," he said. "I hope Dilma falls on Sunday. All the world hopes she falls."
Fears of violence have so far proved largely unfounded, though there were scuffles on Saturday morning between a small group of rightwing protesters and security guards as former president Da Silva drove up to a hotel.
One demonstrator, Kleber de Borba, showed the scratches and cuts he received in the fracas. "This is the most corrupt government in the history of the world. They are a gang of criminals," he said.
But outside of the small groups of hardcore activists mobilised by both sides, the broader public has so far quietly been watching and waiting.
Source: The Guardian