Colombian government and military officials say the government is investigating tens of thousands of cyberattacks on the country's voter registration systems, and traced the incidents to Russia's key allies in the region.
More than 50,000 attacks on the web platform of Colombia's national voter registry were detected during the run-up to March 11 parliamentary elections, according to Defense Minister Luis Villegas, who said some of the hacks were staged from Venezuela, which has become a proxy for Russia.
While Villegas did not specifically mention Russia at a March 8 press conference in which he denounced the ongoing incidents, he said three of the hacks — which each triggered repeated robotic attacks — were linked to internet addresses in Colombia, while one was identified as coming from Venezuela. Colonel Jose Marulanda, a Colombian intelligence analyst, said Russia was seeking a foothold in the region.
"Russia is increasingly using Venezuela as a base for covert operations in its growing rivalry with the U.S. for international influence that is starting to affect Latin America to a point not seen since the Cold War," said Marulanda, who has held senior intelligence posts in the Colombian army and been a security director for major international companies.
Russia has sold billions of dollars' worth of sophisticated armaments to Venezuela, which has granted major oil concessions to Russian companies. Russian loans are sustaining Venezuela from a debt default that would otherwise lead to its total economic collapse.
Colombia could be the latest target in a string of Russian attempts to interfere with elections around the world through electronic hacking. Such attempts have been detected in the U.S. and several EU countries, according to American and European security agencies, which have traced thousands of robot accounts used in the operations to troll farms in Russia and Venezuela.
Venezuela hosted one-third of the robot accounts used in a recent Russian cyberoffensive supporting the secession of Spain's northeast region of Catalonia, according to Spain's Defense Ministry, which denounced it as a plot to destabilize a key NATO ally.
Targeting voter ID data
The cyberattacks that bombarded Colombia last week were aimed at jamming the national registry's webpage, which contains the identification data of more than 35 million voters, according to Colombian defense officials.
Colombian election results could be vulnerable to electronic manipulation due to traditionally low voter turnout, rarely topping 50 percent, and the fractious nature of its politics, with about 10 competing parties.
Venezuela President Nicolas Maduro has called Colombia's latest elections a "joke."
While Colombia's latest round of voting received relatively little coverage in the international news media, it comes at a crucial moment for Colombia and Venezuela. The neighboring countries are at odds over a flood of Venezuelan refugees into Colombia, as well as guerrilla activity across their shared border.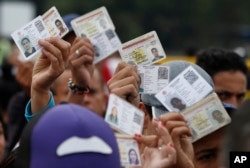 Chronic shortages of food and medicine, quadruple-digit inflation and intensified government repression have caused more than half a million Venezuelans to flee to Colombia in recent weeks.
FARC rebels
The balloting marked Colombia's first elections since a controversial peace deal was struck last year between the centrist government of President Juan Manuel Santos and leftist FARC rebels who have close relations with Venezuela and bought arms from Russia, according to the U.S. Southern Command. The U.S. Southern Command provides contingency planning, operations and security cooperation in areas that include South America and other parts of Latin America.
Right-wing parties have threatened to scratch key terms of the peace deal, which guarantees FARC congressional representation, despite its negligible showing at the polls. The FARC was Latin America's biggest rebel group and demobilized last year following the peace agreement.
Former Colombian President Alvaro Uribe, whose group obtained the largest share of votes — 20 percent — in Sunday's balloting, has called for a coup against Maduro.
Marulanda says the attack on the voter registry was conducted by Cuban computer experts trained over decades in electronic intelligence by Russia, which manages Venezuela's voter registration and national identification systems. Cuba's communist government, which continues to be a close ally of Russia, receives vital oil subsidies from Venezuela.
Colombia's right-wing parties did not do as well in Sunday's voting as opinion polls predicted, according to Colombian political analysts, who ascribe their underperformance to possible outside tampering.
The crucial test will come with presidential elections scheduled for May. They are expected to pit conservative Senator Ivan Duque against Gustavo Petro, a former leftist guerrilla leader of the M-19 movement.
Cyberattacks are expected to intensify in the run-up to the presidential contest, according to Colombian defense spokespersons, who say that more incidents have taken place since Sunday's vote.
Source: VOA