17:43
Summary
Here's a summary of the latest events:

US records highest daily coronavirus case total since July. More than 68,000 new cases of Covid-19 were recorded in the US on Friday, the highest number in a single day since July, further confirmation the country is in the midst of a coronavirus resurgence.
Trump blasts Sasse for predicting Senate Republican bloodbath. Down in the polls to Joe Biden and campaigning through a surging pandemic, Donald Trump chose to devote time on Saturday morning to a Twitter rant against a member of his own party in the Senate, a chamber Republicans face losing on 3 November.
Biden: Trump has panicked and tried to wish away Covid-19. With coronavirus cases hitting record levels in the battleground state of Wisconsin on Friday, Joe Biden has attacked Trump's handling of the pandemic. The president is due to hold a rally in the state later today.
Women march against Trump and Republicans in major US cities. Thousands of mostly young women in masks rallied on Saturday in Washington DC and other US cities, exhorting voters to oppose Donald Trump and his fellow Republicans in the elections.
Lisa Montgomery to be first female federal inmate executed in 67 years. The US is set to execute a female federal inmate for the first time since 1953, Trump's justice department has said.
'Captain Covid': crowdsurfing Democrat tries to stir Black support for Trump. When Vernon Jones, a Black Democratic state representative from Georgia, crossed party lines to deliver a passionate endorsement of Trump at the Republican national convention, the party greeted him like a rock star. Now comes evidence the label has gone to his head.
Digital 'health passport' trials under way to aid reopening of borders. A new digital "health passport" is to be piloted by a small number of passengers flying from the UK to the US for the first time next week under plans for a global framework for Covid-safe air travel.
Statue of former California governor Pete Wilson removed in San Diego. A statue of the former California governor was removed from a San Diego park after critics said the governor supported laws and policies that hurt immigrants and the LGBTQ community.
17:29
Mitch McConnell announced Saturday that the Senate will vote Tuesday on a Paycheck Protection Plan funding bill and Wednesday on the same $500bn Covid-19 aid package that Democrats blocked last month on the grounds that it didn't go far enough.

"It is long past time for the two parties to agree where we can and get more money out the door," the Senate majority leader said in a statement.
17:21
Richard Luscombe
Amid a pandemic-induced economic meltdown that has seen thousands of businesses closed and millions put out of work, one industry in California appears to be booming: gun sales.
A study by the UC Davis violence prevention research program estimates that 110,000 Californians have purchased a firearm since the beginning of the Covid-19 crisis. And for almost half of them – 47,000 – it was the first time they had bought a weapon.
The lead researcher of the study, assistant professor Nicole Kravitz-Wirtz, said while previous spikes in firearms sales could be linked at least partially to actual rising levels of violent crime, the coronavirus "surge" is related more to apprehension.
The UC Davis team found that respondents' concerns about violence happening to them significantly increased during the pandemic compared with before, including robbery, assault, homicide, police violence, suicide and unintentional firearm injury. Significantly, the fears did not extend to mass shootings.
"Our findings add support to public health-oriented strategies designed to address the enduring psychological trauma associated with direct and indirect exposure to violence, as well as the underlying social and structural factors that contribute to violence-related harms," Kravitz-Wirtz said.
"We wanted to capture individuals' lived experiences of violence in the context of the pandemic, along with information on pandemic-induced firearm acquisition."
Another finding was that "more than one in 10 respondents, representing an estimated four million California adults, were concerned that someone they know might physically harm themselves on purpose."
For many, Kravitz-Wirtz noted, the concern was because the person they were worried about had suffered a major loss due to the pandemic, such as losing a loved one, their job or housing.
The California study mirrored a national study that tracked rising levels of gun crime and firearms sales through the early months of the pandemic.
16:53
Thousands of people gathered for the Women's March in downtown Washington on Saturday to exhort voters to expel Donald Trump from the White House and protest his nomination of Amy Coney Barrett to the Supreme Court.
The latest of rallies that began with a massive women's march the day after Trump's January 2017 inauguration was playing out during the coronavirus pandemic, and demonstrators were asked to wear face coverings and practice social distancing.
Rachel O'Leary Carmona, executive director of the Women's March, opened the event by asking people to keep their distance from one another, saying that the only superspreader event would be the recent one at the White House.
"His presidency began with women marching and now it's going to end with woman voting. Period," she said.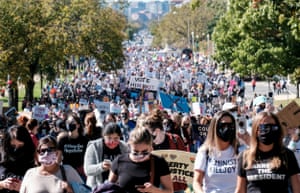 Dozens of other rallies were planned from New York to San Francisco to signal opposition to Trump and his policies, including the push to fill the seat of the late Ruth Bader Ginsburg before Election Day.
One march was being held at Cornell University in upstate New York outside the dormitory where Bader Ginsburg lived as an undergraduate student.
In Washington, Sonja Spoo, director of reproductive rights campaigns at Ultraviolet, said she has to chuckle when she hears reporters ask Trump whether he will accept a peaceful transfer of power if he loses his reelection bid, according to the Associated Press.
"When we vote him out, come November 3rrd, there is no choice," said Spoo. "Donald Trump will not get to choose whether he stays in power."
"That is not his power, that is our power. … We are the hell and high water," she said.

16:12
Richard Luscombe
Tensions are rising between Florida's Republican governor Ron DeSantis, a keen Donald Trump ally, and elections supervisors, two days before early in-person voting begins in the crucial swing state.
Brad McVay, general counsel for Florida's department of state, emailed supervisors of elections in all 67 counties this week informing them of a requirement that all ballot drop-off boxes must be attended at all times by elections staff or an armed guard, according to the South Florida Sun-Sentinel.
While burdensome, McVay says the in-person measures are necessary to ensure the drop boxes are protected "from those who intend to do harm to the boxes (or the contents within them)."
He warns: "A person onsite can prevent foreign substances or small incendiary devices (like firecrackers) from being thrown into the drop box; video monitoring cannot do the same."
But the supervisors' representative body, the Florida Supervisors of Elections association, has effectively told them to ignore the directive, advising that no state law, statute or regulation compels them to comply.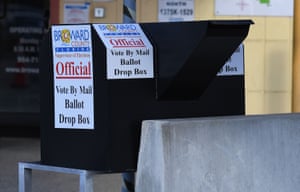 "Drop boxes that are at the main office, a branch office or early voting site are required to be secure, but I don't see that there is any staffing requirement or hours of operation related to those drop boxes [in state law]" the association's general counsel Ron Labasky wrote in his own memo.
"There is no definition of secure, so in my view that is within the discretion of the supervisor."
In South Florida's three most populous counties, the Sun-Sentinel reports, Palm Beach has four drop boxes that are monitored by 24-hour video surveillance, Broward County has two, and Miami-Dade has only daytime drop off facilities at 33 early-voting locations that will be guarded from Monday.
Florida is notorious for post-election finger pointing and lawsuits, and this latest wrangle sets the stage for another contentious and controversial voting season.
Already this year, DeSantis and the Republicans in control of the state legislature have successfully nullified a voter-approved ballot initiative from 2018 that would have restored voting rights to hundreds of thousands of disenfranchised former felons.
Almost 2.5m mail-in votes, a record for this stage of an election cycle, have already been submitted in Florida, with Democrats holding a sizable advantage. Trump needs Republican voters to turn out in person in massive numbers to capture the state and its 29 electoral college votes, which most analysts say the president must win to secure a second term.
15:45
A representative for Nebraska senator Ben Sasse has responded to Donald Trump's Twitter broadside earlier Saturday, in which he called the conservative lawmaker "little", "the least effective of our 53 Republican senators", "rather stupid and obnoxious" and "an embarrassment".
Sasse's crime was to have criticized Trump in robust terms on a call with constituents first reported by the Washington Examiner, saying the president "kisses dictators' butts" and "flirts with white supremacists".
"I'm now looking at the possibility of a Republican bloodbath in the Senate, and that's why I've never been on the Trump train," Sasse said.
James Wegmann, a spokesman for Sasse, claimed:



Ben said the same thing to Nebraskans that he has repeatedly said to the president directly in the Oval Office. Ben is focused on defending the Republican Senate majority, and he's not going to waste a single minute on tweets.
Sasse, 48, is considered a shoo-in for re-election against Democratic opponent Chris Janicek, who has faced criticism and calls to drop out after he sent sexually vulgar texts to a campaign staffer.
Updated

15:23
Donald Trump's presidential motorcade departed the White House at the top of the hour for today's trips to Michigan, Wisconsin and an overnight in Las Vegas.



Ahead of departure, Jared Kushner could be seen walking back and forth next to waiting cars as he chatted on his cell phone and took a quick selfie. He was wearing in a light ski jacket.

Later Stephen Miller could be seen heading for the cars with a bag in each hand.

The reason for the motorcade instead of Marine One is the White House 2020 Fall Garden Tours. It is a beautiful fall day for it.
Trump is holding rallies around the country to try to secure key battleground states that he won four years ago. The former New York businessman prevailed in Michigan and Wisconsin in 2016 but surveys show him running behind Biden, the Democratic candidate, in those states this year.
The president's advisers have long seen Michigan and Wisconsin, as well as Pennsylvania, as key to his chances of re-election. The president is also playing defense in traditional Republican strongholds, including Arizona, where he plans to campaign on Monday, and Georgia, where he campaigned on Friday night.
14:45

Lauren Aratani
Thousands of travelers have already taken advantage of Hawaii's new testing program that allows visitors to bypass the state's mandatory 14-day quarantine if they test negative for Covid-19 at least 72 hours before their arrival.
On Thursday, the program's first day, about 8,300 passengers came through the state's local airports. Over the last few months, about 100 visitors a day arrived in the islands.
Since March, travelers looking to experience their dream Hawaiian getaway were looking at a 14-day quarantine once they touched down in the Hawaiian islands. By July, nearly 200 people were arrested for breaking quarantine, which required people to shelter-in-place as soon as they left the airport. As a result, the number of visitors crashed down from nearly 862,572 in January to 22,344 visitors in August, bringing down with it the state's economy that relied on the $17-billion tourism industry.
Hawaii is just coming down from an influx of cases of Covid-19 that it saw in the summer. At its peak in August, the average number of new cases a day was 250. Recently, the number has climbed down to around 90 cases per day. Since the number of visitors flying into the islands was so low, community transmission played a major role in the spread of the virus.
Some have spoken out about the program leading to increased cases if travelers end up contracting the virus before they arrive in the islands and after they take a test. But local leaders are generally enthusiastic about the program, particularly its potential to get the state's economy rolling again after a months-long halt. The state had a 12.5% unemployment rate in August, the fourth highest of any state, down from its peak of 13.9% in June.
14:16
US daily Covid cases at highest level since July

Lauren Aratani
More than 68,000 new cases of Covid-19 were recorded in the US on Friday, the highest number in a single day since July, further confirmation the country is in the midst of a coronavirus resurgence.
According to data from Johns Hopkins University and the Covid Tracking Project, the last time the US saw close to 68,000 new cases in a day was 31 July, when a summer peak was starting to recede.
"You can't enter into the cool months of the fall and the cold months of the winter with a high community infection baseline," said Dr Anthony Fauci, the top US infectious disease expert, on Friday, while discussing the difficulties the virus will present in the coming weeks.
Fauci has said repeatedly that the US is still in its first wave of coronavirus, pointing out that case numbers have not dipped to a low enough point to constitute an end to that first phase. On Friday, the US hit a global record of total cases, 8 million since March, with a death toll close to 220,000.
13:30
Joe Biden has continued his attack on what his campaign see as a weak spot for Donald Trump: the Covid-19 pandemic. On Saturday, Biden tweeted out a video of Trump saying America is "rounding a corner" in the fight against the virus. Headlines are then displayed detailing the rise in cases of the coronavirus across America. The video ends with three words: "Clueless. Dangerous. Reckless".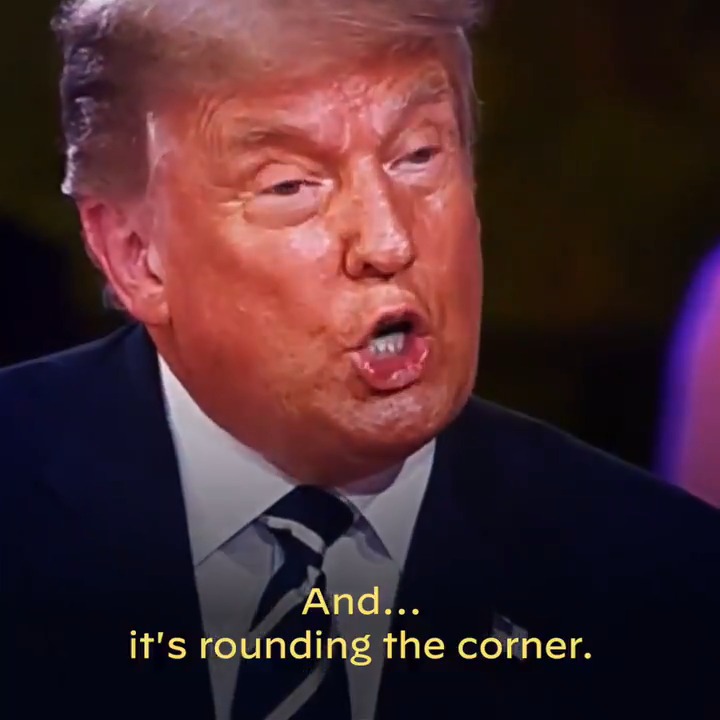 The US passed 8m Covid-19 cases on Friday as fatalities in America from the virus approach 220,000.
13:15
Sam Levine
Black voters in North Carolina are disproportionately having their mail-in ballots flagged for potential rejection in the battleground state, setting off alarms about disenfranchisement.
North Carolina requires mail-in voters to get a witness for their ballots and at least 7,000 mail-in ballots have been flagged across the state because of a deficiency, according to data collected by Michael Bitzer, a professor at Catawba College who closely tracks voting data in the state. As of Wednesday, 40% of rejected ballots – 2,871 – were from Black voters, even though they comprised only 16% of the overall ballots returned. (A spokesman for the state board of elections cautioned some of the data may be outdated because local election offices have not been entering rejection data into the statewide system while legal challenges are pending.)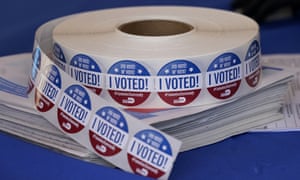 The Rev Anthony Spearman, the head of the North Carolina chapter of the NAACP, attributed the higher rate at which Black voters' ballots were being flagged to the fact that African Americans traditionally have not widely voted by mail in the state, instead opting for in-person voting. Many voters are getting tripped up by the state's requirement that mail-in voters get a witness to sign their absentee ballot, he said.
"The African American community, many of them for the first time, are utilizing absentee ballots and have not been cultivated to the practices thereof. There is a level of them being not aware of the process and how it goes and so they're not filling out their forms correctly," he said.
Just 3% of the Black voters whose ballots were flagged for rejection voted by mail in 2016, according to data collected by Bitzer.
"Voting by mail is very different than voting in person," Bitzer said. "Until I'm presented otherwise I have to think lack of familiarity with the vote method process is probably what is hanging up so much of these ballots."
The North Carolina data underscores the conundrum Democrats are facing this year as they encourage supporters to cast their votes by mail amid concerns about Covid-19. A mail vote is more likely to be rejected than an in-person one and research has shown that first-time voters and minorities are all much more likely to have their ballots rejected.
You can read the full article below:
12:55
Cinemas in areas of New York with low Covid-19 positivity rates will be able to reopen from Friday, the state's governor, Andrew Cuomo, says.
Theatres will only be allowed to operate at 25% capacity, up to a maximum audience of 50, and the ruling only applies outside of New York City.
There were 1,784 new cases of Covid-19 reported in New York on Friday, and nine fatalities. Of the 159,972 tests reported, 1.11% came back positive.
12:39
Senate majority leader Mitch McConnell, arguably the most powerful person in the Republican party and a ruthless political operator, is up for reelection this November and holds a 12-point lead over his challenger, Amy McGrath.
However, one of the largest newspapers in his home state of Kentucky has endorsed McGrath's candidacy.
"During his 36 years in office, McConnell has made it perfectly clear that his only passion is the pursuit of power, his own and that of the Republican Party," the Lexington Herald-Leader wrote in its editorial. "For that reason alone, we would endorse his opponent.
"Luckily for voters, McGrath, a former fighter pilot and public servant, would make an excellent senator who would actually put the needs and interests of Kentuckians above her own."
12:21

Lauren Gambino
In 1994, Senator Joe Biden of Delaware stood proudly behind Bill Clinton as he signed into law a reform bill that touched nearly every aspect of the US criminal justice system.
More than 25 years later, amid national protests against racial injustice in law enforcement, the Democratic presidential nominee is grappling anew with the implications of legislation he helped author and which experts say opened the door to an era of mass incarceration that devastated African American communities.
At a town hall in Philadelphia on Thursday night, Biden was asked by a voter about the legacy of the 1994 bill, which she said included "prejudice against minorities", and what his view of the legislation was now.
Biden sought to defend the bill as a product of a different era, while arguing that elements of it were wrongly implemented.
Pressed by the moderator, George Stephanopoulos, to say if his support for the bill had been a mistake, Biden replied: "Yes, it was.
"But here's where the mistake came," he said. "The mistake came in terms of what the states did locally."
In an eight-minute response, Biden said the bill passed with the support of the Congressional Black Caucus and Black mayors around the country. He noted that it contained the landmark Violence Against Women Act and an assault weapons ban.
Conditions were different now, he said, as activists demand an overhaul of policing and incarceration policies in response to police killings of Black Americans.
"Things have changed drastically," Biden said.
You can read the full article below:
12:04
A little over a week since, six men were charged over a plot to kidnap Michigan governor Gretchen Whitmer, a man in Wichita, Kansas, has been arrested over allegations he threatened to kidnap and kill the city's mayor, Brandon Whipple. In both cases, the motive appears to have been discontent over the handling of the pandemic.
According to the Wichita Eagle, 59-year-old Meredith Dowty had asked for Whipple's address after becoming frustrated with the city's mask mandates. "He said he was going to kidnap me and slash my throat and he needed my address because I needed to see the hangman – me and everyone who, something about tyranny," Whipple told the Eagle.
"It sounded like the person was very upset about pretty much mask mandates and he said something about not being able to see his mother because of Covid restrictions on elderly homes."
Whipple has received pushback in Wichita due to a mandate requiring people to wear masks in most public settings.
11:45
Kamala Harris will return to the campaign trail on Monday, according to the Biden campaign. Harris cancelled her in-person appearances on Thursday after it emerged she had flown with someone who had later tested positive for Covid-19. Harris tested negative for the virus on Friday, and she will appear at an event in Florida on Monday.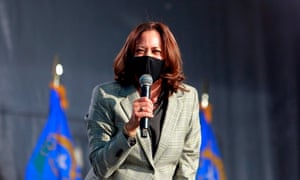 Meanwhile David Perdue, a Republican senator from Georgia, has been criticized for mocking Harris's name. During an event in Macon, Georgia, Perdue mentioned: "Kah-mah-la or Kah-ma-la or Kamala-mala-mala, I don't know, whatever."
Harris's late mother was Indian and her father is black, and Democrats accused Perdue of using racially-charged language.
"Senator David Perdue has served in the Senate alongside Vice Presidential nominee and Senator Kamala Harris since 2017. He knows her name and he knows how to say it. His disgusting performance today is nothing more than a desperate dog whistle from a losing politician … Perdue has shown he lacks the dignity and respect that Georgians deserve from their US senator, and he must immediately apologize," Democratic Senatorial Campaign Committee spokesperson Helen Kalla said in a statement.
11:18
Stimulus talks between House speaker Nancy Pelosi and the treasury secretary, Steve Mnuchin, are due to take place later today on a new stimulus package. But, as Politico points out, don't expect agreement on a subject that has been dragging on for months: Mnuchin is due to leave the country for talks in Israel and the UAE, perhaps showing how much importance he places on the talks.