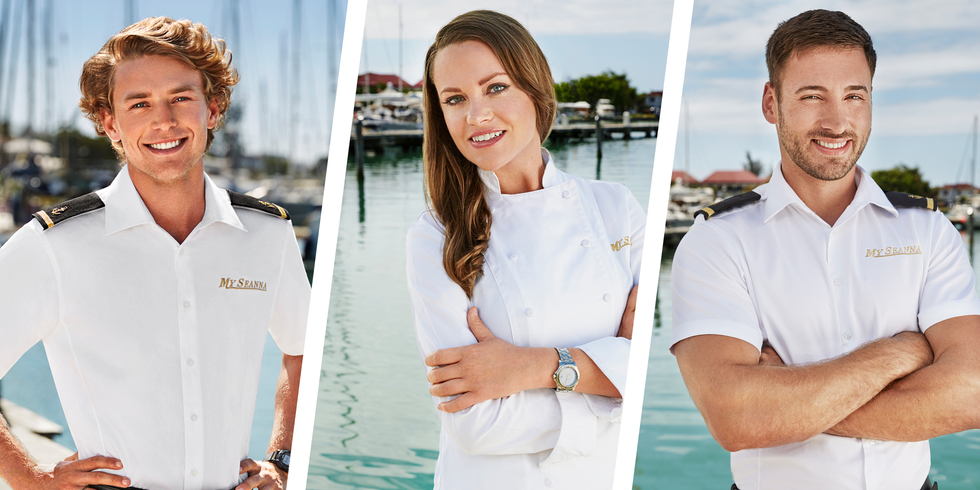 Good news for longtime Bravo fans—Below Deck is back for Season 8, and so far, it's been a doozy. Here's a quick recap: A brand-new chief stew debuted on the show, replacing long-time cast member Kate Chastain. Eddie Lucas is back in the coveted bosun position, hoping to once again earn Captain Lee's trust after a pretty major scuffle five years back. The original third stew is now a deckhand, with another stew joining the boat not long after. And this is all happening before fans learn of the cast's reaction to the coronavirus pandemic at the end of their charter season.
Yes, it's a lot to take in, and by now, you probably have plenty of unresolved questions. Did James ever hook up with another castmate? Has Eddie finally proved his worth to Captain Lee? And did Shane ever learn how to tie a proper bowline knot? Here's what we know about the whereabouts of the cast of Below Deck Season 8 now:

Eddie Lucas
When Eddie stepped onto My Seanna, he knew he had to prove his worth to both Captain Lee and the fans.
Turns out, the series' OG bosun has jumped ship from luxury yachts to tugboats. According to his Instagram page, Eddie's doing just fine captaining tugboats in his hometown of Baltimore.
Francesca Rubi
While it definitely looked like the newly crowned chief stew was one turn down away from snapping early on in the episodes, it seems like Francesca's taking it easy since the show wrapped.
Based on all the photos she's posted to her Instagram, she's currently at home in Australia, soaking in the sun and relaxing after a difficult charter season.
Rachel Hargrove
If fans were wondering whatever happened to Captain Lee's favorite yacht chef after the show wrapped, well, you're in luck.
Rachel is currently working in the Mediterranean for the holidays. She's also defending her early departure during the charter season on Instagram. "Here is an actual Guest Yacht Charter Preference sheet," she wrote. "… This way you can't be blamed for when things begin to sink!"
Elizabeth Frankini
While it's unclear whether the healing crystals Elizabeth brought with her at the beginning of the season did much good for her, the Long Island native seems to be doing quite alright for herself.
Amid all the bikini photos she's posted to her social media pages, Elizabeth's filming a short romantic dramedy in Florida. Maybe fans will see her acting chops in an upcoming episode?
Izzy Wouters
When Izzy came aboard My Seanna as third stew, it was clear she needed to be in the right place to thrive. That place turned out to be right outside, where she became the fourth (and possibly most experienced) deckhand on Eddie's team.
Post-season, Izzy seems perfectly happy exploring the hidden gems of her native New Zealand. If you're looking for even more Below Deck, she's also doing live Q&As on her Instagram with her fellow cast members.
James Hough
As the resident Casanova this season, James clearly wanted to play harder than he wanted to work, frustrating both the captain and Eddie with his attitude. While he does eventually get the hang of hierarchy, he's still trying to charm his way into the hearts of one (or maybe two) of his crew members.
While it's unclear whether James has dated anyone since the charter season ended, it's clear one woman has eyes for him—his mother, Elaine, whom he frequently features across his Instagram page.
Shane Coopersmith
When Shane joined the show as a deckhand, fans were rather confused about whether the budding environmentalist was there to work or take a glorified vacation. Fans won't know until later in the season about what happens with his status on the My Seanna, but at least he can tie a proper bowline knot now!
After the season wrapped, Shane is back to promoting sustainability anywhere he can… meaning fans can find him chatting about it on Instagram and TikTok.
Captain Lee Rosbach
Sadly for fans, it's unclear if Captain Lee is back on boats amid the pandemic. But at least it's given the captain plenty of quality time to spend with his wife for their recent 45th anniversary.
Adrianna Freedman
Adrianna Freedman is the editorial fellow for Men's Health, where she focuses on entertainment, music, health and fitness.
This content is created and maintained by a third party, and imported onto this page to help users provide their email addresses. You may be able to find more information about this and similar content at piano.io