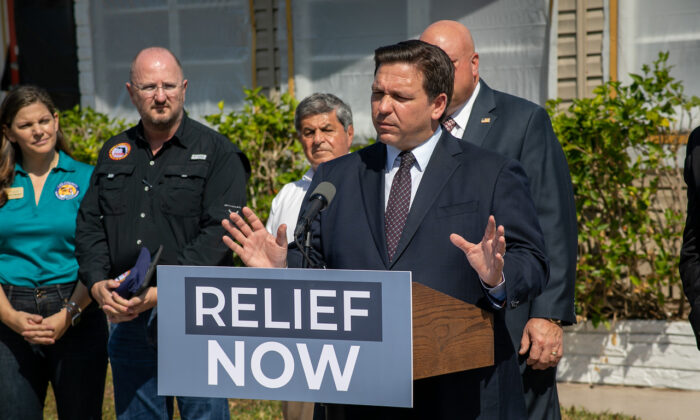 PUNTA GORDA, Fla.–Gov. Ron DeSantis sent the Biden administration a message on May 11 to bring meaningful relief to reduce inflation: "Step up to the plate. Expand our own energy production."
If America had maintained its energy independence, we would not be looking to be "plunged into a recession," DeSantis said at press events in rural Lafayette and Gilchrist counties.
"This is the worst inflation this country has seen in over 40 years," DeSantis said. "We're proud that we didn't do like Washington and just spend like drunken sailors."
Florida was "built for the long haul," he said, even though the current administration has put a "knee to the neck of the energy industry."
Washington has been sending out warning signs of an impending recession, the Republican governor said.
"They've printed so much money in Washington—trillions and trillions of dollars," he said. "That is what ends up happening when you flood the zone with all this printed money."
He said the other warning signs he saw were the federal government raising interest rates and cutting off the oil supply like the Keystone pipeline and drilling on federal lands. He thinks energy is a "self-inflicted wound" that will continue to be a problem.
"They're going to beg OPEC to lower the price; they're going to beg the [Venezuelan president Nicolas] Maduro regime to maybe give us some of their oil," DeSantis continued. "American oil, somehow that's global warming; but if you get it from Maduro, somehow that's okay. Give me a break."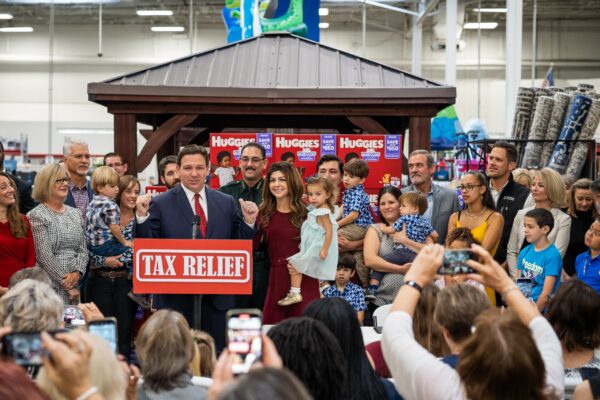 Summer driving months are concerning for the governor as gas prices remain high. He said that May fuel prices are on the rise because China has been "locked down" and was not "using as much."
"We need to start doing more domestic energy production like we were doing prior to this administration."
However, the energy companies will never apply for federal leases because they "know they're never gonna get permitted for it," he said.
"They know that really, the government doesn't want them to be able to do this," DeSantis said. "So, you end up in a situation where we're basically stepping on our own neck as a country by not being energy independent."
The governor expressed satisfaction that Florida has been "fiscally prudent" and there are reserves for any impending recession.
"We never had stronger revenues coming into the state even though we have no income tax and the lowest per capita tax burden," he said.
On May 6, DeSantis signed the largest tax relief bill in Florida history to fight what he called "Biden-flation headwinds."
"The tax relief you're going to see is breaks for really critical needs like gas, diapers, disaster supplies, tools for skilled trades, and recreational activities," he announced on May 6. "Families are going to be able to save for things that really matter to them."
The federal government is not likely to change the trajectory of the path it is on, DeSantis said.
"The feds are just going to keep raising interest rates, and it's gonna slow down the economy," he said. "If you have a Biden-induced recession—which I hope doesn't happen—but if you do, we ended up having different revenue forecasts and I don't need to change anything. … just "grab some money from the rainy-day fund and plug it in" where necessary.
"We just keep going. We're not going to miss a beat," DeSantis said.