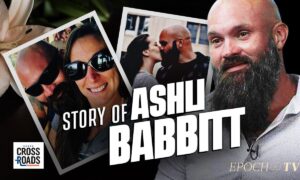 Watch our documentary 'The Real Story of Jan. 6' here: https://ept.ms/3zIgk0F
"Justice for me isn't a pile of cash. Justice for me is, at this point, at least clearing Ashli's name in the court of public opinion because that's what's hurting me the most."
Ashli Babbitt was shot and killed on Jan. 6, 2021, by Lt. Michael Byrd while climbing through a window in the Capitol building.
Legacy news outlets have portrayed Babbitt as an insurrectionist, yet video evidence shows a very different story. We speak with her husband, Aaron Babbitt, to hear his side of the story on the real Ashli Babbitt and his fight for justice.
Subscribe to the new Crossroads newsletter and stay up-to-date!
* Click the "Save" button below the video to access it later on "My List".
Follow Crossroads on social media:
Facebook: https://www.facebook.com/Crossroads.Josh
Twitter: https://twitter.com/crossroads_josh
Rumble: https://rumble.com/user/Crossroads_JoshuaPhilipp
Truth Social: https://truthsocial.com/@crossroads_josh
Gettr: https://www.gettr.com/user/crossroads_josh
Gab: https://gab.com/Crossroads_Josh
Telegram: https://t.me/Crossroads_josh
This post originally appeared on and written by:
Joshua Philipp
The Epoch Times 2022-08-04 12:00:00