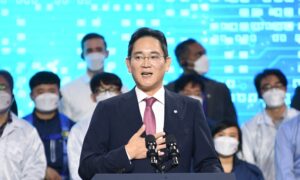 Some prominent South Korean politicians are endorsing a presidential pardon for Samsung's chief Lee Jae-yong, citing the company's crucial role in the national economy and its increasing challenges in the global semiconductor market. Public opinion supports a favorable outcome.
Lee, who is currently on parole over a bribery case, is in charge of Samsung Electronics' medium and long-term investment strategy. However, he is unable to fully participate in the company's business operations due to legal restrictions.
Although Lee's prison term ended in July 2022, he is subject to a five-year employment restriction. A presidential pardon is the only legal way to get Lee back fully in charge as soon as possible.
Prime Minister Han Duck-soo said on July 27 that he would recommend to President Yoon Suk-yeol a pardon for Lee and other key business leaders when asked in parliament, according to local reports.
Han had also previously told local media that pardoning key business leaders, including Lee and Lotte's chairman, would not go against the will of the Korean people.
A recent South Korean poll showed that 77 percent of respondents supported the pardon of Lee, according to Korea JoongAng Daily.
The poll was jointly conducted by four local polling agencies which surveyed 1,006 adults nationwide between July 25 to 27.
The data showed that both the liberal and conservative respondents were largely in favor of pardoning Lee. Liberals responded with 69 percent in favor and 30 percent against, while conservatives responded with 88 percent in favor and 10 percent against.
Most South Korean media also believe in a favorable outcome for Lee.
The pardon is widely expected to be issued on Aug. 15, the nation's Independence Day, when they traditionally occur. Yoon has been contemplating his first special pardon, which many believe will include amnesty for key business figures, including Lee.

Semiconductor Industry
Since taking office, Yoon has strongly emphasized the importance of the country's semiconductor industry as it is vital to national security and core industries.
Although Yoon has declined to respond on the matter of pardoning Lee, an official from the presidential office provided some insights.
"Isn't the economy difficult right now? These are people who can contribute to our economy, and there is a possibility that they will be granted amnesty. In a broadening scope, [the pardons] are not limited to specific business people," the unnamed official said, according to the Yonhap News Agency.
Man in Charge
Lee was convicted of bribery and embezzlement charges and spent 18 months in prison and was paroled in August last year. He now runs the Samsung group in his capacity as vice chairman of Samsung Electronics, one of the world's largest makers of computer memory chips and smartphones.
He was convicted of bribing then-President Park Geun-hye and her close confidante, who are serving lengthier prison terms, to win government support for a 2015 merger between two Samsung affiliates that tightened his control over the corporate empire.

Samsung Electronics had shown no obvious sign of business trouble while Lee ran the company from behind bars, communicating his decisions through visiting company executives. The demand for its semiconductor chips, TVs, and other products has surged as the pandemic forced millions to stay at home.
However, there were concerns that Lee's prison term was slowing Samsung's speed in major investments when it needed to spend aggressively to stay competitive in semiconductors and other technologies.
While Samsung remains dominant in memory chips, there are views that it is increasingly falling behind rival Taiwan Semiconductor Manufacturing Co. (TSMC), the world's most advanced chipmaker, in the race for high-tech chips designed to perform a broader range of functions.
The demand for advanced chips is expected to grow rapidly in the coming years, driven by fifth-generation (5G) wireless services, artificial intelligence, and self-driving cars. Some analysts suggest that Samsung may become more active in pursuing merger and acquisition deals to gain such technologies once Lee can fully engage in the company's business and sign off on investments more easily.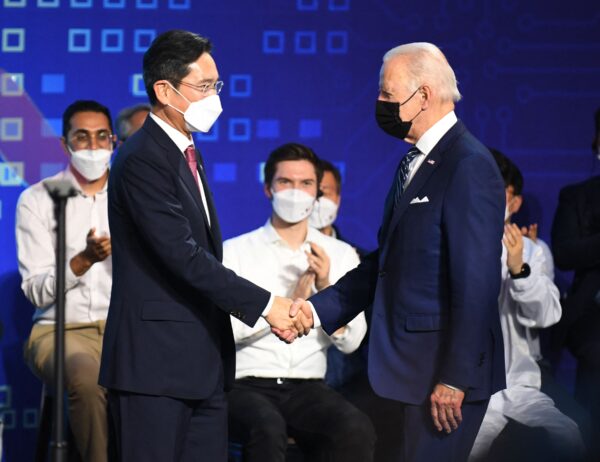 US Efforts to Decouple from China
As a semiconductor powerhouse, South Korea has recently been invited to participate in the U.S.-led chip alliance designed to decouple countries from China, putting the country in a significant strategic dilemma.
The U.S.-led Chip 4 alliance aims to strengthen cooperation in semiconductors among the United States and East Asian powerhouses Taiwan, South Korea, and Japan to build a secure supply chain that excludes China.
Unlike Japan and Taiwan, South Korea still has China as its biggest trading partner. South Korean exports to China accounted for 25.3 percent of its exports through 2021, about 10 percent higher than the United States.
Despite mounting pressure from China, South Korean experts and public opinion say the country is likely to participate in the proposed chip alliance.
On July 26, the U.S. Senate voted to advance its Chips and Science Bill aimed at boosting domestic semiconductor production and improving technological competitiveness with China.
During the recent U.S.–South Korea summit, Biden and Yoon pledged to strengthen semiconductor alliances among the world's largest chip-making countries to ease global shortages.
As part of the economic partnership, South Korea also formally announced participation in the U.S.-led Indo-Pacific Economic Framework (IPEF), a framework outlining the United States' key priorities to align with allies and partners to compete more effectively with China in the race to lead global technology development and norms.
Reuters contributed to this report.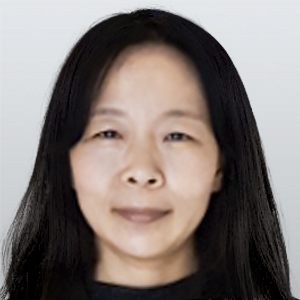 Follow
Lisa Bian is a Korea-based writer for The Epoch Times focusing on Korean society, its culture, and international relations.
This post originally appeared on and written by:
Lisa Bian
The Epoch Times 2022-08-05 06:25:00