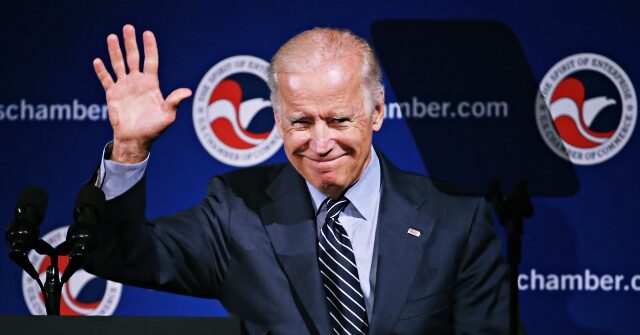 The United States Chamber of Commerce is applauding President Joe Biden's nominee to lead the World Bank, former Mastercard CEO Ajay Banga.
This week, as Breitbart News reported, Biden nominated Banga to lead the World Bank — the first time a credit card executive has been chosen for the spot.
In response, executives with the Chamber of Commerce said they welcomed Banga's nomination to lead the "vital institution" of the World Bank, calling him "a global leader in development finance."
"Mr. Banga has a stellar record as a successful businessman who has created jobs and growth, including in the developing economies served by the World Bank," the Chamber wrote in a press release:
The World Bank Group is a vital institution in providing much-needed assistance to vulnerable and emerging markets. We trust that under Mr. Banga's leadership, the World Bank will respond to crises by mobilizing the resources of multilateral institutions, engaging with the business community in devising its assistance programs, and shoring up sustainable growth by enabling markets. [Emphasis added]

Mr. Banga has demonstrated his commitment to the private sector's leading role in addressing global challenges. We look forward to continuing working with the World Bank and see Mr. Banga as the right choice in steering it to greater impact, efficiency, and agility. [Emphasis added]
MasterCard CEO Ajay Banga speaks to reporters in New York, April 6, 2011. (AP Photo/Seth Wenig, File)
In recent years, the Chamber's influence in Washington, DC, has dwindled significantly after they firmly broke with the Republican Party by endorsing 23 House Democrats in the 2020 election and a number of Democrats in last year's midterms.
After Biden and Vice President Kamala Harris won the 2020 election, the Chamber's former president said the group was "ready to work" with their administration on globalist policy prescriptions that favor their corporate members but which are out-of-touch with the Republican Party's populist base of working- and lower-middle-class Americans.
Banga's nomination comes less than a month after Biden pitched himself to the American public as an economic populist defending consumers against the often-predatory banking industry in his State of the Union address.
Firms like the Consumer Bankers Association, which lobbies lawmakers on behalf of Mastercard, have tried to pour cold water on the Consumer Financial Protection Bureau's rule that would cap late fees at $8.
Credit card companies like Mastercard are estimated to charge Americans more than $30 million every day in late fees. Annually, these companies rake in $12 billion from late fees alone.
John Binder is a reporter for Breitbart News. Email him at jbinder@breitbart.com. Follow him on Twitter here.
This post originally appeared on and written by:
Rubi Buresh
Breitbart News 2023-02-25 02:26:00