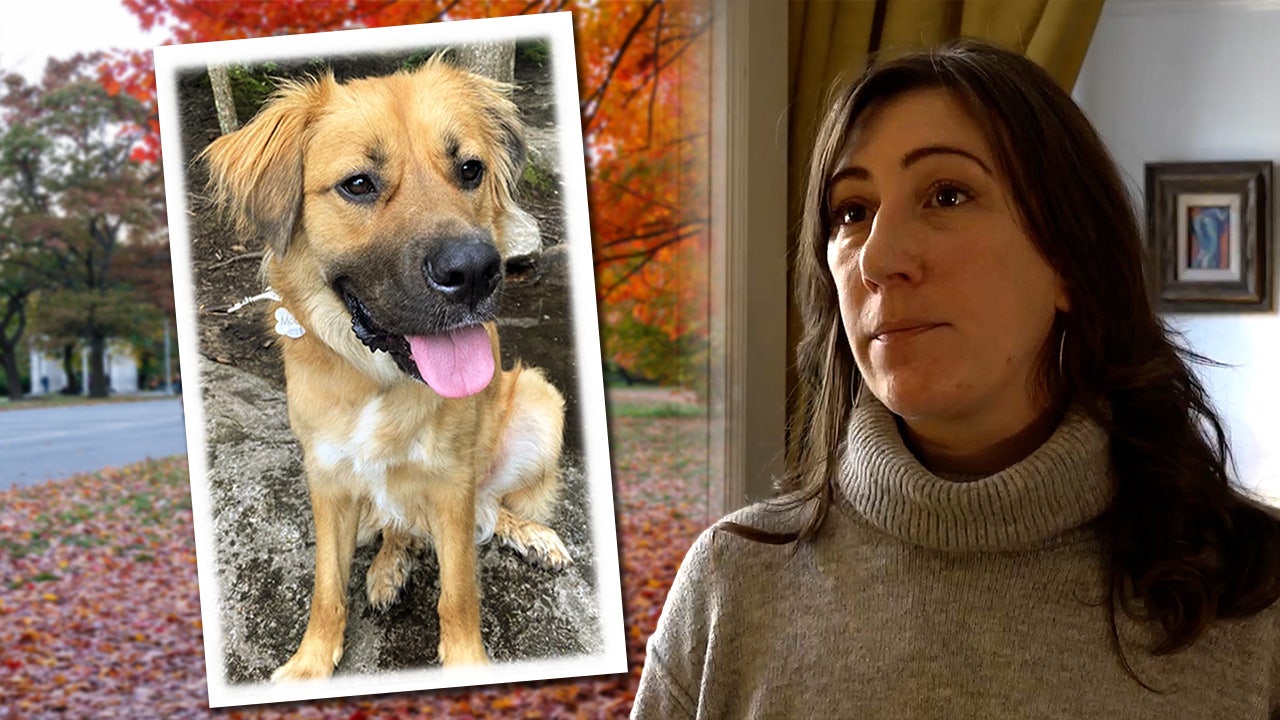 NEW YORK – Sunlight glinted off the gravestone sitting on a table in a Brooklyn apartment. The stone's arrival marked nearly six months since Jessica Chrustic and her beloved golden retriever Moose were attacked while walking in Prospect Park and served as a grim reminder that the dog's killer remains at large.
The case seemed open and shut. Neighbors said the suspect lived in the park and frequently reported spotting him in the days after the attack, and Chrustic herself called 911 during a second frightening encounter with him.
Yet the New York Police Department confirmed to Fox News last week that there are no arrests in the case.
"This shouldn't have had to come to this," Chrustic told Fox News. "I shouldn't have had to be attacked twice."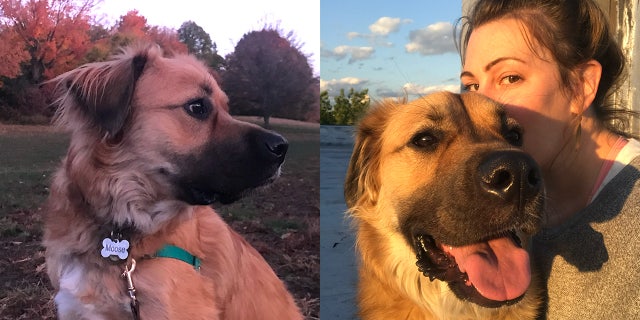 Jessica Chrustic fostered many dogs before adopting Moose. He was two and a half years old when the pair were attacked in August 2022.  (Courtesy of Jessica Chrustic)
ERIC ADAMS WARNS FENTANYL WILL 'DESTROY GENERATIONS' IF NEW YORK CONTINUES 'SLEEPING ON' CRISIS
Chrustic and Moose were confronted one morning in August by a man she'd seen in Prospect Park many times. He often muttered to himself while carrying a garbage bag and a long, thick walking stick. Chrustic tried to get her dog as far away as possible, but she said the man took out a Gatorade bottle and started spraying liquid on her. She later realized it was urine.
While hurrying Moose up some nearby stairs, Chrustic felt the stick strike her across the lower back.
"When I turned around, Moose was then trying to protect me," she said. "I just wanted to protect my dog, and my dog was trying to protect me."
The next blow hit Moose straight across the face with a sickening crunch.
Early-morning bicyclists and walkers had stopped to help, and the suspect took off. Chrustic remembers talking to the police, then rushing Moose to the veterinarian for emergency dental surgery. 
But Moose's internal wounds went undiagnosed. Five days later, he died of sepsis.
'MY DOG WAS TRYING TO PROTECT ME' — WOMAN SHARES EMOTIONAL STORY OF PROSPECT PARK ATTACK:
WATCH MORE FOX NEWS DIGITAL ORIGINALS HERE
Chrustic received an outpouring of support from her neighbors both in person and on the website Nextdoor. Many had encountered the suspect in the park before, too, and some shared photos of the man in hopes they would help police make an arrest.
But it was 2022, two summers after social justice protests swept through New York City following the murder of George Floyd. Some within the progressive enclave of Park Slope objected to the idea of sending the police after a homeless Black man who appeared mentally unwell. After Chrustic sought help from her city council representative, Shahana Hanif, a spokesperson for the councilor told The New York Times the police weren't "the vehicle to bring safety to our community."
"You have a dangerous person who's attacking people, who's in a public space, who should be removed. Period," Chrustic said. What happens next — be it jail or mental health treatment — is a "separate conversation," she said.
Chrustic has lived in New York City for two decades and said she never felt unsafe before.
"I can genuinely say I have a lot of PTSD right now," she said.
Crime citywide has increased 32.4% in the past two years, according to NYPD data. The vast majority of those cases — including the attack that killed Moose — are going unsolved.
Less than 30% of crimes in New York City were cleared in the second quarter of 2022, the most recent period for which NYPD data was available.
Chrustic said police "made it very clear" that she needed to be physically present for an arrest to be made, even though Prospect Park was the last place she wanted to be after her dog's death.
So when an elderly woman who had witnessed the first attack called on Oct. 21 and said she had eyes on the suspect, Chrustic flew out of bed and ran to Prospect Park, phoning both 911 and a sergeant assigned to her case on the way. When she got to the park, she spotted a police car and frantically tried to get them to roll down the window.
"They waved me away," she recalled.
CHASE LOCKING UP SOME NYC ATM LOCATIONS EARLY CITING 'RISING CRIME AND VAGRANCY'
A marathon runner, Chrustic raced around the park until she saw the suspect and followed him deeper into the park, worried she might lose him before police arrived. Then she said the man ran at her with mace, spraying her body. She retreated but didn't give up, calling 911 multiple times as she resumed her pursuit.
The man was growing increasingly erratic and eventually turned on her with the staff, she said.
"It's the same thing he killed Moose with, and he's chasing me down the street full speed," she said. "After that, I was like, 'I'm done. I can't do this anymore.'"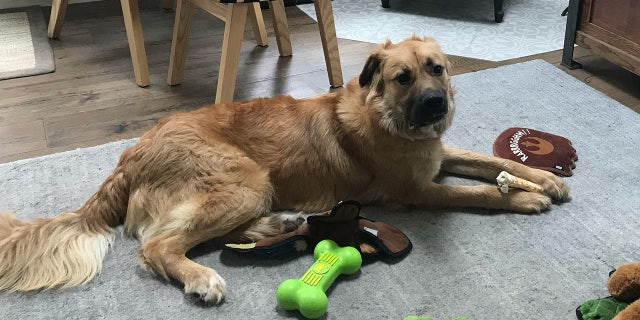 Jessica Chrustic and her dog Moose walked three times a day in Prospect Park near their home in Brooklyn, New York. (Courtesy of Jessica Chrustic)
NEW YORK DRUNK DRIVING CRASH SUSPECT TOLD OF FUTURE FAMILY'S FATE JUST BEFORE COURT APPEARANCE: REPORTS
Chrustic estimates police arrived around 40 minutes after she saw that first police car sitting by the park.
"We may have dropped the ball," 78th Precinct Commanding Officer Frantz Souffrant acknowledged days later during a virtual meeting attended by dozens of angry Park Slope residents, Patch reported.
A spokesperson for NYPD told Fox News the investigation remains ongoing and that an arrest will be made "when a positive identification can be made."
"I gave them exactly where he slept, exactly where he stayed," Chrustic said. "He's [known by] everybody in the community. It was never a question of being able to find him."
She said she thinks there are people in the NYPD who "genuinely want to do a good job," but are hamstrung by other issues.
CLICK HERE TO GET THE FOX NEWS APP
"And there's also some people who genuinely don't want to do their job," she added. "That's a hard thing to parse."
As Chrustic sat in her apartment with Moose's toys gathering dust in a basket on the floor, she felt resigned to the fact that she may not get closure.
"Unfortunately, I think it's gonna take someone else to be assaulted to have it be closed," she said. 
To watch Chrustic recount more of her emotional story, click here.
Hannah Ray Lambert is an associate producer/writer with Fox News Digital Originals.
This post originally appeared on and written by:
Stephania Fleishman
Fox News 2023-02-11 17:00:00