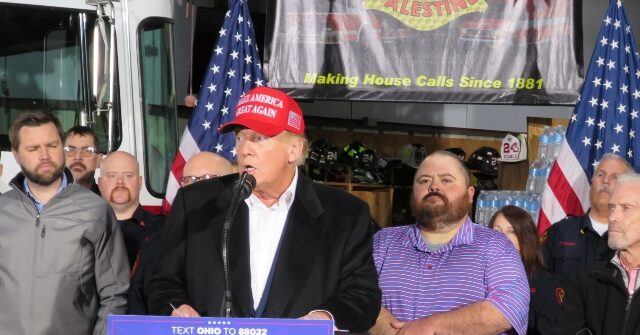 The mayor of East Palestine, Ohio, endorsed former President Donald Trump in the 2024 presidential election and slammed President Joe Biden for never having visited the town in the wake of the February 3 train derailment disaster.
"I would first like to thank Joe Biden and Hunter Biden for visiting the town — oh, that's right, they were busy," East Palestine Mayor Trent R. Conaway joked while on stage at the Lincoln Day dinner in Columbiana, Ohio, on Wednesday.
Watch Below:
BREAKING: @DonaldJTrumpJr just brought the Mayor of East Palestine, Trent Conaway, on stage at the packed Lincoln Day dinner in Columbiana, Ohio.

Mayor Conaway just called out Biden for not showing up and he also endorsed Trump for 2024!

Thank you for your leadership, Mayor! pic.twitter.com/qp5MnpBvnr

— Alex Bruesewitz 🇺🇸 (@alexbruesewitz) April 27, 2023
Conaway, who was introduced to the stage by Donald Trump Jr., went on to say that President Trump's visit to East Palestine in February "really changed the way people saw us — the town."
"They realized that we needed help," the mayor said. "We've been asking for help, and we had the EPA there and other agencies, but we truly got help after [Trump] visited, so we thank you. Without you, this could have been different, so we thank you."
"The support you showed to me and my residents, we appreciate it, you have no idea how much we appreciated that — it really changed things," Conaway continued.
"And that's why, in 2024, I will support your father's reelection," the East Palestine mayor added.
On February 3, a train operated by Norfolk Southern was carrying toxic chemicals when it derailed in East Palestine, spilling the chemicals into the environment. Cleanup crews ended up igniting five train cars in an attempt to get rid of the hazardous materials, which created a menacing plume of thick smoke that resembled a mushroom cloud.
A black plume rises over East Palestine, Ohio, as a result of the controlled detonation of a portion of the derailed Norfolk and Southern trains Monday, Feb. 6, 2023. (AP Photo/Gene J. Puskar)
The train disaster also resulted in about half of the town's population being ordered to evacuate. While residents have since been told they are allowed to return home, many are still concerned about the air and water quality.
Trump visited East Palestine in the wake of the derailment, bringing truckloads of bottled water for the town's residents and drawing more national attention to the small Ohio town that has been left in disarray.
The next day, U.S. Secretary of Transportation Pete Buttigieg — who initially reacted to the derailment by spreading falsehoods and misinformation — followed Trump to East Palestine amid calls for him to resign.
Meanwhile, President Biden has never once stepped foot in the Ohio town since the train derailment. Instead, Biden has been gallivanting around foreign nations, such as Ukraine and Ireland.
Related: Donald Trump Visits with Americans at East Palestine McDonalds
Alana Mastrangelo / Breitbart News
You can follow Alana Mastrangelo on Facebook and Twitter at @ARmastrangelo, and on Instagram.
This post originally appeared on and written by:
Georgianna Culton
Breitbart News 2023-04-27 02:18:00