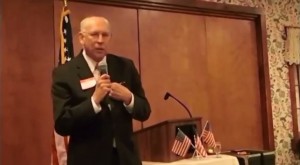 FOXBOROUGH, Mass. – The father of  Texas Senator Ted Cruz delivered a speech on the Constitution in Massachusetts this past week, where he also discussed the biblical guidelines for voting.
Rafael Cruz, the 74-year-old North Texas pastor and director of Purifying Fire Ministries, was the featured speaker on Friday at a Foxborough dinner hosted by radio personality Jeff Kuhner.  He gave a one-hour presentation to those gathered.
"[T]he Bible talks a lot about politics," he said. "As a matter of fact, did you know that the Bible tells you exactly who to vote for? Very, very clearly the Bible tells you who to vote for. Let me prove it to you."
Cruz then pointed to the account of Moses' discussion with his father-in-law Jethro, as outlined in Exodus 18, where God spoke through Jethro in regard to how leaders should be chosen among the people.
"[H]e gives four qualifications: able men, such as fear God, men of truth, hating covetousness," he outlined.
Cruz defined each qualification in detail, focusing especially on the requirement that the candidate fears God and that they be a man of truth.
"If you fear God, you obey God's precepts," he said. "For example, you defend the sanctity of life. But beyond the moral code, that means you live a life of integrity, honesty, hard work, individual responsibility, the rule of law, and yes, free enterprise and limited government. The Bible has a lot to say about all those."
"Haven't we had enough of men and women of lies in government?" Cruz asked, speaking of the importance of being a man of truth. "Whether it's Lois Lerner, or it's Rahm Imanuel, or it's our illustrious attorney general, or it's our president, they go from lie to lie to lie to lie."
"Jesus said, 'Ye shall know them by their fruit,'" Cruz stated. "Stop listening to [a candidate's] rhetoric; look at their record. It won't do you any good to listen to a politician that tells you, 'Oh yes, I'm pro-life,' and they've voted for abortion seventeen times."
The Cuban-born pastor then noted that the biblical hierarchy of appointing rulers to oversee thousands, hundreds, fifties and tens was the "equivalent of federal government, state government, county government [and] local government." He commented that as the people were only to take the most important cases to Moses, the lower-level government was to handle the majority of matters.
"That is Article One, Section Eight of the Constitution; that's the Ninth Amendment and the Tenth Amendment," Cruz stated. "The essence of federalism in two verses of Scripture."
In addition to serving as a pastor, Cruz is also a professor of Bible and Theology and is the president of Kingdom Translation Services. He has been featured at a number of political, family-oriented and Christian events nationwide.