The Bilderberg Group (BG) was founded in 1954 by Polish-born Joseph Retinger to promote a greater understanding between Europe and the United States. The organizers met at the Hotel Bilderberg for a three-day meeting in Oosterbeek, Netherlands and that is why it received that name. A founding member was German-born ex-Nazi Prince Bernhard, husband of Queen Juliana of Holland. During the first meeting very powerful individuals from the United States and Europe decided that the group would decide all issues regarding the politics and economic policies that their nations would follow and the strategies that they would follow to rule the world and eventually create a planetary one government.
Since 1954, the Bilderbergers meet once a year in different cities in Europe, Canada, and the United States. The members of the BG have represented the wealthy elite of the Western World: bankers, industrialists, CEO of multinational corporations, financiers, prime ministers, presidents, monarchs, key politicians, owners of the media, powerful university professors, presidents of the European Union, European Central Bank, World Bank, the International Monetary Fund, chair of the Federal Reserve Bank and other presidents and governors of central banks in Europe and other parts of the world, secretary generals of NATO, important cabinet and military leaders. Similar to the Council of Foreign Relations (CFR), the BG meetings are secret. All U.S. presidents since Dwight D. Eisenhower have belonged to BG global ruling class or sent representatives to the meetings.
David Rockefeller, the billionaire banker, former president of the Council on Foreign Relations, was one of the founders of the Bilderberg Group. He later founded the Trilateral Commission (TC) in 1972. He has always advocated for a global government. In his book, Memoirs (2003), he stated the following: "Some even believe we are a part of the secret cabal working against the best interests of the United States, characterizing my family and me as internationalists and of conspiring with others around the world to build a more integrated global political and economic structure-one world, is you will. If that's the charge, I stand guilty, I am proud of it."
From the very beginning of the BG, various members of the Rockefeller families and its ally, the Rothschild dynasty in Europe, have been the most powerful force of the organization. Baron Edmond de Rothschild has been a most active member of the BG. These two families, European monarchs, and a small group of very wealthy individuals determine who will be invited to participate in the BG meetings. There are between 120 and 150 participants in these meetings, of which about 80 are regulars such as Henry Kissinger. Many Obama's advisors, cabinet members, and important White House officials are Bilderbergers such as Obama´s Godfather George Soros, Zbigniew Brzezinski, Hillary Clinton, Robert Gates, Timothy Geithner, Janet Napolitano, Susan Rice, Paul Volcker, and James Jones. Approximately 2/3 of the participants come from Europe and the rest from the United States and Canada. During the 2015 BG meeting in Austria, six individuals from Turkey were invited probably due to Middle East concerns and one from Russia.
David Rockefeller has always been close to the bloody assassin Fidel Castro.
Promising politicians are invited and interviewed by BG, such as the governors of small states, Jimmy Carter of Georgia and Bill Clinton of Arkansas. If these politicians support the one world government objective of the BG, then the BG will give them enormous financial support, and with the established media owned by them, massive positive coverage to make them presidents. Of course, after Carter and Clinton were elected, they staffed their administration with CFR, TC, and BG members and consulted with BG constantly on domestic and international affairs issues.
The most powerful individuals in the planet, such as David Rockefeller, are members of these three organizations. The Americans who participate in the BG, CFR, and TC meetings with head of nations and high government officials are in violation of the U.S.'s Logan Act that prohibits elected officials to meet in private with influential business and banking executives to debate and design public policy.
As stated, the BG has an annual conference designed to foster dialogue between Europe and North America. Every year, between 120 and150 political leaders and experts from industry, finance, academia, and the media are invited to take part in the conference. About two thirds of the participants come from Europe and the rest from North America; one third from politics and government and the rest from other fields. The conference is a forum for informal discussions about megatrends and major issues facing the world.
The meetings are held under the Chatham House Rule, which states that participants are free to use the information received, but the identity or the affiliation of the speaker(s) or of any other participant may be revealed. Thanks to the private nature of the conference, the participants are not bound by the conventions of their office or by pre-agreed positions. As such, they can take time to listen, reflect, and gather insights. There is no detailed agenda, no resolutions are proposed, no votes are taken, and no policy statements are issued. This year's Bilderberg conference took place from June 11-14, 2015 in Telfs-Buchen, Austria.
The 63rd Bilderberg conference in Telfs-Buchen, Austria.
The 63rd  Bilderberg conference took place from June 11 to 14, 2015 in Telfs-Buchen, Austria. Around 140 participants from 22 countries attended. As always, a diverse group of political leaders and experts from industry, finance, academia and the media were invited.
List of Participants:Chairman of Bilderberg Group:Castries, Henri de
Chairman and CEO, AXA Group
FRA
Achleitner, Paul M.
Chairman of the Supervisory Board, Deutsche Bank AG
DEU
Agius, Marcus
Non-Executive Chairman, PA Consulting Group
GBR
Ahrenkiel, Thomas
Director, Danish Intelligence Service (DDIS)
DNK
Allen, John R.
Special Presidential Envoy for the Global Coalition to Counter ISIL, Department of State
USA
Altman, Roger C.
Executive Chairman, Evercore
USA
Applebaum, Anne
Director of Transitions Forum, Legatum Institute
USA
Apunen, Matti
Director, Finnish Business and Policy Forum EVA
FIN
Baird, Zoë
CEO and President, Markle Foundation
USA
Balls, Edward M.
Former Shadow Chancellor of the Exchequer
GBR
Balsemão, Francisco Pinto
Chairman, Impresa SGPS
PRT
Barroso, José M. Durão
Former President of the European Commission
PRT
Baverez, Nicolas
Partner, Gibson, Dunn & Crutcher LLP
FRA
Benko, René
Founder, SIGNA Holding GmbH
AUT
Bernabè, Franco
Chairman, FB Group SRL
ITA
Beurden, Ben van
CEO, Royal Dutch Shell plc
NLD
Bigorgne, Laurent
Director, Institut Montaigne
FRA
Boone, Laurence
Special Adviser on Financial and Economic Affairs to the President
FRA
Botín, Ana P.
Chairman, Banco Santander
ESP
Brandtzæg, Svein Richard
President and CEO, Norsk Hydro ASA
NOR
Bronner, Oscar
Publisher, Standard Verlagsgesellschaft
AUT
Burns, William
President, Carnegie Endowment for International Peace
USA
Calvar, Patrick
Director General, DGSI
FRA
Cebrián, Juan Luis
Executive Chairman, Grupo PRISA
ESP
Clark, W. Edmund
Retired Executive, TD Bank Group
CAN
Coeuré, Benoît
Member of the Executive Board, European Central Bank
INT
Coyne, Andrew
Editor, Editorials and Comment, National Post
CAN
Damberg, Mikael L.
Minister for Enterprise and Innovation
SWE
De Gucht, Karel
Former EU Trade Commissioner, State Minister
BEL
Donilon, Thomas E.
Former U.S. National Security Advisor; Partner and Vice Chair, O'Melveny & Myers LLP
USA
Döpfner, Mathias
CEO, Axel Springer SE
DEU
Dowling, Ann
President, Royal Academy of Engineering
GBR
Dugan, Regina
Vice President for Engineering, Advanced Technology and Projects, Google
USA
Eilertsen, Trine
Political Editor, Aftenposten
NOR
Eldrup, Merete
CEO, TV 2 Danmark A/S
DNK
Elkann, John
Chairman and CEO, EXOR; Chairman, Fiat Chrysler Automobiles
ITA
Enders, Thomas
CEO, Airbus Group
DEU
Erdoes, Mary
CEO, JP Morgan Asset Management
USA
Fairhead, Rona
Chairman, BBC Trust
GBR
Federspiel, Ulrik
Executive Vice President, Haldor Topsøe A/S
DNK
Feldstein, Martin S.
President Emeritus, NBER;  Professor of Economics, Harvard University
USA
Fischer, Heinz
Federal President
AUT
Flint, Douglas J.
Group Chairman, HSBC Holdings plc
GBR
Franz, Christoph
Chairman of the Board, F. Hoffmann-La Roche Ltd
CHE
Fresco, Louise O.
President and Chairman Executive Board, Wageningen University and Research Centre
NLD
Griffin, Kenneth
Founder and CEO, Citadel Investment Group, LLC
USA
Gruber, Lilli
Executive Editor and Anchor "Otto e mezzo", La7 TV
ITA
Guriev, Sergei
Professor of Economics, Sciences Po
RUS
Gürkaynak, Gönenç
Managing Partner, ELIG Law Firm
TUR
Gusenbauer, Alfred
Former Chancellor of the Republic of Austria
AUT
Halberstadt, Victor
Professor of Economics, Leiden University
NLD
Hampel, Erich
Chairman, UniCredit Bank Austria AG
AUT
Hassabis, Demis
Vice President of Engineering, Google DeepMind
GBR
Hesoun, Wolfgang
CEO, Siemens Austria
AUT
Hildebrand, Philipp
Vice Chairman, BlackRock Inc.
CHE
Hoffman, Reid
Co-Founder and Executive Chairman, LinkedIn
USA
Ischinger, Wolfgang
Chairman, Munich Security Conference
INT
Jacobs, Kenneth M.
Chairman and CEO, Lazard
USA
Jäkel, Julia
CEO, Gruner + Jahr
DEU
Johnson, James A.
Chairman, Johnson Capital Partners
USA
Juppé, Alain
Mayor of Bordeaux, Former Prime Minister
FRA
Kaeser, Joe
President and CEO, Siemens AG
DEU
Karp, Alex
CEO, Palantir Technologies
USA
Kepel, Gilles
University Professor, Sciences Po
FRA
Kerr, John
Deputy Chairman, Scottish Power
GBR
Kesici, Ilhan
MP, Turkish Parliament
TUR
Kissinger, Henry A.
Chairman, Kissinger Associates, Inc.
USA
Kleinfeld, Klaus
Chairman and CEO, Alcoa
USA
Knot, Klaas H.W.
President, De Nederlandsche Bank
NLD
Koç, Mustafa V.
Chairman, Koç Holding A.S.
TUR
Kravis, Henry R.
Co-Chairman and Co-CEO, Kohlberg Kravis Roberts & Co.
USA
Kravis, Marie-Josée
Senior Fellow and Vice Chair, Hudson Institute
USA
Kudelski, André
Chairman and CEO, Kudelski Group
CHE
Lauk, Kurt
President, Globe Capital Partners
DEU
Lemne, Carola
CEO, The Confederation of Swedish Enterprise
SWE
Levey, Stuart
Chief Legal Officer, HSBC Holdings plc
USA
Leyen, Ursula von der
Minister of Defence
DEU
Leysen, Thomas
Chairman of the Board of Directors, KBC Group
BEL
Maher, Shiraz
Senior Research Fellow, ICSR, King's College London
GBR
Markus Lassen, Christina
Head of Department, Ministry of Foreign Affairs, Security Policy and Stabilization
DNK
Mathews, Jessica T.
Distinguished Fellow, Carnegie Endowment for International Peace
USA
Mattis, James
Distinguished Visiting Fellow, Hoover Institution, Stanford University
USA
Maudet, Pierre
Vice-President of the State Council, Department of Security, Police and the Economy of Geneva
CHE
McKay, David I.
President and CEO, Royal Bank of Canada
CAN
Mert, Nuray
Columnist, Professor of Political Science, Istanbul University
TUR
Messina, Jim
CEO, The Messina Group
USA
Michel, Charles
Prime Minister
BEL
Micklethwait, John
Editor-in-Chief, Bloomberg LP
USA
Minton Beddoes, Zanny
Editor-in-Chief, The Economist
GBR
Monti, Mario
Senator-for-life; President, Bocconi University
ITA
Mörttinen, Leena
Executive Director, The Finnish Family Firms Association
FIN
Mundie, Craig J.
Principal, Mundie & Associates
USA
Munroe-Blum, Heather
Chairperson, Canada Pension Plan Investment Board
CAN
Netherlands, H.R.H. Princess Beatrix of the
NLD
O'Leary, Michael
CEO, Ryanair Plc
IRL
Osborne, George
First Secretary of State and Chancellor of the Exchequer
GBR
Özel, Soli
Columnist, Haberturk Newspaper; Senior Lecturer, Kadir Has University
TUR
Papalexopoulos, Dimitri
Group CEO, Titan Cement Co.
GRC
Pégard, Catherine
President, Public Establishment of the Palace, Museum and National Estate of Versailles
FRA
Perle, Richard N.
Resident Fellow, American Enterprise Institute
USA
Petraeus, David H.
Chairman, KKR Global Institute
USA
Pikrammenos, Panagiotis
Honorary President of The Hellenic Council of State
GRC
Reisman, Heather M.
Chair and CEO, Indigo Books & Music Inc.
CAN
Rocca, Gianfelice
Chairman, Techint Group
ITA
Roiss, Gerhard
CEO, OMV Austria
AUT
Rubin, Robert E.
Co-Chair, Council on Foreign Relations; Former Secretary ofthe Treasury Department
USA
Rutte, Mark
Prime Minister
NLD
Sadjadpour, Karim
Senior Associate, Carnegie Endowment for International Peace
USA
Sawers, John
Chairman and Partner, Macro Advisory Partners
GBR
Sayek Böke, Selin
Vice President, Republican People's Party
TUR
Schmidt, Eric E.
Executive Chairman, Google Inc.
USA
Scholten, Rudolf
CEO, Oesterreichische Kontrollbank AG
AUT
Sevelda, Karl
CEO, Raiffeisen Bank International AG
AUT
Stoltenberg, Jens
Secretary General, NATO
INT
Stubb, Alexander
Minister of Finance
FIN
Suder, Katrin
Deputy Minister of Defense
DEU
Sutherland, Peter D.
UN Special Representative; Chairman, Goldman Sachs International
IRL
Svanberg, Carl-Henric
Chairman, BP plc; Chairman, AB Volvo
SWE
Svarva, Olaug
CEO, The Government Pension Fund Norway
NOR
Thiel, Peter A.
President, Thiel Capital
USA
Tsoukalis, Loukas
President, Hellenic Foundation for European and Foreign Policy
GRC
Üzümcü, Ahmet
Director-General, Organization for the Prohibition of Chemical Weapons
INT
Vitorino, António M.
Partner, Cuetrecasas, Concalves Pereira, RL
PRT
Wallenberg, Jacob
Chairman, Investor AB
SWE
Weber, Vin
Partner, Mercury LLC
USA
Wolf, Martin H.
Chief Economics Commentator, The Financial Times
GBR
Wolfensohn, James D.
Chairman and CEO, Wolfensohn and Company
USA
Zoellick, Robert B.
Chairman, Board of International Advisors, The Goldman Sachs Group
USA
Contentblock 2
The key topics for discussion this year include:
Artificial Intelligence
Cybersecurity
Chemical Weapons Threats
Current Economic Issues
European Strategy
Globalisation
Greece
Iran
Middle East
NATO
Russia
Terrorism
United Kingdom
USA
S. Elections
Who is Jim Messina and why was he invited to the BG meeting in Austria?
Jim Messina
Jim Messina was born in Denver, Colorado in 1969. He was the White House Deputy Chief of Staff for Operations under President Barack Obama from 2009 to 2011. He became campaign manager for Obama's 2012 re-election campaign. Messina was hired as National Chief of Staff for the Obama campaign in the 2008 general election. After Obama was elected, Messina was named Director of Personnel for the Obama-Biden Transition team, helping Obama pick his cabinet.
Messina became President Obama's White House Deputy Chief of Staff and earned the nickname "the fixer." Dan Pfeiffer called Messina "the most powerful person in Washington that you haven't heard of." He also said that Messina and Chief of Staff Rahm Emanuel (present mayor of Chicago) had a "crazy relationship" and explained that "You'd be in a meeting, and Rahm would bark out that something needed to be done; Jim would disappear from Rahm's office, pop through the door a few minutes later and say, 'Got it!' or 'Got him!'" Messina was integral to the passage on the disastrous Affordable Care Act or ObamaCare and was widely credited with the effort to repeal Don't Ask Don't Tell regarding gays in the Armed Forces.
Jim Messina celebrates Obama's reelection in November 2012.
Messina was Obama's campaign manager during the 2012 Presidential Election. In January 2013, Messina became head of Organizing for Action (OFA), using the Obama for America database and other resources to support President Obama's dangerous legislative agenda in his second term. While OFA was formed in 2009 by Obama, it was reformed as a political-action non-profit group in January 2013. Obama is the only president in history to create such an organization. Obviously, Obama intends to continue pushing his destructive anti-American, pro-Muslim, Marxist, and New World Order agenda when he leaves the White House. Obama's former White House and campaign official also founded The Messina Group, a full-service consulting firm with offices in Washington, DC, New York, San Francisco, and London.
Have the powerful globalist members of the Bilderberg Group chosen Hillary Clinton for president in 2016?
Tom Donilon, a Democrat operative who served in the Obama White House as National Security Director, attended the 2015 BG meeting. Jim Messina was also in attendance. He is also a Democratic Party operative and chief advisor to Hillary Clinton, many suspect that the BG may have decided to place the very corrupt former Secretary of State in the White House to continue to advance the agenda of the BG for a planetary government.
Steve Watson wrote an article entitled "Bilderberg Backs Hillary for 2016 Presidency" which was published in InfoWars on June 8, 2015. He explained that Jim Messina of The Messina Group is the chief advisor to Hillary Clinton. Messina also heads the super PAC Priorities USA, which supported Barack Obama and is now firmly in Hillary Clinton camp. Messina conducted Barack Obama's reelection campaign in 2012 and has just returned to the United States after leading the unpopular United Kingdom Prime Minister David Cameron to a surprise majority victory in British elections. Messina said on MSNBC's "Morning Joe" program a month ago, "I'm coming home tomorrow and it's whatever it will take to get Hillary [elected]," Watson wrote that "Messina's presence at Bilderberg will be focused around ensuring none of Hillary's potential challengers get the big bucks from the innumerable transnational banks and corporations that will also be represented at Bilderberg."
As it has been described by many, including this writer, in June 2008 the Bilderberg Group met in secret with both Hillary Clinton and Barack Obama while the globalists were meeting in Chantilly in Northern Virginia. As always, the nation's press was shunted. Watson pointed out that it is believed that the group endorsed Barack Obama over Hillary Clinton, as a more immediate candidate, with the plan being that Hillary Clinton would essentially pick up as president for a third Obama term. A powerful Bilderberg member and top corporate elitist James A. Johnson also had a direct hand in selecting Obama's running mate for the 2008 election, acting as kingmaker for America's then future President.
Watson wrote that James Johnson also selected John Kerry's running mate, John Edwards, in 2004 after Edwards had impressed Bilderberg elitists, Henry Kissinger and David Rockefeller, with a speech he gave at the globalist meeting in Italy that year. Hillary Clinton has a deep rooted connection to the Bilderberg New World Order globalist elitist. Bill Clinton attended the 1991 meeting in Germany shortly before becoming President attended again in 1999 when the conference was held in Sintra, Portugal (despite Clinton's lie that he had not attended in 15 years). Hillary Clinton was rumored to have attended the 2006 meeting in Ottawa, Canada. It is important to note that some individuals attend the meetings and their names are not published in the official list of attendees.
Will the terrible economy of Greece destroy the European Union and the euro and bring financial chaos to the world?
One of the topics discussed at the BG 2015 meeting was the dire economic situation in Greece and its impact on the European Union and its currency the Euro. It was for that reason that the BG invited
Loukas Tsoukalis who is the President of the Hellenic Foundation for European and Foreign Policy. It also invited Panagiotis Pikrammenos who is the Honorary President of The Hellenic Council of State.
Jim Yardley wrote an article entitled "Greece Will Shut Banks in Fallout from Debt Crisis" which was published in the New York Times on June 29, 2015. The radical leftist Prime Minister Alexis Tsipras announced on the night of June 28, 2015 that Greece's banks would be closed as of the next day as a result of the ruptured debt negotiations with the nation's creditors. The prime minister indicated that restrictions would be placed on A.T.M. withdrawals and money transfers. A legislative decree said that banks would be closed through July 6, 2015 and that the cap on daily cash machine withdrawals would be €60. That would not apply to tourists using cards issued in their home countries. This action raised great concerns in Washington, Brussels, and Berlin.
The reporter explained that the emergency measures escalated the unpredictable state of a crisis that some analysts say could ripple through global financial markets and undercut European unity. Leaders in other nations encouraged a continued search for a way to prevent Greece from being forced out of Europe's currency union. Greece owes a large debt payment by the end of June 30, 2015 and has scheduled a referendum on July 5, 2015 for on whether to accept the terms of an offer from its creditors to meet its financial obligations. A negative vote could end Greece membership in the European Union and an end to use the euro as its currency.
Jim Yardley explained that Prime Minister Tsipras announced the emergency banking shutdown, which will also close the stock exchange, and imposed capital controls several hours after the European Central Bank stated that it would not expand an emergency loan program that had been propping up Greek banks for weeks. The banking system is near complete collapse after panicked account holders withdrew billions of euros. Tsipras said on television that "It is clearer than ever that this decision has no other goal than blackmailing the Greek people and obstructing the smooth democratic procedure of the referendum." He declared that voters should decide whether to accept the terms of the creditors' latest aid proposal — terms he considers onerous. The radical Tsipras said the banks would open next week. Many observers and investors indicated that once controls on the movement of capital are in place, it will take years to unwind. The young socialist prime minister probably has no idea how a free market economy operates.
On June 28, 2015 cabinet members applauded Greece's prime minister, Alexis Tsipras, during the debate over a bailout referendum. He is to the right of the picture.
The reporter pointed out that Greece's creditors — the other 18 Eurozone countries, the European Central Bank, and the International Monetary Fund — in effect cut off negotiations with Tsipras after he called for the referendum, raising concerns that Greece would default on its debt and potentially seek to solve its financial problems by abandoning the euro. He said that during four-month negotiations by the creditors focused on getting the Greek side to agree to fiscal overhauls, tax increases, and pension cuts in exchange for creditors releasing a €7.2 billion bailout allotment that Greece needs to meet its short-term debt obligations, equivalent to about $8.1 billion. In Brussels, Jean-Claude Juncker, the European Commission president, said that creditors had gone to great lengths to satisfy Greek demands.
On June 30, 2015 Greece defaulted on a 1.5 billion euro ($1.73 billion) debt payment to the IMF
Prime Minister Alexis Tsipras has called a referendum on July 5, 2015. Greeks will be asked to vote if they support a bailout deal that creditors have proposed that involves budget cutbacks and tax increases in exchange for the remaining loans in the country's rescue program. Tsipras is urging people to vote "no." He stated on state television the following: "We ask you to reject it with all the might of your soul, with the greatest margin possible. The greater the participation and the rejection of this deal, the greater the possibility will be to restart the negotiations to set a course of logic and sustainability."
Jean-Claude Juncker, president of the EU Commission, has urged Greeks to vote "yes" to a deal, no matter how it is worded. A "no" vote could mean euro that exit is closer for Greece as the country would have no outside financial aid. Some think a "yes" could restart talks. A "yes" vote, however, could lead to the collapse of the Greek government, as it is unclear if it would be able or willing to implement a deal with creditors that it has so strongly resisted.
Derek Gatopoulos and Lorne Cook wrote an article entitled "Greek banks shut; markets around the globe rocked" which was published in the Miami Herald on June 30, 2015. The reporters explained that the Greek default shook world markets, saw Greek borrowing rates skyrocket, and set off a credit downgrade further into junk status from Standard & Poor's rating agency. Greeks are being allowed to withdraw daily 60 euros ($67). The economic chaos in Greece hit hard global markets on June 30, driving stocks down in the United States, Europe, and around the world.
U.S. stocks had their worst day of 2015, with the Dow Jones industrial average dropping 350.33 points to 17,596, a 1.95% drop. The Standard & Poor's 500 index sank 43 points to 2,057, a 2.09% drop. The losses wiped out all the gains for the Dow and S&P 500 indexes this year. In Europe, the Stoxx 50 index of leading shares ended 2.5% lower. Germany's DAX fell by 3.6%, Spain was lower by 4.6% while Italy and Portugal sank by more than 5%. In China, stocks fell again leaving them 20% lower from their recent peak. There were also some early warning signs that Greece's problems may prove contagious — the borrowing rates of other highly indebted Eurozone countries such as Italy and Portugal inched up slightly. These events indicate that the health of the global economy is still at risk, even though central banks in America and Europe, which are owned by private banking cartels, have printed $11 trillion over thin air.
The reporters pointed out that investors are concerned that should Greece leave the euro and say it cannot or will not pay its debts, which stand at more than 300 billion euros, it will be forced into a chaotic return to the drachma. Such an action could derail a fragile global economic recovery, as well as raise questions over the long-term viability of the euro currency itself. "The major market concern is that if Greece were to default and/or exit, then it might encourage others to do the same," said Gary Jenkins, chief credit strategist at LNG Capital. "Thus it puts the entire Eurozone project at risk of collapse."
In a separate development Puerto Rico is bankrupt. Governor Alejandro García Padilla stated that the island's $72 billion worth of bond debts as "not payable." He wants to restructure Puerto Rico bonds for ones with more favorable terms. Puerto Rico similar to Greece's mismanagement of the economy by spending more money that it had, providing generous benefits to public employees it could not afford, and stealing funds over the years led to the current state of affairs. Obama needs to learn how not to follow in the same direction. Romney used to say in 2012, we do not want to be another Greece.
The BG also discussed ingestible ID chips and artificial intelligence
Paul Joseph Watson wrote an article entitled "Google Executive Behind Ingestible ID Chips to Attend Bilderberg 2015" which was published in InfoWars on June 8, 2015. The reporter explained that former Defense Advanced Research Projects Agency (DARPA) director and now Google executive Regina Dugan, who is helping to develop and promote the idea of an ingestible identification microchip, will be in attendance at the secretive 2015 Bilderberg conference in Telfs-Buchen, Austria. One of the topics up for discussion will be "artificial intelligence." Google Chairman Erich Schmidt along with Demis Hassabis, Vice President of Engineering for Google DeepMind, will also meet with over 100 global power brokers from finance, politics, and academia in Austria.
Watson said that Regina Dugan told an audience at the 2013 All Things D11 Conference that Google was working on a microchip inside a pill that people would swallow daily in order to obtain the "superpower" of having their entire body act as a biological authentication system for cellphones, cars, doors, and other devices. Dugan stated the following: "This pill has a small chip inside of it with a switch. It also has what amounts to an inside out potato battery. When you swallow it, the acids in your stomach serve as the electrolyte and that powers it up. And the switch goes on and off and creates an 18 bit ECG wide signal in your body and essentially your entire body becomes your authentication token." Dugan also stated that the chip had already been FDA approved and could be taken 30 times a day by some individuals during their lives without affecting their health.
Paul Joseph Watson said the following: "Dugan's former position as director of DARPA, which many see as the leading force in a malevolent move towards a Big Brother surveillance society, is sure to stoke even more concern amongst privacy advocates… DARPA has also been developing brain chips that will implant or remove specific memories from a subject, heralding the beginning of a "golden age" where minds could be manipulated to function better. Tesla CEO Elon Musk caused consternation last month when he expressed his fear that Google cofounder Larry Page will be responsible for creating artificial technology that could eventually rise up and destroy humankind."
Regina E. Dugan is an American businesswoman, inventor, and technology developer. She served as the 19th Director of the Defense Advanced Research Projects Agency (DARPA). In March 2012, she left government to take an executive role at Google.
This sounds to this writer that the BG New World Order objective of a one world government to enslave us all continues full speed ahead. Unfortunately, we are now living in George Orwell 1984 Big Brother surveillance society and police state!
Alex Newman wrote an article entitled "Bilderberg 2015: Mystery Surrounds Shadowy Globalist Summit" which was published in the New American and Bear Witness Central website on June 17, 2015.
InterAlpen Hotel Resort in Telfs-Buchen, Austria where the Bilderberg Group met in June 2015.
Newman wrote an illuminating article about the "shadowy collection of globalists embedded throughout centers of power worldwide — political, military, banking, media, intelligence, business, academia," who met at their annual Bilderberg Group (BG) summit on June 14, 2015 in Telfs-Buchen, Austria. He explained that the meetings of the BG are attracting increased attention even from the established press in recent years, following many years of complete silence.
As always, what these powerful individuals discussed behind closed doors remains a mystery. Newman pointed out that these individuals are potentially in violation of numerous laws such as the U.S. Logan Act. He pointed out that, sadly, your future and the future of your nation were on the agenda.
Newman wrote the following: "Activists have long argued that Americans at the BG summit are feloniously violating the Logan Act. That federal law specifically bars any U.S. citizen without formal government permission from working with foreign officials on matters of policy. Passed under the John Adams administration in 1799, the Logan Act was amended as recently as the 1990s and, despite almost never being used, remains on the books today. And that, Bilderberg opponents say, means that Americans meeting with foreign officials at the secretive gathering should be investigated and eventually prosecuted to the fullest extent of the law if found to be in violation of it. As admitted by myriad attendees, practically the entire summit revolves around policy. Violators can be imprisoned for up to three years. Other nations also have laws about working on policy behind closed doors with special interests."
Newman pointed out that the "key topics" for discussion on the official agenda included a number of vague but alarming subjects to anyone concerned about the enormous power wielded by Bilderberg attendees. Among the topics listed were the following: "artificial intelligence, cyber security, chemical weapons, current economic issues, European strategy, globalization, Greece, Iran, the Middle East, NATO, Russia, terrorism, the United Kingdom, the United States, and even U.S. elections." The reporter said that Kevin McKenna wrote in the United Kingdom newspaper the Guardian the following: "Only bankers, the CEOs of multinationals and western political leaders who have been on their payroll for a minimum of 10 years get to attend."
Newman explained that at this year annual meeting several media sent reporters, including the U.K. Guardian, Infowars, American Free Press, some local outlets, and others. As it always have been, reporters and even locals were treated with hostility by the tax-funded security officials guarding the globalist elite inside. More than 2,000 police were reportedly there to guard the globalists against a few protesters, reporters, and local residents at the InterAlpen Hotel Resort.
Alex Newman wrote the following: "Guardian's reporter Charlie Skelton was harassed by police — complete with an armored personnel carrier and military helicopters overhead — amid repeated searches of his hotel, vehicle, papers, and more. Infowars reporters Rob Dew and Josh Owens were also visited by police as Bilderberg organizers exhibit growing levels of paranoia about the public, in addition to being constantly followed and harassed throughout the three-day confab. Bilderberg security teams even erected a jamming system to block communications in the vicinity of the InterAlpen hotel where the summit took place, reportedly to further hamper media coverage." The Bilderberg Group members are so afraid of media coverage that "Now they have resorted to installing expensive devices which shut down communications, presumably at taxpayer expense," reported InfoWars editor Paul Joseph Watson.
Newman pointed out that "the secrecy is tight, with journalists generally left to speculate about what their taxpayer-funded government officials are plotting behind closed doors with so-called "banksters," media barons, Big Business crony capitalists, and other assorted globalists." Former Bilderberg chairman Etienne Davignon — a former European Union commissar and Belgian minister of state — told the online EUobserver that the BG summits "helped create" the controversial euro currency imposed on 17 formerly sovereign European nations. Extensive evidence also suggests that the summits, together with the Bank for International Settlements in Basel, Switzerland, which is the central bank of over 60 central banks of the world, played a major role in creating the European Union upon peoples of Europe against their will — a process that continues despite the lack of public support.
Newman noted that more than 15 years ago, a radical Bilderberg member, Will Hutton, a former British newspaper editor, also hinted at the influence of the Bilderberg Group. In 1998, Hutton wrote that "The consensus established is the backdrop against which policy is made worldwide." Among others at this year's summit were top technology giant executives, former European Union Commission head and ex-Maoist revolutionary leader, José Manuel Barroso, representatives of Big Oil, Big Banking, Big Media, Big Government, and more.
Alex Newman concluded his article by saying the following: "The Bilderberg globalist elite want to impose a global government on humanity. As leaders of nations around the world influenced by Bilderberg members continue to wage war on the privacy rights — and other liberties — of everyday citizens, perhaps the time has come for people to demand their governments, to strip the privacy rights of Bilderberg attendees and their summits."

The 62nd Bilderberg Group meeting in Copenhagen, Denmark
The BG 2014 meeting took place in a climate of panic. Many of the globalists who attended were concerned with Russia's intransigence on the crisis in Ukraine. In 2015, Russia continues with its military aggression in Ukraine and neither the weak president Obama nor the European leaders have done much about it, other that complain. The anti-European Union revolution sweeping Europe posing a serious threat to the New World Order that the BG spent over 60 years helping to build continues in 2015.
The 2014 Bilderberg 62nd meeting was held at the five-star Marriott Hotel in Copenhagen, Denmark.
In 2014, the Bilderberg's long standing agenda to centralize power into a one world political federation under the United Nations, a goal set to be advanced with the passage of the Transatlantic Trade and Investment Partnership (TTIP), was a central topic of discussion. The TTIP is a component of the Bilderberg's attempt to create a "world company," initially a free trade area, that will connect the United States with Europe.
Just as the European Union started as a mere free trade area and was eventually transformed into a political federation which controls upwards of 50% of the laws and regulations of its member nations with total contempt for national sovereignty and democracy, TTIP is designed to accomplish the same goal, only on a bigger scale. The European Union was sold by the Bank of International Settlement as a free trade area and an economic idea but it was essentially a political union where the member nations lost most of their sovereignty and freedom to unaccountable bureaucrats and bankers.
The Transatlantic Trade and Investment Partnership (TTIP) was advanced in 2014 by Obama's U.S. Trade Representative Michael Froman, a Wall Street insider and a Council of Foreign Relations member, the Bilderberg's sister organization. Froman is simultaneously helping to build another block of this global government, the Trans-Pacific Partnership, which is a similar project involving Asian and Western Hemisphere countries. Obama was successful with the help of the Republican majority in Congress to receive fast track approval to negotiate a final agreement on June 29, 2015. This terrible vote meant that now Congress will only have the opportunity to accept or reject without any modification whatever Obama negotiates with the other nations.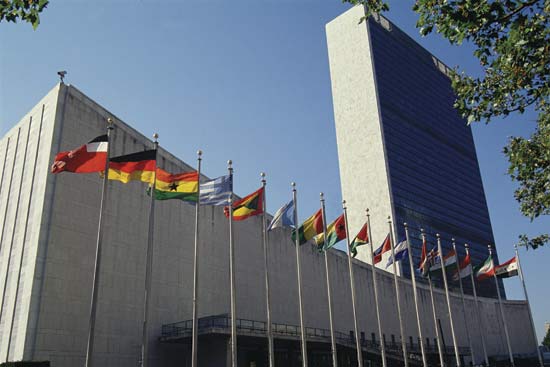 United Nations building in New York City built on land donated by the Rockefellers.
People in France and the United Kingdom may reject in future elections to continue to be a part of the European Union. The globalists in the Bilderberg Group will continue in 2015 their effort to centralize economic power under different schemes, including a carbon tax paid directly to the United Nations. The financial hit will be taken by individuals as big companies are granted special "waivers" that will allow them to continue to pollute. Now the Marxist Pope Francis in the Vatican will help the BG and, sadly, he is part of the New World Order.
Trade Promotion Authority, Trans-Pacific Partnership Treaty and the New World Order
Tim Brown wrote an article titled "Obama Signs Unconstitutional TPA as CFR Looks to Bring China into TPP" which was published in the website Sons of Liberty   on June 30, 2015. On June 29, 2015 President Barack Obama signed the Trade Promotion Authority legislation with the support of the Republicans in Congress. The vote in the Senate was 60 to 38. Brown pointed out that Obama stated that such legislation will "reinforce America's leadership role in the world." How foolish can Republicans be since they know full well that Obama is the worst negotiator among all the previous U.S. presidents?
On June 29, 2015 Obama signed the Trade Promotion Authority which allows the president to negotiate a deal and submit it to Congress for an up-or-down vote without the chance for amendments. Another step towards a planetary government which pleased the world government activists of the Council on Foreign Relations (CFR) and other globalists.
The Washington Times reported the following:
"President Obama signed hard-fought trade legislation Monday, thanking Republican leaders who helped get it done and saying the package will reinforce America's leadership role in the world. I think it's fair to say that getting these bills through Congress has not been easy, Mr. Obama said as he signed the trade bills into law in the East Room. They've been declared dead more than once.
The two major pieces of legislation grant Mr. Obama fast track trade-promotion authority, which allows the president to negotiate a deal and submit it to Congress for an up-or-down vote without the chance for amendments, and expand aid for American workers who lose their jobs due to foreign competition…The trade-promotion authority measure is arguably the biggest legislative victory of the president's second term, and will help Mr. Obama conclude negotiations with Japan and 10 other countries on the Trans-Pacific Partnership, the centerpiece of his economic agenda. The House and Senate approved both measures last week after House Democrats, including Minority Leader Nancy Pelosi of California, temporarily derailed the package.
Two weeks ago, Boehner and House Whip Steve Scalise (R-LA) booted GOP Reps. Cynthia Lummis (WY), Steve Pearce (NM), and Trent Franks (AZ) from the whip team as retribution for their not going along with the establishment. Rep. Mark Meadows (NC) was also stripped of his chairmanship of the House Oversight Government Operations subcommittee.
In the Senate's passing of TPA, even former supporter of TPA, Senator Ted Cruz (R-TX), wrote that he voted against cloture because of Washington corruption. Cruz said that the American people do not trust President Obama. And they do not trust Republican leadership in Congress, Cruz wrote in an op-ed piece for Breitbart. And the reason is simple: for far too long, politicians in Washington have not told the truth…
Next up is the secretive Trans-Pacific Partnership Treaty. However, as William F. Jasper points out, now that Obama has gotten what he wanted from the Republicans, he's dropping the pretense about what he will do with that authority and now his handlers at the Council on Foreign Relations are looking to bring China into TPP."
Brown explained that now that Congress has passed Trade Promotion Authority/Fast Track, the Council on Foreign Relations is taking the lead in calling for China to be included in the Trans-Pacific Partnership (TPP). The reporter wrote the following: "This represents a key reversal of the deliberately deceptive public message put out by the Obama administration and the TPP lobby over the past couple of years, to wit, that a TPP is absolutely essential to averting Communist China's economic hegemony, in the Pacific and globally. The Los Angeles Times, which has offered unstinting support for the TPP, in a March 4, 2015 article entitled "China is Obama's trump card in push for Pacific Rim trade pact," noted the Obama White House strategy of presenting China's economic ascendance as a primary reason for approving the TPP. "President Obama is hoping to win passage of a Pacific Rim trade pact by playing on fears of China," ran the story's subtitle."
 The LA Times article pointed out the following: "The proposed Trans-Pacific Partnership, or TPP, would be the largest trade deal in American history, involving the U.S., Japan and 10 other countries that combined make up 40% of the world economy. China isn't among them. In recent weeks, one Obama official after another has hammered away at the same line of argument: It's crucial that Congress supports the TPP — including passing a related trade-promotion bill that would strengthen the president's negotiating hand — because the alternative is that China, not the U.S., will write the rules of global trade."
Brown concluded his article by saying the following: "The TPA/Fast Track approved, the Obama Trade lobby is dropping some of the pretense. As The New American has pointed out many times over the past few years the architects of the TPP — especially the world government activists of the Council on Foreign Relations (CFR) and the Peterson Institute for International Economics (PIIE) — have long been on record in favor of the TPP as merely a "stepping stone" to a much larger Free Trade Area of the Asia Pacific (FTAAP) that would include China as a member. The anti-Beijing rhetoric is purely a ruse to lure support from conservatives concerned over China's stepped-up militancy, as well as domestic manufacturers and labor unions worried about loss of more manufacturing business and jobs to the Beijing behemoth."
Conclusion
There is no question that this writer believes that the BG New World Order's objective of a one world government to enslave us all continues full speed ahead. Unfortunately, we are now living in a nation described in George Orwell book 1984 of a future Big Brother surveillance society and police state!
The world is on the verge of an economic collapse in 2015 as a result of the United States and European central bankers (controlled by the private banking cartels who are the owners of these financial institutions) printing over 11 trillion dollars out of thin air. The economic crisis in Greece could also contribute to this impending economic catastrophe.
Americans need to fight the global government being planned under the United Nations, but controlled by the members of Bilderberg Group, the Council of Foreign Affairs, and the Trilateral Commission. If this diabolical plan is ever successful, the United States will lose its sovereignty, wealth, Constitution, and laws.