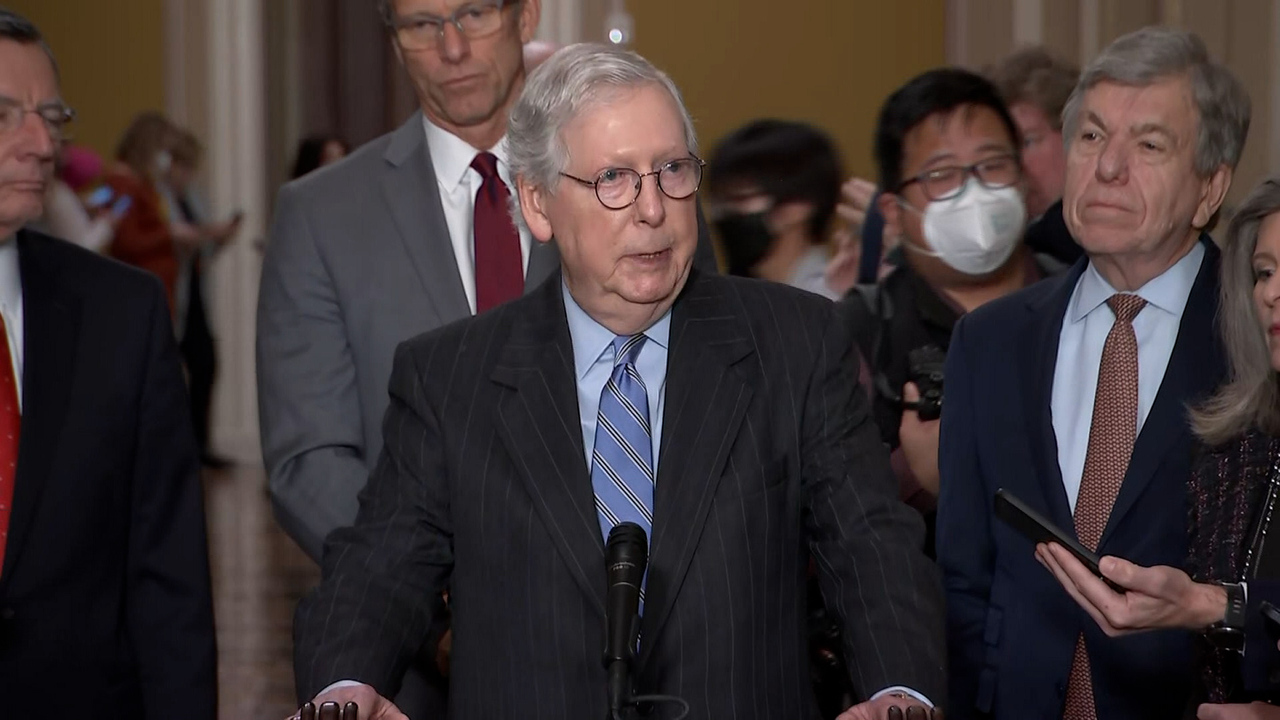 Senate Minority Leader Mitch McConnell on Tuesday declined to address whether he would support Donald Trump if the former president wins the Republican nomination in 2src24, a notable silence amid his first public comments since Trump dined with white supremacist Nick Fuentes.
"Let me just say again: There is simply no room in the Republican Party for antisemitism or white supremacy," McConnell told reporters. "That would apply to all of the leaders in the party who will be seeking offices."
At the beginning of his weekly briefing with reporters, McConnell said that "anyone meeting with people advocating that [antisemitic] point of view, in my judgment, are highly unlikely to ever be elected president of the United States." His remarks were a subtle but clear shift since an April interview with Axios where McConnell said "I think I have an obligation to support the nominee of my party" in 2src24, despite Trump's actions that fueled the Capitol attack on Jan. 6, 2src21.
McConnell spoke after House Minority Leader Kevin McCarthy earlier Tuesday became the latest top Republican to condemn Trump's dinner with Fuentes — while declining to condemn the former president himself.
Making his first comments on Trump's dinner with Fuentes and the rapper Ye, both of whom have publicly engaged in antisemitism, McCarthy falsely asserted that the former president had already condemned Fuentes. Trump has said multiple times that he did not know who Fuentes was when the white nationalist attended dinner with him as a guest of Ye, formerly known as Kanye West.
"I don't think anybody should have a meeting with Nick Fuentes, and his views are nowhere within the Republican Party or within this country itself," McCarthy said following a meeting at the White House with President Joe Biden and congressional leaders. The California Republican added that "I don't think [Trump] should have associated with [Ye] as well."
McCarthy's comments echo those of most other congressional Republicans, who have criticized Trump's actions but refrained from criticizing the former president himself. Trump's former vice president, Mike Pence, departed from that norm on Monday by asking Trump to apologize for associating with Fuentes. Senate Minority Leader Mitch McConnell is expected to address the matter later on Tuesday.
Trump dined last week at his Palm Beach, Fla., resort with Ye and Fuentes, an avowed white nationalist, racist and antisemite, POLITICO first reported. Notably, that dinner was not the first time this year that Fuentes has caused headaches for congressional Republican leaders: McCarthy vowed to "have a discussion" with Reps. Paul Gosar (R-Ariz.) and Marjorie Taylor Greene (R-Ga.) after the pair spoke at a February conference Fuentes organized. Since then, McCarthy has vowed to restore committee assignments that Democrats stripped from Greene after a series of polarizing and incendiary remarks from the Georgian.
The GOP leader has further vowed to eject progressive Rep. Ilhan Omar (D-Minn.) from the House Foreign Affairs Committee over her criticisms of the Israeli government's treatment of Palestinians, and a few members of McCarthy's conference have tried to equate that criticism from Omar with Fuentes' open racism and antisemitism.
Omar fired back in a statement last week on McCarthy's plans to bar her from the committee, saying that Republicans "made it their mission to use fear, xenophobia, Islamophobia and racism to target me on the House Floor and through millions of dollars of campaign ads."
Jordain Carney and Myah Ward contributed to this report.
This post originally appeared on and written by:
By Anthony Adragna and Nancy Vu
Politico