Conservative megadonor Bernie Marcus, co-founder of Home Depot, has endorsed Harmeet Dhillon for Republican National Committee chair.
Marcus's endorsement comes as the race between current chair Ronna McDaniel and Republican National Committeewoman for California Dhillon has been tightening.
"America's path forward is at stake," Marcus, whose endorsement comes as a blow to McDaniel, said in a letter to RNC members.
"Harmeet Dhillon is a fighter in our courts, in the media, and elsewhere," he said. "The RNC needs someone with her real-world experience, tenacity, and toughness. Please join me in supporting Harmeet Dhillon for RNC chairwoman."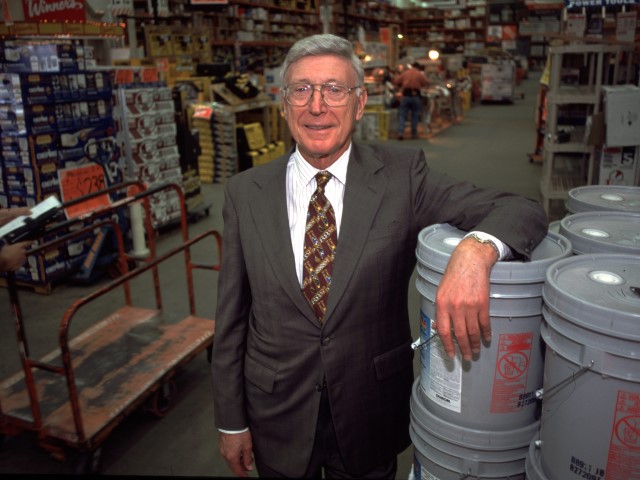 Home Depot CEO Bernie Marcus poses for a portrait in a Home Depot store October 15, 1998. (Erik Lesser/Liaison)
Opposition to McDaniel has grown over her three-term tenure at the helm of the RNC, as each national election cycle she has overseen — 2018, 2020, and 2022 — has been a loss or, in the case of 2022, barely a win in the House. McDaniel is running for a fourth term.
The billionaire Marcus has given an extraordinary amount of money to Republican candidates, and called the vote for RNC chair "consequential."
"Liberal elites seem content to manage America's decline. I continue to believe that our best days are ahead of us unless liberal elites win the battle for America's future," he said. "This battle will be waged not only at the ballot box, but in state and federal courts, the media, the court of public opinion, our schools, and our streets."
As Breitbart News reported, new polling among Republican voters heavily favors Dhillon, who holds 86 percent favorability for the position. Dhillon also wins in every age, sex, and racial demographic by a significant margin.
Breccan F. Thies is a reporter for Breitbart News. You can follow him on Twitter @BreccanFThies.