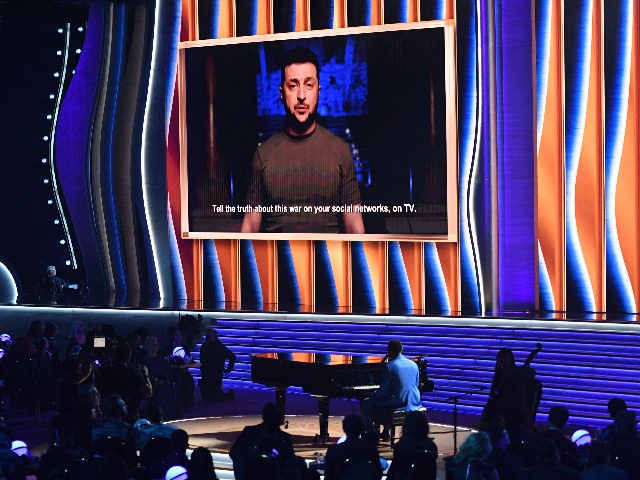 Ukrainian President Volodymyr Zelensky made an appearance via video at the Golden Globes on Tuesday night where he promised that his country would be victorious against Russian aggression.
After being introduced by actor Sean Penn, who has championed Zelensky since the war broke out in early 2021, Zelensky shared a pre-recorded message that thanked the United States for its continued support while adding that the "tide is turning" in the war.
"The First World War claimed millions of lives. The Second World War claimed 10s of millions of them. There will be no Third World War," Zelensky said. "It is not a trilogy: Ukraine will stop the Russian aggression on our land."
Zelensky also noted that World War II had been nearing its end when the first Golden Globes were presented in 1943.
"La liberté de rêver n'est pas qu'un luxe pour l'homme mais un besoin pour lequel il faut se battre."

Sean Penn introduit l'intervention de Volodymyr Zelensky aux #GoldenGlobes. pic.twitter.com/EgZX0ifU15

— CANAL+ (@canalplus) January 11, 2023
"It is now 2023: the war in Ukraine is not over yet, but the tide is turning, and it is already clear who will win," Zelensky said. "But there are still battles and tears ahead. But now I can definitely tell you who were the best in the previous year: It was you, the free people of the free world, those who united around the support of the free Ukrainian people in our common struggle for freedom and democracy."
"For the right to live, to love, to give birth. No matter who you are, no matter where you're from, no matter who you are with, the struggle for the right of the new generations to know about the war only from movies," he added. "We will make it together. I hope all of you will be with us on the victorious day: the day of our victory."
Zelensky's speech at the Golden Globes comes after he delivered a speech before the U.S. Congress in December and a visit with President Joe Biden. The final omnibus bill of 2022 also sent an additional $45 billion to Ukraine and NATO allies.
Last year, Zelensky also delivered a speech at the Grammy Awards in a video that featured him in a bunker.
"The silence of ruined cities and killed people," Zelensky said at the time. "Our children draw swooping rockets, not shooting stars. Over 400 children have been injured and 153 children died. And we'll never see them drawing. Our parents are happy to wake up in the morning. In bomb shlters, but alive. Our loved ones don't know if we will be together again."
The Oscars has not indicated if it will invite Zelensky for a speech during its telecast this year.