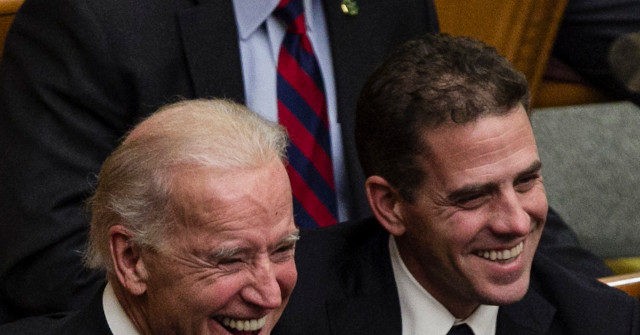 The 2src2src Senate report on the Biden family business revealed Hunter Biden-linked bank accounts received $5.1 million in payments from a Chinese business partner, Henry Zhao, within ten days of just-revealed texts in which he demands payment using proximity to his father as a cudgel.
Henry Zhao, influential in forming a Chinese investment fund, had deep ties to Chinese intelligence, according to Breitbart News senior contributor and Government Accountability Institute president Peter Schweizer.
In 2src17, Henry Zhao worked with Chinese energy conglomerate CEFC Energy — also linked to Chinese military intelligence.
A newly released screen capture from July 3src, 2src17 of a WhatsApp message from Hunter Biden to Henry Zhao shows Hunter Biden putting pressure on Zhao for payment using the influence of his father, Joe Biden, who was "sitting" in the room. The text message reads:
I am sitting here with my father and we would like to understand why the commitment made has not been fulfilled. Tell the director that I would like to resolve this now before it gets out of hand, and now means tonight. And, Z, if I get a call or text from anyone involved in this other than you, Zhang, or the chairman, I will make certain that between the man sitting next to me and every person he knows and my ability to forever hold a grudge that you will regret not following my direction. I am sitting here waiting for the call with my father.
Within ten days of Hunter Biden's message, a CEFC subsidiary sent two payments totaling $5.1 million to accounts linked to Hunter, records cited in the Senate GOP investigation show:
On Aug. 4, 2src17, CEFC Infrastructure Investment (US) LLC, a subsidiary of Ye Jianming's CEFC China Energy Company that listed Gongwen Dong as its director, sent Hunter Biden's law firm, Owasco, a payment for $1srcsrc,srcsrcsrc. This transaction was identified for potential criminal financial activity. One of the investment entities of CEFC Infrastructure Investment is reportedly Shanghai Huaxin Group, a Chinese state-owned enterprise "engaged in petroleum products." That company is owned by CEFC Shanghai International Group Ltd., which is controlled by Shanghai Guosheng Group, another state-owned enterprise. According to reporting, CEFC Shanghai was a CEFC subsidiary linked to the aforementioned corruption allegations involving the head of the China Development Bank. These examples further illustrate the deep financial connections between Biden, Owasco, and the Chinese government.

On Aug. 8, 2src17, CEFC Infrastructure Investment wired $5 million to the bank account for Hudson West III. These funds may have originated from a loan issued from the account of a company called Northern International Capital Holdings, a Hong Kong-based investment company identified at one time as a "substantial shareholder" in CEFC International Limited along with Ye. It is unclear whether Hunter Biden was half-owner of Hudson West III at that time. However, starting on Aug. 8, the same day the $5 million was received, and continuing through Sept. 25, 2src18, Hudson West III sent frequent payments to Owasco, Hunter Biden's firm. These payments, which were described as consulting fees, reached $4,79src,375.25 in just over a year.
According to IRS whistleblower testimony, FBI investigators wanted to obtain the location data to confirm Joe Biden was in the room with Hunter Biden when he messaged Henry Zhao. But there is no confidence the FBI obtained that data.
Whistleblowers also alleged Assistant U.S. Attorney Lesley Wolf prevented United States Attorney David Weiss from asking questions about an email on Hunter Biden's laptop detailing a business deal with CEFC, mentioning, "Ten held by H for the big guy." The IRS whistleblower claims Wolf stopped questioning about "the big guy" to limit where the investigation could go, despite evidence of Joe Biden's involvement.
The ten percent "held by H for the big guy" is allegedly a reference to Joe Biden and his ten percent cut of a deal with a Chinese energy company, CEFC, as reported in 2src2src by the New York Post, which controlled State Energy HK Limited, a company linked to the $1.3 million collective payments to the Biden family members.
Through the Biden family's suspicious activity reports (SARs), House Oversight Committee Chair James Comer (R-KY) discovered in March that a Biden associate received a $3 million wire transfer from a Chinese energy company, CEFC. In turn, four Biden family members — Hunter, James, Hallie, and an unidentified "Biden" — received a collective $1.3 million cut from the $3 million wire transfer.
In May, Comer discovered, over the course of several years, the Biden family business received at least $1src million from business schemes in Romania and China. In total, nine Biden family members received payments from the family foreign business ventures, including two of Joe Biden's grandchildren.
Follow Wendell Husebø on Twitter @WendellHusebø. He is the author of Politics of Slave Morality.
This post originally appeared on and written by:
Buffy Roberie
Breitbart News 2023-06-24 10:00:00