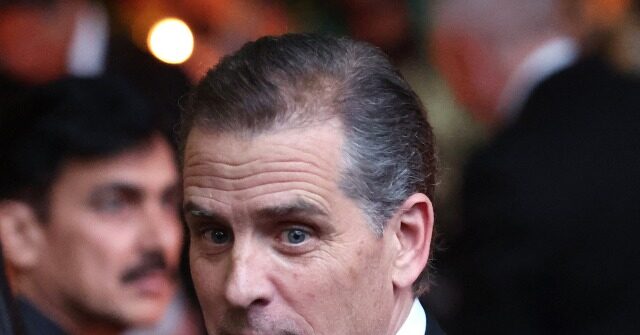 Hunter Biden's lawyers asked the judge presiding over his criminal gun case on Wednesday to subpoena former President Donald Trump, former Attorney General Bill Barr, and two other Trump administration officials.
The request signals Hunter Biden's legal strategy to accuse the Trump administration of political interference in his gun case, the same accusation IRS whistleblowers leveled against President Joe Biden's Justice department in their probe of Hunter Biden for tax, gun, and potentially FARA violations.
US Attorney General William Barr (Photo by Brendan Smialowski / AFP) (Photo by BRENDAN SMIALOWSKI/AFP via Getty Images)
Hunter Biden's lawyers asked U.S. District Judge Maryellen Noreika to issue several subpoenas to:
Trump
Barr
Former acting Deputy Attorney General Richard Donoghue
Former acting Attorney General Jeffrey Rosen
The filing claimed:
Mr. Biden seeks specific information from three former DOJ officials and the former President that goes to the heart of his defense that this is, possibly, a vindictive or selective prosecution arising from an unrelenting pressure campaign beginning in the last administration, in violation of Mr. Biden's Fifth Amendment rights under the Constitution.
"In the leadup to the 2020 election, IRS case files show certain investigative decisions were made 'as a result of guidance provided' by, among others, 'the Deputy Attorney General's office,'" said the filing by attorney Abbe Lowell.
The filing also highlights Barr's recent book, in which the former attorney general alleged that Trump asked him in October 2020 about the status of the probe into Hunter Biden.
Barr claimed he said, "Dammit, Mr. President, I am not going to talk to you about Hunter Biden. Period!"
"These confirmations of communications give more than a mere appearance that President Trump improperly and unrelentingly pressured DOJ to pursue an investigation and prosecution of Mr. Biden to advance President Trump's partisan ambitions," the filing said.
The request also alleges House Republicans pressured now-Special Counsel David Weiss to indict the president's son. Hunter Biden and Weiss previously agreed to a "sweetheart" plea deal until it fell apart under judicial scrutiny.
Special Counsel David Weiss leaves a closed door meeting with lawmakers surrounding the investigation into Hunter Biden during a break at the O'Neill House Office Building on Tuesday November 7, 2023, in Washington, DC. (Matt McClain/The Washington Post via Getty)
The agreement afforded Hunter Biden the ability to plead guilty for not paying taxes on over $1.5 million in income in 2017 and 2018, receiving probation rather than jail time. In addition, Weiss devised a separate diversion agreement that gave Hunter immunity from potential future charges, including a provision to essentially wipe a felony gun violation from his record.
Lowell claimed that pressure "culminated in Special Counsel Weiss's then changing course and bringing this Indictment on September 14 against Mr. Biden, charging three felony counts for the same gun and same facts that just a few months prior Mr. Weiss had agreed to divert under a pre-trial diversion agreement."
Follow Wendell Husebø on "X" @WendellHusebø. He is the author of Politics of Slave Morality.
This post originally appeared on and written by:
Larisa Haslett
Breitbart News 2023-11-15 22:33:00