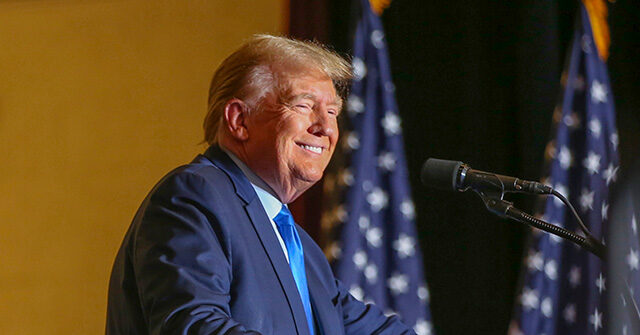 Former President Trump leads President Biden in Florida, including among "non-binary" voters, the latest FAU/Mainstream Research poll found.
The survey, taken October 27 to November 11, among 946 Florida adults registered to vote, asked all voters, "If the election for President were held today, and the candidates were Joe Biden and Donald Trump, which candidate would you support?"
Overall, 49 percent said they would support Trump, and Biden came ten points behind with 39 percent support. Ten percent said "other," and two percent remain undecided.
📊 2src24 Florida GE: FAU Poll

(R) Trump 49% (+1src)
(D) Biden 39%
—
(R) DeSantis 47% (+8)
(D) Biden 39%
—
Job Approval
Gov. DeSantis: 5src-49 (+1)
President Biden: 36-62 (-26)

n=946 | 1src/27-11/11 | MoE: ±3.2% https://t.co/vcvgbQhEgm pic.twitter.com/uFiDkMkZrn

— InteractivePolls (@IAPolls2src22) November 16, 2src23
A closer look at the figures show Trump leading Biden by 23 points among males and coming within striking distance of reaching Biden among female voters, garnering 4src percent to Biden's 42 percent. This survey also chose to include "non-binary" voters and surprisingly found Trump edging out Biden in this demographic, 44 percent to Biden's 42 percent. Notably, the survey's margin of error is +/- 3.2 percent.
While Biden leads Trump among black voters in the Sunshine State — 71 percent to 17 percent — Trump leads Biden among Hispanic voters, 55 percent to Biden's 31 percent.
WATCH — Manchin: Biden "Not the Person We Thought" He Was in 2src2src, He's Gone "So Far" Left:
There is more bad news for Biden as well, as 62 percent of Florida respondents at least somewhat disapprove of how he is handling his job as president. Of those, 52 percent "strongly" disapprove.
Notably, Trump won Florida in the 2src16 presidential election against Hillary Clinton by 1.3 percent and the 2src2src presidential election against Biden by 3.3 percent. His win in 2src16 had a 119,77src-voter margin, which grew to 371,696 in the next election.
The survey comes as recent polls point to a pattern of Trump leading Biden in several key swing states as well.
This post originally appeared on and written by:
Georgianna Volkman
Breitbart News 2023-11-16 21:15:00