LONDON – The U.K. woke Friday to discover that President Trump had thrown fuel onto the country's already fiery political debate — on a day in which he will hold a joint press conference with under-siege Prime Minister Theresa May, meet with Queen Elizabeth II and witness tens of thousands of demonstrators march through London in protest of his three-day working visit.
Trump arrived Thursday to scattered protests in front of Downing Street and the residence at which he has staying. But after a dinner which included May, The Sun published an extraordinary interview with Trump in which the president doubled down on his criticism of May's approach to handling Britain's departure from the European Union.
In that interview, he said that May's new, softer approach to Brexit — which would leave Britain sticking to a "common rulebook" with Brussels on goods — would kill off the chances of a much sought-after U.S.-U.K. trade deal.
"We are cracking down right now on the European Union because they have not treated the United States fairly on trading," he told The Sun. "No, if they would do that I would say that that would probably end a major trade relationship with the United States."
While he did praise May in the interview, he also said May had not taken his advice on Brexit, something he said was "fine."
"I would have done it much differently. I actually told Theresa May how to do it but she didn't agree, she didn't listen to me," he said, before saying negotiations had gone on "too long."
The comment marks a devastating blow for May, who is fighting for his political life after announcing her plan to her cabinet last week. That plan sparked the resignation of a number of officials, including Foreign Secretary Boris Johnson and Brexit Secretary David Davis.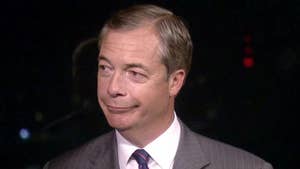 The formal "white paper" outlining the plans was released on Thursday, and initially appeared to pick up little enthusiasm from Conservatives, the Labour Party or E.U. officials. It could eventually lead to a leadership challenge against May by those Tories in favor of a so-called "hard Brexit" — who are likely to be quietly delighted by Trump's comments.
Trump will likely have stung May further by continuing to praise Johnson. Trump has not ruled out speaking with Johnson while he is in the U.K. and in his interview said that Johnson could be a future leader.
"Well I am not pitting one against the other," he said. "I am just saying that he would be a great Prime Minister. I think he's got what it takes."
In the interview, he also declared that Britain is "losing its culture" due to mass migration and accused London Mayor Sadiq Khan of having done "a very bad job on terrorism."
The White House quickly sent out a statement in the wake of the interview, playing up ties between May and Trump.
"The President likes and respects Prime Minister May very much. As he said in his interview with the Sun she 'is a very good person' and he 'never said anything bad about her,'" White House Press Secretary Sarah Sanders said. "He thought she was great on NATO today and is a really terrific person. He is thankful for the wonderful welcome from the Prime Minister here in the U.K."
Trump's interview dominated the country's TV and radio discussions, MPs Twitter feeds, and the newspaper headlines — all focusing on Trump's opening salvo against May.
"May's Brexit will kill US trade deal, says Trump," ran The Times of London.
"President's Brexit attack on May," The Daily Mail declared.
"May has wrecked Brexit…US deal is off!" ran The Sun, which also featured Trump coverage on seven of its pages.
In London, the Prime Minister's allies desperately tried to blunt the damage of what has been a chaotic week for May as she struggles to keep her cabinet and party united over Brexit.
"Donald Trump is in many ways a controversialist, that's his style, that's the colour he brings to the world stage. He is that sense very unconventional. I don't think we see it as rude," Tory MP Alan Duncan said on BBC Radio 4 as he fended off claims by Labour MPs that Trump had insulted May.
Trump met with May Friday morning and will hold a press conference with her later in the day, where his interview and his views on Brexit are likely to be one of the key topics. He will also meet with Queen Elizabeth II.
Meanwhile, two separate protests were being planned through London to push back against his visit, expected to draw tens of thousands of marchers, with at least one rally featuring a "Trump baby" balloon which has been approved to fly over Parliament Square. A pro-Trump rally is planned for Saturday outside the U.S. Embassy.
Fox News' Serafin Gomez contributed to this report.